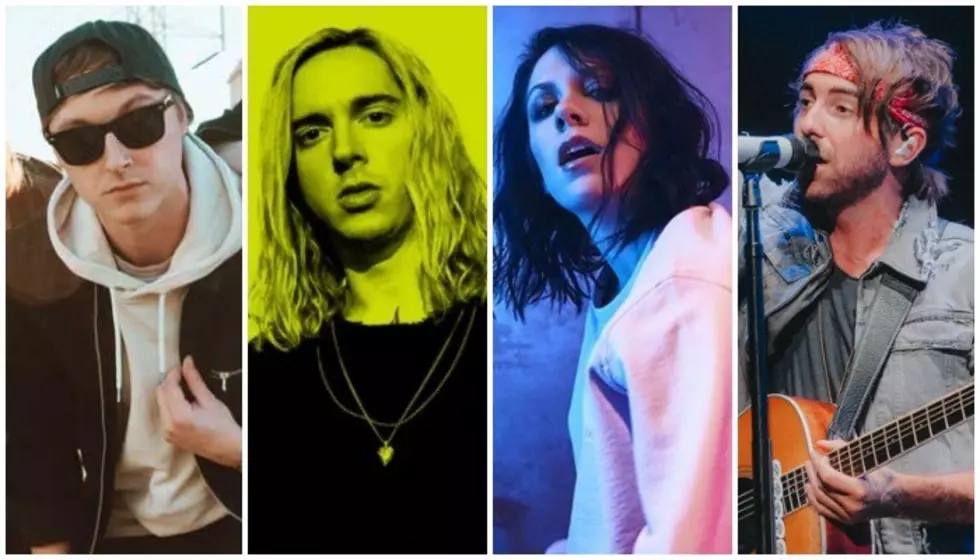 Here are the performance streams to watch this week
[Photos by: State Champs/Beth Saravo, Underoath/Fearless, K.Flay/Spotify, All Time Low/Ryan Watanabe]
We're well into this new temporary way of life of being stuck at home due to coronavirus. Retail stores, bars, restaurants and now movie theaters have closed their doors to the public. This means you've probably been sitting inside cycling through the same TV and movie options on Netflix and Hulu, as well as music playlists. However, there's good news for music lovers. Several musicians are planning livestreams for fans to hear some stripped-down songs and ask some questions. 
Check out the livestreams and movies announced and going down this week, and keep checking back as this list will continue to be updated. 
The Maine
The Maine will also be streaming the live footage from their 2019 8123 Fest of Can't Stop Won't Stop. Fans can tune into the band's website May 3 at 6 p.m. PST for live footage and other videos from the day. Chat with the members in the comments and relive the festival from the safety of your own home.
On May 9, the Maine will stream another full concert, this time with their Sao Paulo, Brazil date from their 2012 Pioneer world tour. Fans can head over to YouTube at 2 p.m. PST to watch the live show, chat with the band in the comments and see how they're holding up at home with additional video footage.
Andy Biersack
On May 3, Andy Biersack will also be hosting The Andy Show alongside Joe Flanders and Patrick Fogarty with special guest Remington Leith of Palaye Royale. All episodes of the show can be streamed from Biersack's Patreon.
SiriusXM Home DJ Series
SiriusXM's rock station Octane is letting some of your favorite musicians take over in their free Home Invasion series. Following Five Finger Death Punch, Korn and Halestorm, Motionless In White will kick off week four here May 4 at 7 a.m. ET. It will be reairing May 5 at noon and 7 p.m. EST. Future guests include Shinedown, Papa Roach, Nothing More, Asking Alexandria, I Prevail and more. Listeners can stream live from SiriusXM channel No. 37, the SiriusXM app or this link through May 15.
SiriusXM's AltNation station will also be giving some of the nation's biggest musicians the ability to DJ from home. twenty one pilots hosted last week, and Bishop Briggs and the 1975 are all slated to take over the waves in the future. You can see the lineup here and listen to the station here. 
K.Flay
K.Flay will be going live on YouTube for the No Place Like Home streaming series via Noise Pop. The stream serves as a benefit show for independent musicians in the Bay Area. Listeners can tune in here May 5 at 7 p.m. PST to see K.Flay, Finish Ticket and Zelma Stone as they help out some local musicians. 
All Time Low
All Time Low are hosting a watch party for their 2010 Straight To DVD documentary. Now, they're heading straight to the web May 6 to watch the film with fans. Viewers can head to their site at 5 p.m. EST to watch. The band encourage fans to have two screens so they can also follow along with the band's commentary on Twitch. 
Underoath
Every Wednesday throughout the month of May and during the first week of June, Underoath will be listening through their albums together on Twitch. Starting May 6, they will be streaming at 8 p.m. EST with a listen through of their 2018 album, Erase Me. Each week, the band will share commentary on the album, allow time for questions and stay tuned for special guests. A full lineup of dates and albums for each stream is available here.
Periphery
Periphery guitarist Misha Mansoor will be hosting a walkthrough of the band's demo of "Satellites" from their Periphery IV: Hail Stan writing session. Join him May 7 on Twitch at 8 p.m. EST to learn some guitar tips and hang out for a Q&A session.
The 1975 tribute show and listening party 
The 1975 are hosting their own tribute show in partnership with The Face, a magazine that is also sharing podcasts from Matty Healy. The tribute concert will air May 7 at 11 a.m. EST on The Face's Instagram. Performances include Pale Waves' Heather Baron-Gracie playing "Sex," Phoebe Bridgers playing "Girls" and Clairo playing "Robbers." beabadoobee, Cavetown, Gracie Abrams and Rina Sawayama will also be playing covers of other classic 1975 songs. 
The 1975 will also be having a listening party for their sophomore album, I like it when you sleep, for you are so beautiful yet so unaware of it, May 8 at 2 p.m. EST. Though they haven't confirmed which platform they will stream on, it'll likely be on Spotify should they follow what they did with their first listening party for their debut album.
Isolation Pong Championship
Several artists including Bearings, I The Mighty, Trash Boat, Yours Truly, Eat Your Heart Out, Void Of Vision, Stepson, Young Culture, We Were Sharks, Ashland and Boys Of Fall will be participating in the Isolation Pong Championships, an Instagram live beer pong fest. The Faim and Between You And Me will go head to head on Instagram May 8 at 7 p.m. AEST/5 a.m. EST. Catch a full lineup of which bands are battling it out here. 
Riot Fest At Home
Riot Fest fans will be able to see some of their favorite acts from the safety of their own homes throughout the next month. Following Dan Campbell of the Wonder Years and John Nolan of Taking Back Sunday, the virtual festival continues this week with Dan Andriano of Alkaline Trio. Andriano will hit Facebook Live May 7 at 6 p.m. CST for an acoustic set. State Champs will also be streaming "Breakfast With Champs" May 8 at 10 a.m. CST on Instagram Live. Riot Fest will also be recruiting Microwave, Saves The Day, Thrice, Sleep On It and more for streams through the end of the month.
320 Festival
Talinda Bennington, wife of the late Chester Bennington, and Kevin Lyman revealed the previously announced 320 Festival will be going virtual May 8-10. The 320 Festival's main goal will be to offer hope and healing during this period of self-isolation via mental health education sessions, covering topics such as mindfulness, social media and healing from trauma. Several musicians will also take part in the livestream including Blue October's Justin Furstenfeld, Sum 41's Frank Zummo, gnash and Lindsey Stirling. The stream will be available on Facebook, YouTube and the KNEKT.TV Network on Roku and Apple TV.
Fearless Records
Fearless Records will be hosting an interactive livestream event with acoustic performances, exclusive content, signing announcements, Q&A sessions and more. The label will be announcing the lineup on its YouTube channel. Net proceeds from the stream will be donated to Live Nation's relief fund Crew Nation, and it all goes down May 9 beginning at 3 p.m. EST here.
Recurring livestreams
Stay At Home With YUNGBLUD
YUNGBLUD now has his own web show on YouTube Originals titled "Stay At Home With YUNGBLUD." Similar to the YUNGBLUD Show, the singer will share music and connect with friends and family from self-isolation in his L.A. residence where he's currently quarantined with his two bandmates, manager and videographer. You can stream his new weekly show at noon EST every Monday and check out the first and second episode now. The series will spotlight the charity No Kid Hungry and encourage viewers to donate to the organization. 
Metallica
Metallica are hosting a concert series every week called "Metallica Mondays." Fans can catch a concert from the legendary act every Monday on YouTube or Facebook at 8 p.m. EST. 
Death Cab For Cutie 
Death Cab For Cutie drummer Jason McGerr has been hosting streams titled Refuge In Practice with special guests such as the Head And The Heart's Tyler Williams and Andrew Marshall, who drums for Billie Eilish. The episodes air Tuesdays at 5 p.m. PST with Death Cab bassist Nick Harmer joining this week. You can tune in here.
Ben Gibbard is taking this time of self-isolation to play songs for his fans on weekly YouTube and Facebook Live sessions called "Ben Gibbard: Live From Home." Each session starts on Thursdays at 4 p.m. PST. Listeners can Venmo @BenGibbardLiveFromHome to benefit various charities—local, national and international—to aid in the fight against coronavirus. This week, he will be playing a set entirely of Beatles covers. 
Grayscale
Grayscale are logging on to Twitch every Friday at 7 p.m. EST to teach fans guitar chords to their songs via "Von Halen's Shred Shack." In past streams, guitarist Andrew Kyne has shared how to play "In Violet" and "Forever Yours." Every Wednesday and Sunday, the band will also stream a game of NHL 20 where they compete as the Philadelphia Shamrocks. You can stream the game at 7 p.m. EST.
The Unlikely Candidates
The Unlikely Candidates will take the Facebook and Instagram stage every Wednesday during this time of self-isolation. Fans can head to their preferred social media site at 3 p.m. CST weekly to see these Fort Worth rockers turn quarantine into a jam session.
ONE OK ROCK
ONE OK ROCK have six livestream concerts in store for fans over the next two months. Fans can make their way to YouTube Premieres to watch these live shows May 14, 23 and 31 at 10 a.m. EST. A full concert lineup and URL listing is available on their Twitter.
Upcoming livestreams 
Nick Santino

Vocalist Nick Santino, formerly of A Rocket To The Moon and Beach Weather, will be hosting a livestream May 12. Fans can tune in to his Instagram page to hear some of their old favorites from Santino at 7 p.m. EST. You can BYOB (or W) to your couch and listen to some tunes.
Block By Blockwest
It's certainly no South By Southwest, but indie-rock quartet Courier Club are hosting a Minecraft livestream called Block By Blockwest. They'll be sharing the screen with bands from across the U.S. Featured artists and gamers include Against The Current, FEVER 333, Citizen, nothing,nowhere., the Wrecks, Pussy Riot, Heart Attack Man and more. The stream was originally supposed to take place April 25, but due to high demand, the servers crashed. In less than an hour, the festival raised $5,000. They will be back May 16 to run the festival in its entirety for a larger number of fans. Viewers can watch at the Block By Blockwest site.
Five4FiveFest
The virtual Five4FiveFest is coming your way with headliners Don Broco May 15 and Enter Shikari May 16. The stream will feature five bands each day and will benefit the National Health Service. Exclusive merch, prizes, bands and time slots will be announced in the coming weeks. The stream will be broadcasted on Facebook.