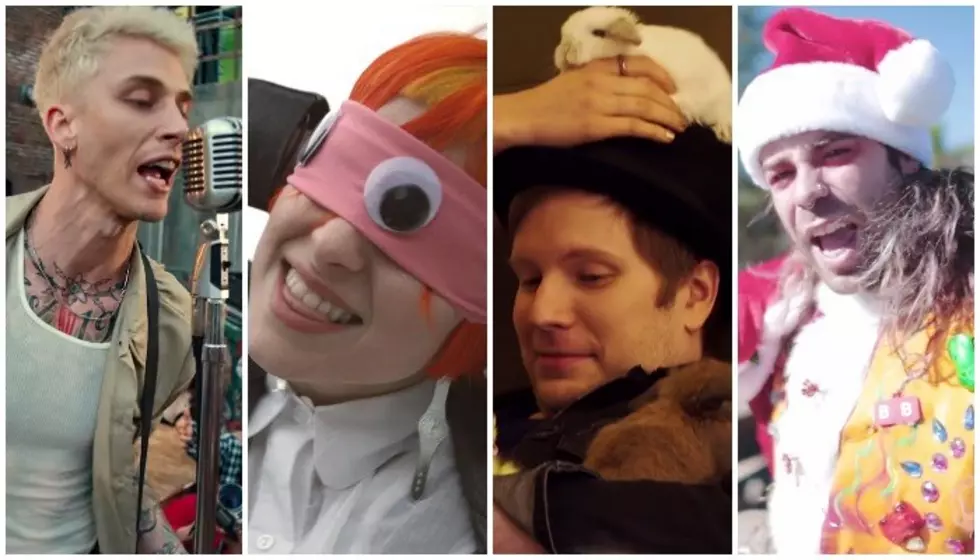 10 music videos to watch when you need an escape from reality
[Photos via YouTube]
Many people who are stuck inside while social distancing have probably thought of a few places they wish they could escape to right now. Whether it's the beach, a music festival or a restaurant up the road, we're all feeling the pain of having to stay home due to the ongoing coronavirus pandemic. Even though the list of places most of us can go to is pretty short right now, there are always music videos we can escape to.
We found 10 of the best visuals we wish we could run away to right now because they just seem like happy places to be. Check those out below. 
Neck Deep – "Motion Sickness"
This video shows Neck Deep just skating around town on a beautiful sunny day and enjoying life. They go from the beach to the skate park to a packed concert, which sounds like a perfect day to us after all of this social isolation. 
Taylor Swift featuring Brendon Urie – "ME!"
Taylor Swift and Brendon Urie created a fantasy world in this video. It's a pastel-colored dream filled with dance ensembles and too many wardrobe changes to count. Watching the visual will make you want to happy dance to a self-empowerment anthem yourself.
Wallows – "Pictures Of Girls"
Wallows' video for "Pictures Of Girls" shows a typical day. They're hanging by a pool with a dog and running down the neighborhood streets with friends for no particular reason. It's the mundane joy in this video that really makes us happy right now.
Machine Gun Kelly
and

YUNGBLUD

featuring

Travis Barker –

"I Think I'm OKAY"

This video for MGK, YUNGBLUD and Travis Barker's collab is an all-out party in the street. Just watching a bunch of people gather for an impromptu celebration, something frowned upon currently, makes us extremely jealous. 
The Regrettes
–
"Hey Now" 
The Regrettes created a '50s-inspired dance party that makes us want to put on vintage clothes for a themed event. It's just fun to watch all of the people in this video have the time of their lives while listening to live music in a sparkly room. 
Post Malone – "Saint-Tropez"
This video is basically one giant flex for Post Malone. He's shown rapping outside a ridiculous house with cool cars parked out front. He even wears a suit to drink champagne while showing off all of his cool things. It proves that Malone's mansion is the No. 1 place we want to be quarantined in right now. 
Fall Out Boy
– "Uma Thurman" 
It's obvious Fall Out Boy had so much fun filming this video. It sounds pretty good right now to get to be the band's assistant for the day, walking their zebra and singing karaoke with Patrick Stump. Also, all of the cameos are the cherry on top of this exciting video. 
Paramore – "Ain't It Fun" 
The song alone will probably boost your mood. The video featuring Paramore breaking a bunch of world records is also a good way to escape from reality. They smash guitars and records and have a blast doing it, and we wish we were right there with them. 
Mod Sun – "address on the internet"
Mod Sun threw the craziest Christmas party of all time in this video. It's filled with over-the-top decor and people in ridiculous holiday-themed outfits smoking weed and partying till they can't anymore. 
State Champs – "Losing Myself" 
State Champs filmed this low-budget video in a real waterpark, which sounds like the most fun right now. The band take advantage of every amenity the park has to offer, which is probably how we will view the world when we're allowed to go outside again.