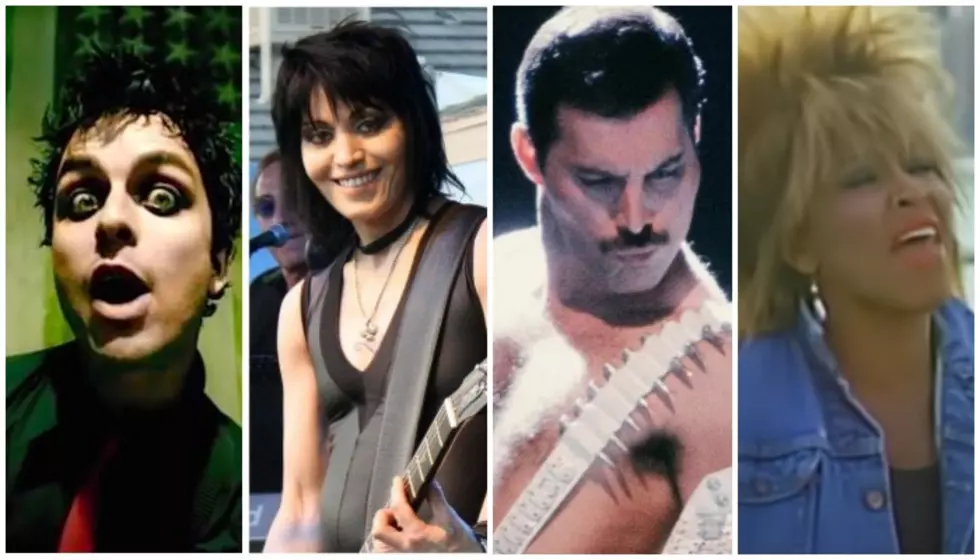 12 musicals that prove rock musicians have the best stories
[Photos by: Green Day/YouTube, Joan Jett/Jessie Terwillige, Freddie Mercury, Tina Turner/YouTube]
The good old days of the closest Broadway ever coming to a rock 'n' roll experience being Jesus Christ Superstar or Hair are long gone and have been for a long time. While those shows did, and still do, rock and can even be viewed as a harbinger of things to come, the headbanging on the Great White Way is at an all-time high. Well, at least it was, up until the lights went out on Broadway.
But when they come back on, so too will the rocking out continue to commence, with many shows actually dedicated either to an artist's entire catalog or one lone record. This trend went from the "jukebox musical," which basically means all of the songs in the show will be recognized hits from a variety of artists to shows being built around a popular album. Let's look at some of the best.
American Idiot
Making a Broadway show out of Green Day's tour de force concept record was initially deemed "selling out." Broadway aficionados oblivious to the source material made up their minds before even seeing it that it would be a flop simply due to the fact that it was based on a "rock 'n' roll record." Well, wasn't everybody just about as wrong as wrong can be? American Idiot went on to win a Tony Award or two, and even a Grammy, while "Jesus Of Suburbia" raged on the stage. The parking lot of the 7-Eleven impeccably recreated, those in the know watched the uninitiated's jaws drop as songs such as "21 Guns" and "Wake Me Up When September Ends"—as Broadway-bound as songs can be—washed over them. 
Rock Of Ages
An example of the aforementioned "jukebox musical," the underdog hit Rock Of Ages even found its way from the Great White Way to the silver screen. And with Tom Cruise in the lead! But let's just leave that right there where it belongs. The story of a small-town girl living in a lonely world who gets on a bus to hit Los Angeles and make her way as a singer is an old one, but not when '80s rock anthems by the likes of Poison, Foreigner, Joan Jett and, more recently, Def Leppard are in play. She meets another wannabe rocker, just a little bit further down the road to rock star success than she is, and love manages to both bolster and betray while they rock all the way. 
We Will Rock You 
Long before there would be a Bohemian Rhapsody movie, and Oscar winner Rami Malek would become inextricably linked to the late, great Freddie Mercury forevermore, there was this underrated gem of a musical based on Queen's considerable canon. Sure, it killed in the West End of London, but stateside, the wild ride proved too, well, mercurial for Broadway fans. It's the story of a group of "Bohemians" (we know) fighting to restore free thought and, more importantly, fashion in a world where everyone thinks, behaves and dresses the same. Where the musical truly shined was song selection: "Ogre Battle," "Flash" and "No One But You (Only The Good Die Young)" were included with tunes any classic-rock fan would come to expect. Critics can bemoan the storyline all they want; it rocked you.   
Bat Out Of Hell
The similarities to We Will Rock You are striking. This short-lived musical based on the music of Meat Loaf (or, moreover, composer of all Loaf's music and more, Jim Steinman) also rocked pretty freakin' hard. Bat Out Of Hell, too, took place in a not-too-distant dystopian world and follows outsider Strat (yes, that's his name) as he seeks to not only take down the leader of this new tyrannical order but love the guy's daughter in the process. All the Loaf songs are present and accounted for ("Paradise By The Dashboard Light" and "I'd Do Anything For Love (But I Won't Do That)"), but the die-hards know Steinman is also the guy who penned hits such as "It's All Coming Back To Me Now" and "Making Love Out of Nothing At All," which are included as well. Outlandish, outrageous and outstanding! 
Love, Janis
Far more subtle and poignant than its predecessors here, this off-Broadway stage show inspired by the music and personal writings of Janis Joplin had a short run, but what a run it was.  Two women played the inimitable musician, one who read the star's letters in character and actually acted, while another was solely the singer of the songs, fronting the band. In its short time, many famous rockers took on the singing part of the show, from Sass Jordan to Beth Hart. Sure, "Me And Bobby McGee" and "Piece Of My Heart" are included, but so are "Ball And Chain," "Summertime," "What Good Can Drinkin' Do" and "Mercedes Benz," among many others in an unexpectedly sprawling set.     
Tina
Tina Turner was, and is, so much more than the admittedly great film What's Love Got To Do With It. Hence, this musical, which leans less on Ike Turner, and that abusive relationship, and more on Tina's full story. This being the case, the audience gets early Nutbush, Tennessee, Tina (aka Anna Mae Bullock) belting out tunes such as "Nutbush City Limits" and "Shake A Tail Feather," plus all the many, many hits that would come later ("The Best," "We Don't Need Another Hero" and "Private Dancer" among them). Because Tina's hits kept coming, long after her relationship with Ike ended. Tina was a hot ticket to get in NYC until the lights went out on Broadway due to the pandemic. It's expected to resume once they come back on. So, too, will sales.
Ring Of Fire
One main question going into a musical about the ferocious, unapologetic "Man In Black" was if his haunting, brilliant cover of the Nine Inch Nails hit "Hurt" would be included in the show. After all, it didn't have to be. Sure, it was a hit for Johnny Cash too, but it's not like he didn't have tons of original material to choose from. Like, say, the title track, "I Walk The Line," "Folsom Prison Blues" or "Get Rhythm." Plus the song "Man In Black," where Cash straight up gave himself an alter ego. But "Hurt" sure as hell is included in a show with a staggering 39 songs to run through. Unlike Tina, this musical isn't the story of Cash's life (which can be seen on film anyway, with Joaquin Phoenix and Oscar-winner Reese Witherspoon starring). Ring Of Fire plays more as a tribute concert than a Broadway show. Which would've probably been just fine by the bad boy who not only spent his final years covering NIN but also Depeche Mode ("Personal Jesus"). Jukebox was just fine by him. 
All Shook Up
With a book by Tony-winner Joe DiPietro, this foot-stomper that premiered on Broadway in 2005 is a far cry from where DiPietro's feet would later tread. After all, the Tony he won was with Bon Jovi pianist David Bryan by his side. They came to work together twice, on the hilarious yet hard rockin' Toxic Avenger musical off-Broadway, and on the Tony-winning show that got him closer to Elvis Presley—at least geographically, if not soundtrack-wise as well—Memphis. All Shook Up was about leather-clad Chad, a hip-swiveling guitarist who's more interested in finding his true love than becoming a rock star, and lives in a town a lot like the one in the movie Footloose. Plenty of Presley hits are on hand, except for the glaring omission of "Suspicious Minds" (and one of this writer's personal faves, "In The Ghetto"). 
Our House
Who'd have thought that the early '80s MTV staple artist Madness had enough songs to fill an entire musical? Their hit "Our House" was in constant rotation on the music channel in its early years, but so was "Come On Eileen," and there's no Dexys Midnight Runners musical on the horizon, is there? Still, Madness prevailed, both literally and figuratively, and the show premiered in 2002. It even went on to win the prestigious Olivier Award for Best New Musical. Exploring themes of family values, growing up and dealing with loss, all of the music was composed by the English ska pioneers, save for one ditty: "It Must Be Love." Its premiere proved the hottest ticket in the West End. "West End Girls" might make a pretty fine musical too. 
Head Over Heels 
The same question must have surely been asked of the Go-Go's: Are there enough hits for a musical? The answer to that question is debatable, but there are handily more hits than the average music-lover would easily recall. "We Got The Beat" and "Our Lips Are Sealed" are no-brainers. Even "Vacation." But what about the plucky rocker "Get Up And Go"? Or the title track itself, which cracked Billboard's Top 20 in 1984, along with another single off that third record from the all-girl group, "Turn To You"? You know 'em. Just like you know the solo Belinda Carlisle stuff they added to the mix, such as "Mad About You" and the '80s mega-hit "Heaven Is A Place On Earth."
Jagged Little Pill
Full disclosure: The storyline for this musical is an ambitious one, and it's curious that a show based on such a groundbreaking record wouldn't center around one lone female protagonist, singing everything from the aggressive "You Oughta Know" to the catchy "Ironic" and everything in between. Rather, they decided to share the wealth here, divvying the many hits up between a cast of characters. Hey, it wound up receiving 15 Tony nominations, the most of the season when it premiered, and its book was written by none other than Diablo Cody (the celebrated scribe behind Juno and Jennifer's Body), so what do we know? And for those not in the know, the musical includes songs that aren't on Alanis Morissette's breakthrough record, such as "Thank U" and "Uninvited." But c'mon, it had to include "Uninvited." 
Tommy
Saving the best for last, the Who clearly set the stage for all of this way back in 1969, when the titular "rock opera" was released to a dumbfounded world. It was all things at once: a rock record, a concept record and a rock opera. Soon enough, it was even a film, with no less than Elton John playing the "Pinball Wizard." The Broadway musical was simply inevitable. The story on display in the musical is a complicated one. It's a departure from the film in many ways, as it focuses on a "deaf, dumb and blind boy" whose take began during wartime. Interestingly, the musical sticks to the source material when it comes to the songs, however. You get what was on the record, and no extra Who classics are thrown in for good measure. Sure, "See Me, Feel Me" and "I'm Free" will make you want "Baba O'Riley," but that doesn't mean you're going to get it, or should. The Who set the stage. Who's next?