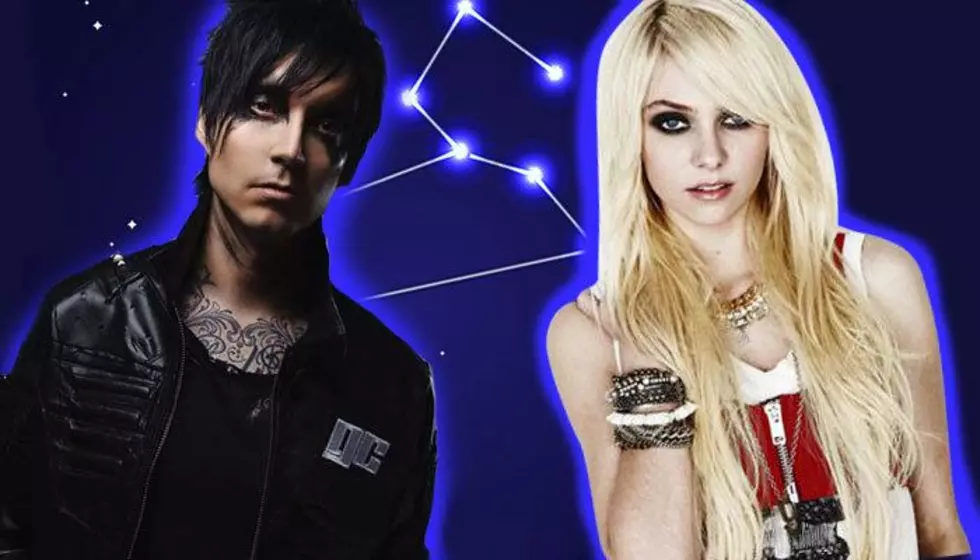 20 Leos in the music scene celebrating their birthday season
Happy Leo season! It's that time of year again where we are celebrating our favorite Leos who were born from July 23 to Aug. 22. Leos are known for radiating confidence, ambition and creativity but deep down being emotional and introspective. Leos are a fire sign, and they sure do bring the heat, especially in those end-of-summer months. That's why many Leos take to the entertainment industry as musicians and bless us with some amazing tunes.
To celebrate these fiery lions, we are rounding up 10 musicians who are Leos. From Slash to Demi Lovato, scroll through to find some of your faves! Some may even surprise you…
Slash – July 23
Saul Hudson, aka Slash, is best known for playing lead guitar in Guns N' Roses. Leos are particularly recognized for their stellar hair, and Slash is definitely no exception. Leos also carry themselves confidently and aren't shy in front of a crowd. They're creative and exude talent. We'd say Slash checks those boxes, too.

Mick Jagger – July 26
Talk about confidence. Our second Leo is none other than Mick Jagger, the lead singer and one of the founders of the Rolling Stones. One of the most alluring qualities of Leos is their resilience. Leos are extremely successful in doing anything they set their minds to, and Jagger fits right in. The Rolling Stones have always been wildly successful in huge part to Jagger, following that Leo mindset. 
Roger Taylor – July 26
Roger Taylor is the drummer for Queen, and honestly, that's the most Leo thing we could have said. He exudes Leo style and confidence while putting his creativity to the max. Taylor is celebrated for his unique drumming style that only a Leo could pull off.
Taylor Momsen – July 26
Taylor Momsen from the Pretty Reckless is definitely a Leo. Have you seen her unique punk style and glam makeup? Momsen transitioned from child actor to rock star, and the Leo energy oozes out of her. From her style to her talent, Momsen is undoubtedly a rock star Leo.
Jacoby Shaddix – July 28
Our next Leo is Jacoby Shaddix, the founder and lead singer of Papa Roach. Something to never dismiss with Leos is their love of glam. Leos are known for their amazing fashion and don't shy away from glamorizing their life. Shaddix is famous for his creative style and a touch of eyeliner, too. Eccentric style is the epitome of being a Leo, and Shaddix certainly exemplifies that.

M. Shadows – July 31
If we're talking about Leos and style, M. Shadows from Avenged Sevenfold certainly comes to mind. As the lead singer and co-founder of the heavy-metal band, he's known for his thick sunglasses and tattoos. Shadows gets creative with his stage style and carries himself with the confidence only a Leo truly can.

Charli XCX – Aug. 2
Charli XCX is such a Leo, and let us tell you why. The singer-songwriter has been fighting nonstop for her music career since she first posted her songs on Myspace in 2008. She's worked hard to establish herself and her personal style, all traits of a magnificent Leo. What a queen!
James Hetfield – Aug. 3
As a singer, guitarist, co-founder and writer for Metallica, James Hetfield is man of many hats and the essence of a Leo. Why? Because Leos are so innately creative that they often find many different avenues to express themselves and their interests. Many Leos take their creativity into music and focus on every area, just like Hetfield. 
John O'Callaghan – Aug. 4
Best known for fronting the Maine, John O'Callaghan uses his platform to tackle issues, such as his battle with depression and being patient with recovery. Leos are noted for being emotional with big hearts, and O'Callaghan certainly is no exception.
Brittany Brooks – Aug. 5

Brittany Brooks, the drummer for rock band Scarlet Fever, is known for her amazing talent behind the kit as well as her various genres of music. Just being surrounded by feminine energy in the band is enough Leo power right there, but her talent for drums and her affinity for music makes her radiate true Leo confidence. Don't sleep on Brooks.

YUNGBLUD – Aug. 5
Speaking of unique Leos, next up we have singer-songwriter YUNGBLUD. He made a name for himself with his debut album, 21st Century Liability, in 2018 and has been riding the charts ever since. Fans of all ages love YUNGBLUD as his music jumps across many genres yet remains incredible. He possesses a stunning style that's all his own, which if you haven't realized yet, is the epitome of a Leo. 
Lauv – Aug. 8
Lauv is a singer-songwriter who has actually collaborated with a couple of other Leos on our list. Lauv has written songs with Charli XCX and Lovato, and we love to see that Leo creativity. He's also noted for having bold hair colors and style as well as possessing incredible songwriting talent. One true Leo, if you ask us!

Telle Smith – Aug. 9
What makes the Word Alive lead vocalist Telle Smith a Leo is his absolutely amazing vocal range. The man is extremely talented and can sing high tenor, scream and jump to low-range vocals, too. Talent and Leos go hand in hand, and Smith is proof of that.

 Joe Jonas – Aug. 15
We cannot talk about Leos without discussing Joe Jonas. Joe is most well known for his band with his brothers, the Jonas Brothers (and possibly leaking that My Chemical Romance reunion), and fans around the world were ecstatic when the brothers recently got back together. From his ever-growing confidence to that full head of hair, we would be surprised if Joe wasn't a Leo.
Robert Plant – Aug. 20
One thing is for sure: Leos dominate rock 'n' roll. Led Zeppelin frontman Robert Plant has a great head of hair, but his band are famous for their compelling image. Plant helped shape rock music into what it is today by adding so much creative expression. From image to lyrics to the music itself, it's no surprise that Plant is a Leo. 
Demi Lovato – Aug. 20
Demi Lovato may have gotten her start on Disney, but the fellow emo music lover has since made a name for herself in the music industry. In the past, Lovato has struggled deeply with her body image, and her confidence has been shaken. However, the songwriter has blossomed over the last few years, growing to love herself and her curves, rocking that bright Leo energy.
Jake Pitts – Aug. 21
Talk about that Leo hair. Jake Pitts, lead guitarist in Black Veil Brides, has an inimitable style that goes along with BVB's punk-glam-rock theme, and we couldn't be more obsessed. A true Leo, through and through.
Kacey Musgraves – Aug. 21
Hear us out: While Kacey Musgraves is a huge voice in the country music scene, she's also the epitome of all things Leo. From her style to her passion, the former scene kid has worked hard to earn her place in the music world. She's different from many of the typical country acts, and that individuality is everything to a Leo.
Tori Amos – Aug. 22
Tori Amos is a jane of all trades in that she's a classically trained musician. The singer has a full head of red hair and has never shied away from being exactly who she is. Amos has the most elegant confidence and is one alluring Leo.
Layne Staley – Aug. 22
Layne Staley, the late former frontman of Alice In Chains, is a staple in the Seattle grunge movement of the '90s. Grunge was all about identity and creating a new kind of rock with punk and classic themes. Leos fit wonderfully in the grunge movement due to the level of self-expression in the genre. Staley was monumental in the grunge scene, from his resilience to his confidence.