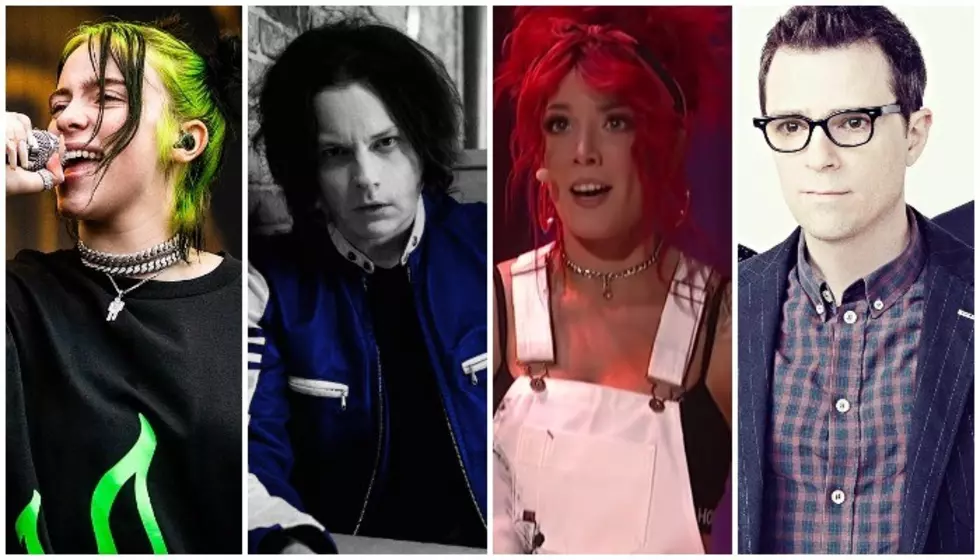 10 musicians with hobbies you probably didn't know about
[Photos via Billie Eilish/Lars Crommelinck, Jack White/David James Swanson, Halsey/SNL, Rivers Cuomo/Emily Shur]
Musicians are just like us—they also do strange things when boredom takes over. While many artists talk about their love of making TikTok dances or binge-watching Netflix, a few rock stars prefer hobbies that are a little more unusual. 
We thought it'd be fun to find 10 musicians who have interesting hobbies, from beekeeping to collecting taxidermy, so you can understand some of your favorite artists a little better. You can check those out below.

Halsey – painting
While painting isn't exactly that unusual of a hobby, Halsey takes it up a notch with her hyperrealistic portraits. Remember when she painted a self-portrait upside down while somehow performing for Saturday Night Live at the same time? Or when she revealed the Manic album art through a seven-hour livestream? That's another level of talent. 
Tom DeLonge –
 aliens
When blink-182 wrote "Aliens Exist," they truly meant it. Tom DeLonge has been super involved with space research, even starting To The Stars Academy Of Arts & Science a few years ago. While his love of aliens is well-documented, let's also not forget that the Pentagon weighed in on three videos of UFOs captured by DeLonge's academy, which is undoubtedly impressive. 
Jack White
– collecting taxidermy 
Jack White apparently likes to spend his free time collecting taxidermy, which he proudly displays in his home. The White Stripes frontman even appeared on American Pickers once to spend $12,500 on an elephant head, so it's definitely serious for him. 
Maynard James Keenan
– winemaking
Maynard James Kennan love of winemaking goes beyond a hobby—it's a business. The Tool frontman owns his own winery called Caduceus Cellars in Arizona that sells bottles online, so you can taste it for yourself. 
Billie Eilish – 
horseback riding 
Billie Eilish spent time riding horses as a kid and told Rolling Stone that she was looking to get back into it. However, she said it's more for her mental health than just a hobby out of boredom, so it means a lot to her. 
Rivers Cuomo
– knitting
Rivers Cuomo has previously tweeted about knitting in bed and explained it a bit further to Huck. The Weezer vocalist said he was knitting, doing clay sculptures and whittling, revealing that he enjoyed the process even though he didn't have a "special talent" in it. 
Cherie Currie –
 chainsaw carving 
Cherie Currie takes the cake for the most interesting hobby. The Runaways frontwoman has an entire website filled with the carved creations she makes using a chainsaw. She even enters competitions for the art and has won awards, so she's incredibly skilled. 
James Hetfield – beekeeping
Metallica's James Hetfield likes to unwind by keeping bees and even told New York Post about accidentally leaving some of his skin exposed and getting stung 20 times on his ankle. We would pay so much money to see Hetfield perform with Metallica in his entire beekeeping suit. 
Flea
– chess
Flea of the Red Hot Chili Peppers is somewhat of a chess star. Allegedly, when the band performed in Brazil one time, Flea took on a world-champion chess player, though he didn't win. 
Terminator X
– ostrich farming
After Terminator X retired from Public Enemy and music entirely, he took an unexpected turn to ostrich farming. Who even knows how you get started with such a hobby, but he became an ostrich farmer in North Carolina in the '90s.