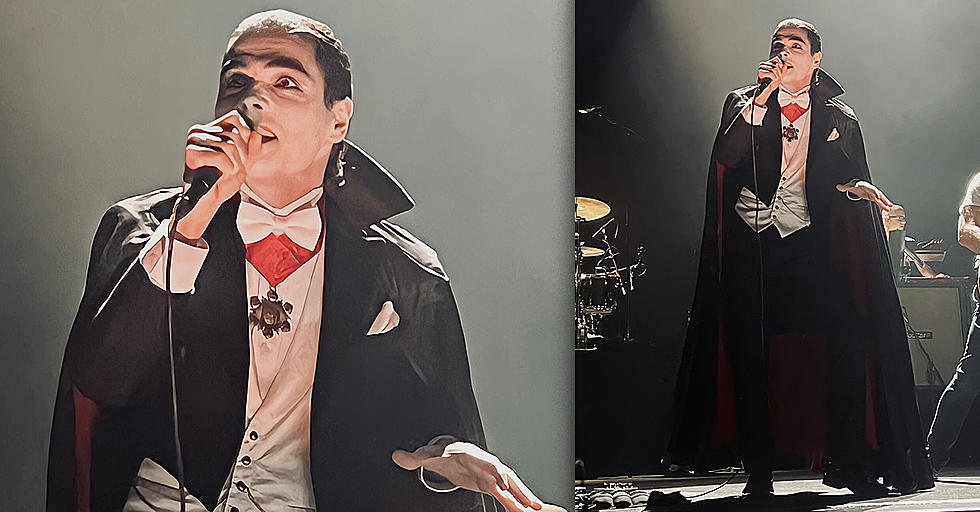 How Gerard Way & designer Marina Toybina collaborated on his My Chemical Romance Reunion Tour looks
[Photo by Kaylan Sturiale]
My Chemical Romance is back on tour and bringing new material. Well, they're bringing out new stage wear at least, in addition to their first, new song in years, "The Fountains of Decay," which dropped in spring 2022. Last year, frontman Gerard Way introduced fans to characters inspired by Bela Lugosi's Dracula, Joan of Arc, an homage to Princess Diana, and more. The stray from their memorable Black Parade uniforms was well received by audiences and nearly broke the internet every night. With that, a new era of MCR was created and continues to be celebrated by fans who have missed them since their 2013 split. 
Many of those viral looks can be attributed to designer Marina Toybina, a six-time Emmy Award winner, who's worked on shows like The Masked Singer and got her start in fashion before designing costumes, where she found a niche designing costumes for dancers, including support on major tours. That eventually evolved into making stage wear for the lead talent — and she's since worked with the likes of Katy Perry, Usher, and Carrie Underwood. When MCR announced their reunion tour, the designer, who was a longtime fan of the band, jumped on the opportunity to work together. As soon as she learned they were going on tour and playing a show on her birthday, she says, "I said [to myself], 'I'm either going to be at that show or I'm going to dress them.' I guess you can say I manifested it; I put it into the universe a year before we reached out to them." As soon as she and Way met and realized what creative chemistry they had, the collaboration was a go.
AP spoke with the costume designer about working with the band on their latest tour, which just resumed in New Zealand, Australia, and Japan. Though not her first time creating for a world tour, she dives into her experience collaborating with Way, obstacles in designing a custom sheet ghost costume, and more.
[Photo by Brett Erickson]
What is it like styling and working with Gerard Way? 
When we got together for our creative meeting, he already had very set ideas and specific characters he wanted to play with. It's very different from the aesthetic we all know from the Black Parade. This was amazing because I got to work with Gerard one-on-one and bring his ideas to life. From his list of characters, I made my own creative decks of what I can imagine or interpret. Then we honed in on the looks we wanted to achieve for the U.S. and Mexico leg of the tour. 
The one thing I didn't want to do was put so much of myself into this, even though I was excited. As a fan, I really wanted to respect the artistic views that he had and how specific certain things were, so that took me into deep diving research. We began doing the footwork by starting at vintage stores and costume stores. When you're designing for someone who is already an amazing artist, you must fall into their world because they transition and transform into these different characters. I really paid attention to detail. Everything was very specific and strategic, which I enjoyed — down to the right socks with each outfit, the right color, fabrics, and medallions for Dracula. 
It's very rare you get to work with somebody [that], when in complete silence, you get where this is going, what was missing, what we need to take away to really make these looks come alive — and that's how the process led us to prepare the looks and send him out on the road. 
Did you feel there was pressure going into this to create a new look for a band that is well-known for their former uniform? 
I'm a huge fan of Colleen Atwood, [who designed the looks for "The Black Parade."] This was definitely a new chapter and a different direction from the artwork and costuming prior. I feel like because we approached it from a new era and collaboration, there was really no pressure.  
It was really understanding his direction, how much detail he was able to share with me, what these characters mean, and how we are going to bring them to life. We have such beautiful and open communication, it was so artistically brilliant, easy, and collaborative. There were no issues or challenges when I went in to facilitate the right shoes, cuts, work with my team to then reshape, resew, and make everything custom to him. Even though we might have been using costumes, vintage pieces or something that already existed, at the end of the day, the looks were formatted for him. 
Having two artists speak the same language and have respect for each other's artistry, that's what made it special. In addition to fittings at my studio, he was very much aware of my space, met the sewers, knew the process, and became involved in how my team and I do things. On my end, that was special because I saw gratitude and respect for my way of creating art. I already had that for him and because that was mutual it was easy for us to make that happen.  
That sounds so lovely and like an ideal situation for artistry to flourish. 
It was a dream come true. I think many times when someone says that and you check off your bucket list, it's more so like a fantasy or a dream you had, but I genuinely mean it was a dream come true. It was the epitome of a perfect collaboration between a designer and a frontman and having that common goal that we are both creating for music is a unique and one-of-a-kind experience you get to see come together. 
What was it like working on the cheerleader costume? It nearly broke the internet when photos of it surfaced last fall. 
Even the pattern sold out! With the cheer uniform, ideally, we wanted it to be white and green, we wanted vintage. I can't tell you how many Etsy shops I looked at, vintage stores I went to, and [how much I looked on] eBay. Regardless of what I was able to find, it was either not the right fabric, not the right size, or I knew he'd probably sweat his heart out if we put him in wool or polyester. It happened to be my last stop at a vintage store, and as we were leaving, I saw this dress hanging on the back of the store and I knew this was it. There was no zipper, the hem was non-existent, the fabric was washed out, it was a very old constructed dress, but I knew it was my perfect base. With my team, we got the fabric, reconstructed it so it was his size, and from there we started doing all the surgeries to make it look as vintage and authentic as we could. No one ever thought it would break the internet, but I think because so much attention to detail and care went into this piece, it just felt right. Then he went on stage and the fans took over. 
What was your reaction to that? 
I truly had no idea the impact the costume had, because the night before, his manager sent me an email with a photo of him in the costume on stage, and the next morning it was everywhere. I didn't know people knew we were collaborating at that moment, but everyone was sending me beautiful pictures and [saying] how much they appreciated it. 
It worked because we didn't follow a formula, it wasn't something popular. From a rock band, it was refreshing to see on stage, especially going back out on tour with an aesthetic, his presence, the way he performs. He's known for intricate costuming and doing artistic things with his image, so for us, we didn't expect it was going to be favored. Then, it just grew and grew with every look.  
Can you tell us a bit about the ghost costume? 
The amount of sheet costumes I researched! You think it's so simple to put a sheet on someone, but it's not. You don't get the right angles. We ordered XL bed sheets to compare how the cotton weighs and drapes differently. It was very experimental. Most people don't know, but there is a full structure inside of the sheet costume to keep the shape. And that's what makes it great — I didn't just throw a sheet on him. We used a scientific approach to make the perfect drape so it could naturally move like a ghost.
It's unbelievable to me that some people have it tattooed on them! It was an interesting choice and that's why I say Gerard is brilliant, because of his timing and his way of utilizing all his characters.  
What is your favorite look from the tour? 
So many, but I think Joan of Arc. I felt there was something brilliant about him representing the character, and sentimental to me because there was a power to creating the costume. Instead of using that metal armor and still getting that tone across, I used fashion inspirations rather than historical armor guards. It was an interesting approach to building that character and it worked with his on-stage brilliance and his makeup. To me, that was one of the most memorable looks. 
What advice would you give to up-and-coming fashion designers that would like to design for performers and tours? 
There are so many ways to go about it. Understanding truly who you are working with, there is always an aesthetic and there's always a feeling behind the artists' music and being able to understand what message is coming across. Ask yourself, "How can you use your art to deliver theirs?" There must be a strong collaboration because you're not just dressing for the photo. You're dressing because there is a message that comes along with each performance and look, whether it's a music video, stage performance or tour. There's always something meaningful that comes with music. Being able to do the research, have open communication with your artists, and identify the goals you're trying to achieve. I think music is a universal language, but once you bring theatrics into it, the goal is to elevate the show, to make your artist feel comfortable and still be them without changing or taking them out of their comfort zone. You don't want your artists to ever feel like they are wearing a costume. You want them to feel like they're coming alive as whatever character. Not even just in costume, whatever wardrobe you put on someone should be an extension of them without that feeling of doubt or second guessing.  
My biggest advice is to fall in love with the project, have passion for that musician, understand the music and their message, what it represents to their fans. At the end of the day, it's being performed for a greater audience and that affects people.