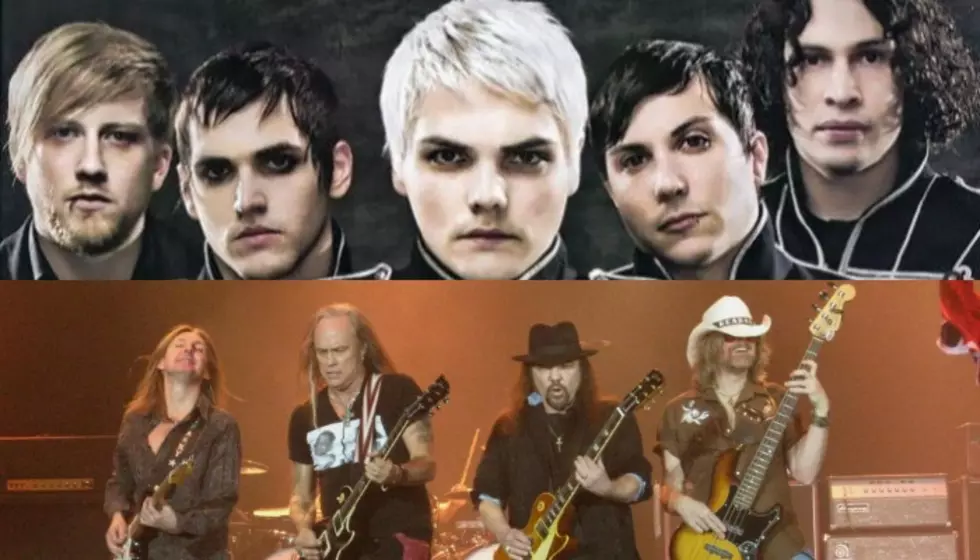 My Chemical Romance, Lynyrd Skynyrd mashup is both ridiculous and amazing
[photo: Lynyrd Skynyrd/Wikimedia Commons]
Someone has made a mashup of "Welcome To The Black Parade" by My Chemical Romance and "Free Bird" by Lynyrd Skynyrd  that you will never be able to unhear.
DJ Cummerbund, who makes many mashups on YouTube, is responsible for the video. 
It is filled with footage of live shows from both bands, a surprise Elton John appearance and cameos from assorted Muppets characters.
The songs, which on the surface couldn't be more different, surprisingly go well together. We definitely would have never thought of this, but we're not mad at it. 
You just have to watch the whole thing for "Bird Parade" for yourself below.
In other news, My Chemical Romance recently broke the internet when they revived their Twitter account for just one day. They did so ahead of the sixth anniversary of the band's official breakup.
However, the notification in question turned out to be a tweet promoting Frank Iero And The Future Violents' headlining tour and new song. 
Also, MCR recently hit the top of the music charts for the first time in over a decade. The band's timeless 2004 album, Three Cheers For Sweet Revenge, was back on the Billboard 200, claiming the 191 spot.
Who knows if it's because the attempt at a reunion for the upcoming Warped Tour anniversary shows the worldwide obsession with The Umbrella Academy, but we're definitely happy it happened.
This is only the latest resurrection for classic MCR jams, with "Welcome To The Black Parade" recently hitting a huge streaming milestone a couple of weeks back.
One of the most recognizable bangers on the band's third full-length record, The Black Parade, finally hit 100 million streams on YouTube.
Even though "Welcome To The Black Parade" hit this huge milestone and may be regarded as one of My Chemical Romance's most popular songs, it actually isn't the most-viewed music video of theirs on YouTube.
"Teenagers" currently holds the record with 120,311,982 views at the time of press. "Famous Last Words" also has more views than "Welcome To The Black Parade," with over 103 million views.
What do you think of the MCR mashup? Sound off in the comments below!
[envira-gallery id="197607"]