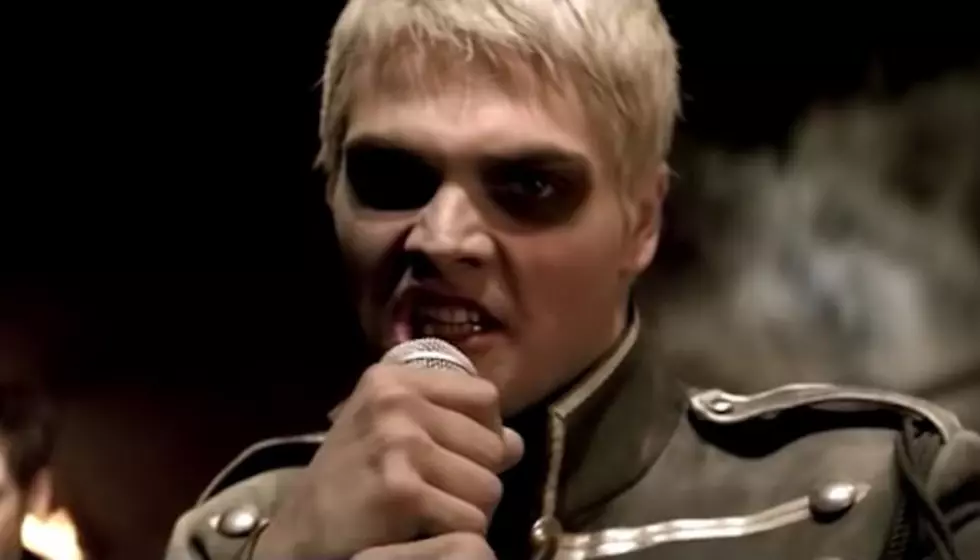 10 My Chemical Romance memes that were all of us buying tour tickets
[Photo via YouTube]
My Chemical Romance finally announced a North American tour recently and broke the internet when tickets went on sale Friday. The band announced their first U.S. tour in nine years last week with the Easter egg-packed "A summoning…" video. 
While we knew tickets would be a hot commodity, we didn't expect the total chaos that ensued online. 
The entire tour sold out in less than six hours, but those who were able to acquire tickets didn't have the easiest time. 
Thanks to the internet, we were all able to bask in our shared misery together. We found 10 of the best memes that perfectly describe our feelings when trying to snag tickets. You can check those out below. 
When you and your friends were strategizing how to get tickets and were basically assembling like the Avengers

Planning to risk your whole identity if you didn't get tickets
This meme was actually us at our computers waiting for tickets to go on sale
When we saw how many people were in the queue and started getting irritated
And waiting for your turn felt like an entire eternity.
When the price increases due to demand made as much sense as this tweet.

This was definitely us a few times when we thought there was no hope left.

When we finally got our hands on the prize and felt like the kids in Charlie And The Chocolate Factory.

And the emotions hit us because we were actually going to a My Chemical Romance show in 2020.
When we started prepping for the big show day, including the insane amount of eyeliner we will definitely wear.
You can see the entire list of My Chemical Romance tour dates below with remaining tickets available here.
Dates:
03/20 – Melbourne, AU @ Melbourne Showgrounds (Download Melbourne)
03/21 – Sydney, AU @ Parramatta Park (Download Sydney)
03/25 – Western Springs, NZ @ The Outer Fields at Western Springs
03/28 – Osaka, JP @ INTEX Osaka
03/29 – Chiba, JP @ Download Festival
06/18 – Milton Keynes, UK @Stadium MK
06/20 – Milton Keynes, UK @ Stadium MK
06/21 – Milton Keynes, UK @ Stadium MK
06/23 – Dublin, IE @ Royal Hospital Kilmainham
07/04 – Bologna, IT @ Sonic Park Fest
07/06 – Bonn, DE @ KUNST!RASEN
07/11 – Moscow, RU @ Gorky Park
09/09 – Detroit, MI @ Little Caesars Arena
09/11 – St Paul, MN @ Xcel Energy Center
09/12 – Chicago, IL @ Riot Fest
09/14 – Toronto, ON @ Scotiabank Arena
09/15 – Boston, MA @ TD Garden
09/17 – Brooklyn, NY @ Barclays Center
09/18 – Philadelphia, PA @ Wells Fargo Center
09/20 – Atlanta, GA @ Music Midtown
09/22 – Newark, NJ @ Prudential Center
09/23 – Newark, NJ @ Prudential Center
09/26 – Sunrise, FL @ BB&T Center
09/29 – Houston, TX @ Toyota Center
09/30 – Dallas, TX @ American Airlines Center
10/02 – Denver, CO @ Pepsi Center
10/04 – Tacoma, WA @ Tacoma Dome
10/06 – Oakland, CA @ Oakland Arena
10/08 – Los Angeles, CA @ The Forum
10/10 – Sacramento, CA @ Aftershock Festival
10/11 – Las Vegas, NV @ T-Mobile Arena
10/13 – Los Angeles, CA @ The Forum
10/14 – Los Angeles, CA @ The Forum
10/16 – Los Angeles, CA @ The Forum