10 reasons we should've seen My Chemical Romance's return coming
[Photo by: Pooneh Ghana]
It's almost been a whole year since My Chemical Romance's long-awaited reunion show at Los Angeles' The Shrine. However, knowing full well that they wouldn't go quietly, we never gave up on the eventual return of the emo juggernauts. This gave way to numerous fan theories speculating the band's future.
Just as we predicted, My Chemical Romance were dropping major hints about their reunion long before they even broke up. In celebration of the first anniversary of their return announcement, and also to mourn the dates we should've been seeing MCR this year despite coronavirus putting 2020 on hold, we've collated all the hints and theories, both bizarre and realistic, that they would return. MCR are still back, and we're still not okay.
Frank Iero and the broken clock
Throughout 2019, guitarist Frank Iero was ducking and diving questions about the return of MCR left, right and center. After their reunion was finally announced, Iero pointed out his intentionally sneaky wording in his responses. "There's that rumor that kicks up, and it's like a broken clock." Notice how he didn't use the popular term "like a broken record"—a record can't really be repaired. He later dropped an Instagram post of a fortune cookie with a message that explains his choice of words. He was hinting at their reunion in front of us: "Even a broken clock is right two times a day."
California 2019
Fans know that MCR's 2010 album, Danger Days, was set in a post-apocalyptic future in the fictional Battery City, California. Not just any old future, but 2019 to be precise. Consequently, the events of the album's storyline suggest the group would be together in that year. Could My Chem have been more obvious about when exactly they intended to return? While this part of the theory was pointed out by Iero, there's another snag in the Killjoys plotline. In the True Lives Of The Fabulous Killjoys comic, the Killjoys die in 2027 while saving The Girl from the "Na Na Na" and "SING" videos. What does this mean for MCR in 2027?
Smashing Pumpkins theory
Mikey Way confirmed to Entertainment Weekly that he and brother Gerard wanted to be a band like the Smashing Pumpkins. Perhaps they took this a little too literally, as the Smashing Pumpkins broke up after 12 years together. They made their seven years after their final show, a pattern which MCR followed and gave fans a massive hint toward their return.
Joe Jonas
Who'd have thought Joe Jonas would be the person to leak an MCR reunion? In a 2019 interview with KISS FM regarding his band's ventures in the studio, Jonas said: "My Chemical Romance were apparently rehearsing next to us in New York recently, which I thought they broke up, so… that's the gossip!" While it wasn't confirmed, this vital piece of evidence may just have forced MCR's hand in announcing their reunion. It certainly pestered Iero in interviews for the rest of the year. He even alluded to the pending announcement when he said, "I survived a bus accident, so anything is possible." 
Not-so-secret reunions
The band have remained close friends and collaborators on their respective projects ever since MCR called time in 2013. In early 2019, Iero confirmed to AT&T Sports Network that: "Every year, [the members of MCR] meet and have a barbecue kind of thing. We'll have a barbecue, kids will hang out and we'll discuss business for the next year." Furthermore, all four members were spotted at an Iero solo gig in 2017. Fast forward to the night before their reunion show in L.A., the band tweeted, "In 2017, we got in a room together to see what would happen. A couple more jam sessions and 39 days of rehearsals later, we're ready to show you what we've learned." As this confirms, the band were jamming together two years before returning. Those snaps of the members together at Iero's show that year were the biggest hint that something was stirring in the MCR camp two years prior to their eventual return.
"Teenagers" theory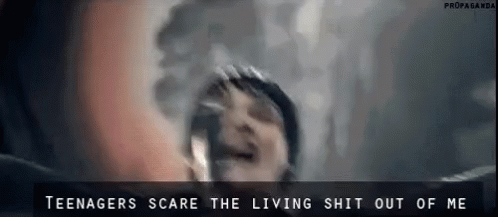 One of the most convincing fan theories surrounding MCR's return analyzed the deeper meaning behind the song "Teenagers." "Teenagers scare the living shit out of me," Gerard's sentiment rings out. At the time of their split in 2013, the band were a few months away from turning 13 years old. This would have symbolized the group becoming a legal teenager. By 2019, the year of their return, the band turned 18, the legal age of adulthood in the U.S. The suggestion that MCR disappeared for their teenage years and returned as they reached adulthood may perfectly explain a hidden meaning behind the most upbeat song from The Black Parade.
"Fake Your Death"
MCR are known for their cryptic messages, codes and complex theories that fans take time to unpack. However, there was one very obvious hint of their reunion planted right in front of us. Their final track and the only previously unheard song released on the May Death Never Stop You compilation in 2014, a year after their announced split, was titled "Fake Your Death." In hindsight, it's probable My Chem were simply faking their death all along. Perhaps their breakup was in fact a theatrical tool used to keep us all guessing rather than a parting of ways. Look to the lyrics from this moving swan song for an even more blatant hint that the separation wouldn't be permanent, and they would be back soon—"Leave the lights on when you stay."
Shrek theory
As farfetched as this theory may be, what we know now about MCR's return lends some truth to the bizarre hypothesis comparing the band's history to that of the Shrek movie franchise. The first film was released in 2001, the same year that MCR formed as a result of the 9/11 attacks. Shrek 2 premiered in 2004, less than a month before Three Cheers For Sweet Revenge was released in June. 2007's Shrek The Third details the famous ogre sailing across the world in the same year MCR's Black Parade world tour also traveled the globe. What's more, Shrek Forever After opened in 2010, the same year Danger Days hit shelves. This theory hit a snag when the fifth Shrek didn't reach screens in 2019, the same year MCR came back. Either way, it seems MCR fans have been determined to pinpoint when they would return.
Even Gerard confirmed it
Over the years since their infamous split, MCR mastermind Gerard has refused to rule out a reunion. Talking to Billboard in 2017, he said: "I wouldn't count [a reunion] out, but at the same time, everybody's doing stuff in their lives now that they're really enjoying." Undoubtedly the voice behind the band ever since their inception, Gerard confirmed their split in 2013. It seemed fitting that he would be the one to sow the seeds of a reunion in the public mind. After all, fans will recognize that this theatrical frontman's ambiguous statements always have a hidden meaning. This time, Gerard wasn't mincing his words. 
On top of all that, Gerard is an outspoken fan of David Bowie, fully aware of the maneuvers taken by Bowie to kill off his alter ego and band Ziggy Stardust And The Spiders From Mars by declaring onstage: "Not only is it the last show of the tour, but it's the last show that we'll ever do." Remind you of Gerard's confirmation at the close of the final Black Parade show: "The Black Parade is dead"? If MCR could pull it off once, they could pull it off again.
Outtakes
Outta freakin' nowhere, Warner Records released a whole bunch of outtakes from My Chem's music videos in 2018. Of course, this could have just been the label unleashing previously unseen content to keep the fandom alive. In hindsight, this video dump was a pretty clear hint that activity in the MCR camp was stirring up again. Aside from brand-new footage of the band carrying "Helena"'s coffin and alternate angles of the videos for the likes of "Famous Last Words" and "I'm Not Okay," this sudden return to the band's famous videography looked totally suspicious at the time, and now we know why.