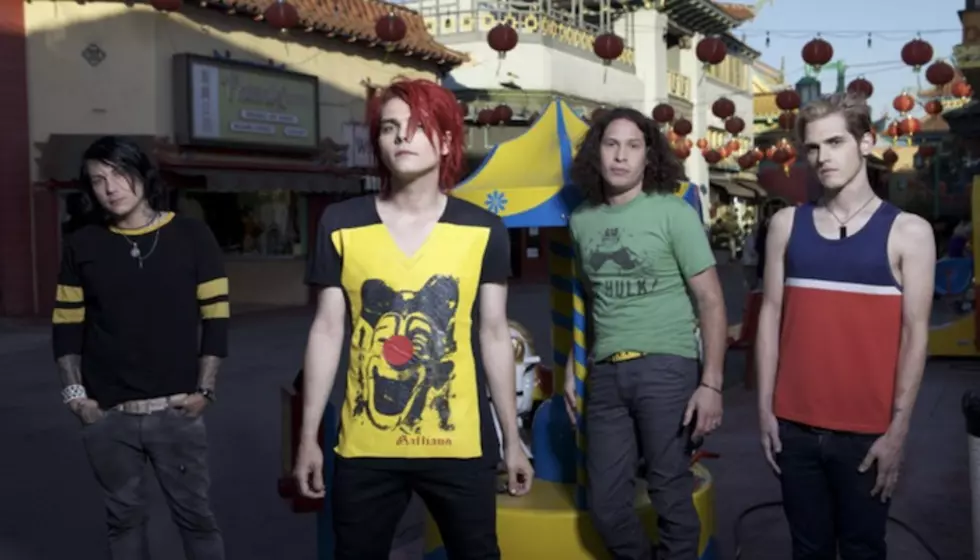 My Chemical Romance highlight new statue in return imagery
[Photo via Spotify]
My Chemical Romance are playing the most anticipated show of the decade. They announced their return with an image of a Pasquale Rizzoli statue. Now, the backdrop image at their show is a different statue than the one they first teased.
The original statue was of a pair. The image used in the backdrop at the reunion show is of a single person with wings.
My Chemical Romance announced their return on Halloween with an image of the statue below. The statue is credited by Mu Chemical Romance as Pasquale Rizzoli, Magnani Chapel, 1906, Bologna, Certosa Monumental Cemetery.
The image that is their backdrop and appears on some merchandise is much different. Check it out below.
The image also appears on merchandise that my Chemical Romance is selling at the show.
NEED THIS IN XL AND THE POSTER. I WILL PAY GOOD PLLLEASE! from r/MyChemicalRomance
Exactly what the significance of this statue remains a mystery, but it's exciting nonetheless.
More My Chemical Romance 
My Chemical Romance returning to the stage this evening marks the first time since breaking up March 22, 2013. After releasing their last album, Danger Days: The True Lives Of The Fabulous Killjoys, Nov. 22, 2010, MCR played what would be their final show May 19, 2012 at Bamboozle in their home state of New Jersey.
The band weren't originally scheduled to play Bamboozle, taking over for blink-182 10 days out after they canceled their festival slot and North American tour. Drummer Travis Barker had to undergo an emergency tonsillectomy, and MCR stepped in to fill the spot, performing before Foo Fighters on the main stage. 
The band played alongside other acts such as A$AP Rocky, Emmure, the All-American Rejects, DJ Pauly D, Iggy Azalea, the Maine, Never Shout Never, Jimmy Eat World, Motion City Soundtrack, Anti-Flag and more.
Read more: My Chemical Romance fans share misheard lyrics with hilarious results
 Check out a clip of them playing "Welcome To The Black Parade" at that show below.
According to setlist.fm, the band closed out that final set with "Helena," which you can see below thanks to fan-shot footage.
Following tonight's big return, the band will head to Australia, New Zealand and Japan in 2020. Check out the full list of dates below with tickets here.

Dates:
03/20/20 – Melbourne, AU @ Melbourne Showgrounds (Download Melbourne)
03/21/20 – Sydney, AU @ Parramatta Park (Download Sydney)
03/25/20 – Western Springs, NZ @ The Outer Fields at Western Springs
03/28/20 – Osaka, JP @ INTEX Osaka
03/29/20 – Download Festival, JP @ Makuhari Messe Event Hall

[envira-gallery id="199143"]