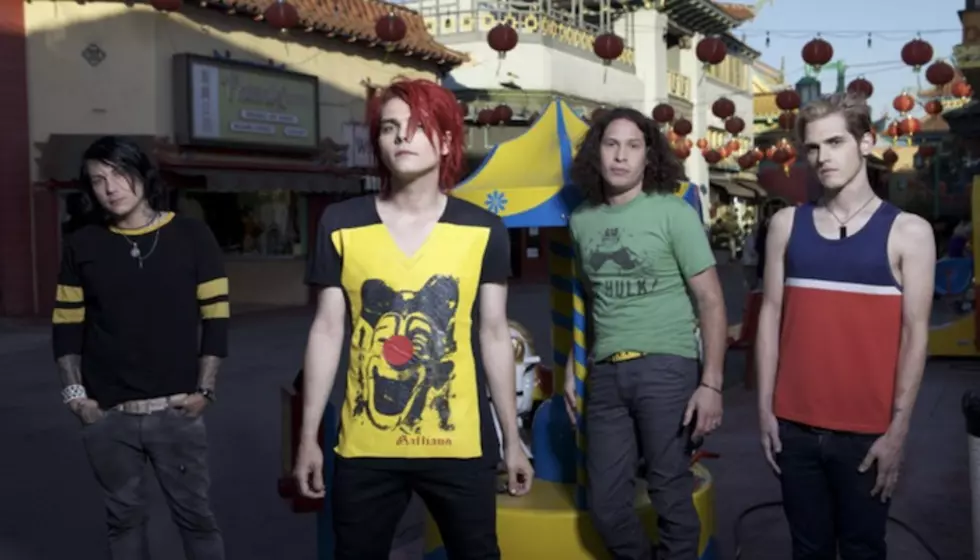 My Chemical Romance symbol-filled teaser sparks new theory
[Photo via Spotify]
My Chemical Romance have been keeping fans on the edge of their seats since they announced their return on Halloween. With the record-breaking reunion show in December having come and gone, the world is eager for more tour dates and anything confirming new music. Now, the band's latest Instagram post is sparking even more theories.
On Jan. 3, the band's account posted an mysterious image of a caped person. The figure is wearing a skull mask with a dagger in their belt. With it was a U.K. flag emoji, leading fans to theorize a U.K. show would soon be announced.
Now, the band has posted again, flipping their imagery this time around. The skull is now being used as the caption while a U.K. flag hides among an array of symbols.
The 12-second clip quickly cycles through the symbols. It presents a pattern of the same few at first before rotating them throughout.
Some of the symbols will look familiar to those who have been following the band's subtle hints since their return. While not present in this teaser, MCR's return was marked by four symbols composed within a new logo: Clarity, Courage, Sacrifice and Devotion.
Along with the "Cella Magnani" statue present in the return poster, Merlin and more, fans have dug deep to compose theories of how this could mean new music.
Things got even more involved when the band added symbols to the mix at their reunion show as they covered a merch trailer parked outside of the Shrine.
A Reddit user decoded the new merch trailer symbols, suggesting they're taken from tarot cards. The user explains in-depth that they believe Reversed Ace of Swords, Reversed Moon, Upright Tower and Upright Ace of Wands are what's being represented, and you can see their meaning here.
As you can see, four of the symbols from the merch trailer are now in the below teaser the band has shared.
In addition to the symbols from the merch trailer, there are several symbols that appear to be from some sort of alphabet. Many believe its Theban alphabet, which is used by practicing Wiccans. Those who have decoded it believe it's pointing to an announcement for June.
With MCR already being announced for Download Melbourne, Download Sydney and Download Japan, some are theorizing this means it could have something to do with Download U.K. The latter festival will be headlined by Kiss, Iron Maiden and System Of A Down June 12-14.
More on My Chemical Romance
Frontman Gerard Way continued to spark theories of magic, angels and witchcraft being a theme with his return outfit in December. With this in mind, using the Theban alphabet in this latest teaser makes sense.
The shirt Way wore to perform, as well as a jacket and undershirt later, features a sigil. Exactly the significance of that sigil is still up for debate but fans have continued to theorize.
While clarity on all of this imagery and a U.K. date still need to be confirmed, the band will be kicking off a short run of dates in March. They're hitting Australia, New Zealand and Japan, and you can grab tickets here.
Dates:
03/20/20 – Melbourne, AU @ Melbourne Showgrounds (Download Melbourne)
03/21/20 – Sydney, AU @ Parramatta Park (Download Sydney)
03/25/20 – Western Springs, NZ @ The Outer Fields at Western Springs
03/28/20 – Osaka, JP @ INTEX Osaka
03/29/20 – Download Festival, JP @ Makuhari Messe Event Hall
[envira-gallery id="186695"]