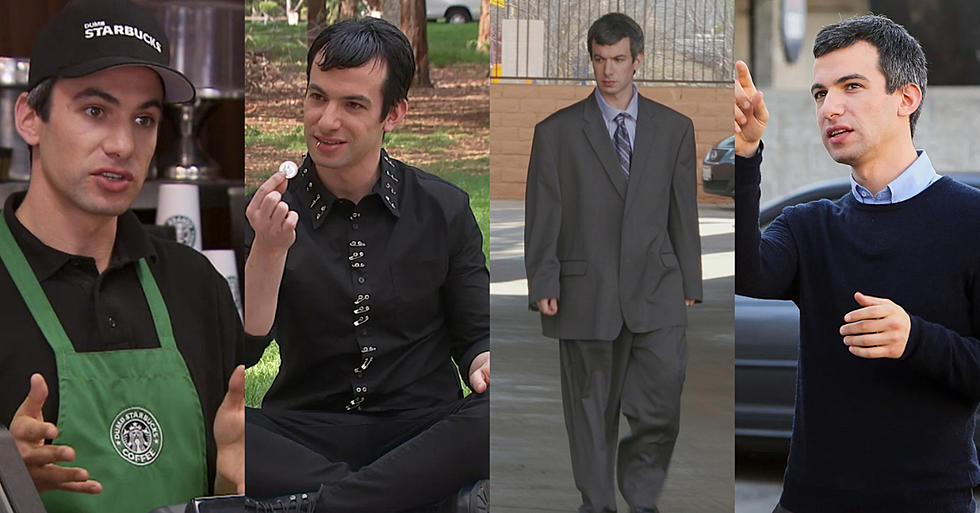 Nathan Fielder continues his reign as a cultural staple, 10 years after Nathan For You
['Nathan For You' / Courtesy of Viacom Media Networks]
Does anyone know who Nathan Fielder is? To some, he's the viral comedian who's been dubbed for the "hot girls" with his love of Lana Del Rey. To others, he's still the self-proclaimed business school graduate with really good grades who became known for the wild idea proposals presented in his 2013 Comedy Central series, Nathan For You. 
The show, which celebrates the 10th anniversary of its premiere on Feb. 28 and ended in 2017 after four seasons, has somehow become even more of a cultural phenomenon since. Five years after the finale, before Fielder returned with his HBO show, The Rehearsal, last summer, he had already posed shirtless for the cover of New York Magazine, appeared on an episode of A24's podcast with Euphoria's Alexa Demie, and began working with the Safdie brothers on a forthcoming Showtime series, The Curse. 
Back when his breakout series began, though, it was a humble show from a comedian who got his start as a writer for Canadian Idol, and later as a segment host on CBC's This Hour Has 22 Minutes. Titled "Nathan On Your Side," he played an awkward mock news interviewer who got advice on everything from MP3 player purchases to how advertising works — and the videos racked up views on YouTube. After a recurring role on Comedy Central's short-lived 2011 series Jon Benjamin Has A Van, which featured other prominent, viral comedians like Tim Heidecker and Eric Wareheim, Nathan For You finally got the greenlight from Heidecker, Wareheim, and Dave Kneebone's Abso Lutely Productions. 
While pieces of Nathan For You were built off of the "Nathan On Your Side" segment, a higher budget and the growth of social media allowed his absurdist jokes to reach new heights. In one of the most well-known examples, he transformed an owner's California coffee shop into a "Dumb Starbucks" to increase sales. The stunt worked, as people flocked to see the replica of the coffee chain and avoided legal issues as a fair-use art gallery mocking the brand. 
[Nathan For You / Courtesy of Viacom Media Networks]
Where Fielder's contemporary comedy counterparts like John Wilson, Sacha Baron Cohen, and Tim Robinson prefer to stay behind the camera or play zany characters in skits, he chooses to put himself on full display in a "docu-reality" style. To some small business owners on Nathan For You, he's pranking them and condescending. To others, they are aware of the bit and understand that the televised comedy adds to the publicity. 
Nevertheless, a decade after the debut of Nathan For You, his style of comedy has stuck with fans, and even gone on to influence other names, like John Wilson, whose HBO series How To with John Wilson, Fielder produces. In fact, the fascination surrounding Fielder has only grown, largely because fans haven't gotten any closer to figuring out what aspects of Fielder are real or an act — but they're still strapped in for the ride anyway. 
Matty Monroe, who has amassed over 200,000 followers with his Out Of Context Nathan account, first started posting screencaps after being inspired by similar profiles for It's Always Sunny in Philadelphia and The Good Place. Hearing "buzz about it from friends and people on Twitter," he binged the series around the time that season 3 aired. 
He says, "I watched the entire series in one go and instantly fell in love with it — both just how funny it was, and also just the social limits that Nathan blew past continuously in the series." He was especially impressed with the 'The Hero,' in which Fielder underwent seven months of training to walk across a high wire while donning full prosthetics, in order to convince the public he was a California man named Corey. "[The themes] are very subtly presented throughout the series. Seeing that come to a real head in that finale was really compelling to me, and made me very much invested in Nathan, the character, but also just like anything he did going forward."
Other fans, including a Twitter user Jay, who frequently makes fancams of Fielder set to songs like Fergie's "M.I.L.F. $," find that he is best summed up by the series finale, "Finding Frances," which serves as a somber conclusion and a change-of-pace, as unlike past episodes, this one was a staggering 84 minutes. Fielder attempts to help Bill Heath (who appeared back in season two as a Bill Gates impersonator) reconnect with his lost love, Frances. 
At the time, Fielder hired an actress named June to play Frances in a pretend scenario with Bill — which, we now know, doubled as the building blocks for the intensified meta aspects of The Rehearsal. While Bill doesn't exactly get a happy ending with Frances herself, as she was married, the finale leaves an open ending opportunity for him and June. 
"To me, that one made me cry like crazy," Jay says. "I felt like a different person after I'd watched it. I was like, 'I have to make everyone I know watch this.' The way he can make something really funny, but then also have it suddenly become really serious and poignant, is so impressive."
About three years after Nathan For You ended, the pandemic hit in 2020. As many social media users in their late-teens-to-early-20s were quarantined, Fielder found himself with a completely new fanbase — at the intersection of stan Twitter and the meteoric growth of TikTok. For those who are unfamiliar with the comedian, it's difficult to go a week on the internet without seeing his face. A middle-aged man with a deadpan expression has become the popular poster boy for surprisingly countless dating app prompts and fancams. 
"Fancams are just fun to make, but it's also like, they started as a K-pop thing, so to make a fancam of some middle aged comedian is funny and niche in itself," another Twitter fan, Toby, explains. "They're always partly humorous and partly serious. I think a lot of teenagers and young people find humor in making fancams and edits of niche things — like the nicher it is, the better. Obviously, Nathan isn't niche anymore, but there was a time when only a few people on stan Twitter talked about him."
"When I became a fan of Nathan Fielder, back in 2015, did I expect to see fancams on my Twitter feed like every day for five years? No, but that's where it's coming up… Every day, I will just see thirst tweets," Monroe explains about why he thinks the stan twitter Fielder fancam pipeline happened. "I think the big thing has definitely been the stan culture has really attached themselves to Nathan. Why that is? I mean, it's still tough to say why that is per se. Maybe just sort of Nathan's character being a very socially anxious, awkward person, maybe that relates to some people. Maybe it is just, 'Oh, he's really hot.' Maybe that's just it. That's really the biggest shift is people really, really, really personally attaching themselves to Nathan."
[Nathan For You / Courtesy of Viacom Media Networks]
However, not everyone has fallen under Fielder's spell. As with any reality-style prank show, he faced criticism from a few of those who appeared on Nathan For You, including Mark Rappaport — whose product, The Doink-It, became the primary focus of the first half of a season 2 finale titled "Toy Company." Fielder attempted to better market the toy to children, using a variety of methods from shooting a mock TV commercial to hiring a fake Santa to encourage sales, but Rappaport wasn't (and still isn't) having it. "He was trying to get me to say things that would be harmful to my business and to show how funny he was," he told Vulture last year.
"In life, not everyone will see your vision," Fielder joked back about Rappaport dubbing him "unprofessional" during the episode.
Where some deem his methods too extreme, Fielder's fans appreciate his focus on blurring the lines between an artificial show — one of his own creation and control — and something spur-of-the-moment. It's that mystery of where Fielder's true personality begins and ends that continues to draw fans into any new iteration of his work.
"I think any Nathan Fielder fan, when asked about what they love about his work, will always mention his manipulative techniques," Toby says. "He's been able to make people seriously question what's real and what's fake in television and how TV is almost naturally manipulative."