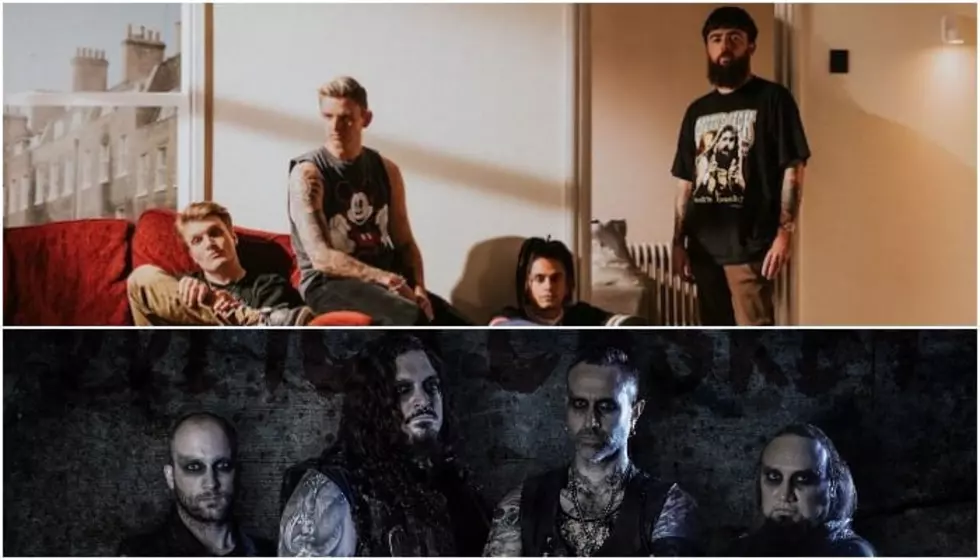 Neck Deep announce Slipknot cover band Halloween show and other news you might have missed today
[Photo via Witch Casket, Neck Deep]
Dave Grohl plays drums for Beck—plus, don't miss Mother Feather's new single "Snakebite." Check out the news you might have missed today below!
1. SayWeCanFly frontman releases new song "Ashes"

SayWeCanFly frontman Braden Barrie released a new song titled "Ashes." Barrie sings about wanting to say goodbye to someone before they leave and rebuilding himself from the ashes of past negative experiences. The song is sweet and gentle with an EDM-pop twist, and available now.
2. Parkway Drive add a second Manchester date
After selling out their Manchester show scheduled for Jan. 29,
Parkway Drive
have scheduled a second show Jan. 30. Bury Tomorrow will be opening the second Manchester show in place of
Killswitch Engage
. Tickets are
available now
and a full list of dates are below.
Australian dates:
10/25 – Canberra, AU @ UC Refectory
10/26 – Sydney, AU @ Hordern Pavillion (LIC/AA)
10/27 – Newcastle, AU @ NEX
10/28 – Brisbane, AU @ Riverstage (LIC/AA)
11/02 – Melbourne, AU @ Margaret Court Arena (LIC/AA)
11/03 – Adelaide, AU @ Entertainment Centre (LIC/AA)
11/06 – Perth, AU @ HBF Stadium (LIC/AA)
European dates:
01/25 – Hamburg, DE @ Sporthalle
01/26 – Leipzig, DE @ Arena
01/27 – Frankfurt, DE @ Jahrhunderthalle
01/29 – Manchester, UK @ O2 Apollo
01/31 – Nottingham, UK @ Motorpoint Arena
02/01 – Cardiff, UK @ Motorpoint Arena
02/02 – London, UK @ Alexandra Palace
02/04 – Paris, FR @ Olympia
02/05 – Brussels, BE @ Forest National
02/06 – Amsterdam, NL @ AFAS LIVE
02/08 – Cologne, DE @ Palladium
02/09 – Cologne, DE @ Palladium
02/11 – Stuttgart, DE @ Schleyer-Halle
02/12 – Zurich, CH @ Halle 622
02/13 – Milan, IT @ Alcatraz
02/15 – Munich, DE @ Zenith
02/17 – Vienna, AT @ Gasometer
02/18 – Prague, CZ @ Forum Karlín
3. Mother Feather release new song "Snakebite"

New York City's Mother Feather released their second single, "Snakebite," from their upcoming sophomore album Constellation Baby. Lead vocalist Ann Courtney says the song is "the riotous theme song for your psycho ex-girlfriend with an axe to grind." Constellation Baby is out Nov. 2 via Blacklight Media/Metal Blade Records.
4. Dave Grohl plays in Beck's band over the weekend
 

View this post on Instagram

 
Beck performed at a Swing Left fundraiser in Los Angeles over the weekend. The fundraiser benefited Aftab Pureval, a candidate for congress in Ohio. And in Beck's backing band was Dave Grohl on drums. Watch the whole performance above, and let us know what you think.
5. Witch Casket announce new EP Punishment
Death-metal band
Witch Casket
announced plans to release
Punishment
, an EP produced, engineered and mixed by guitarist Colin "Nylock" Cameron. The EP is out Oct. 15 with a title track dropping Oct. 8.
Punishment
is available for
preorder now
.
6. Slipneck sell out Halloween show
Neck Deep
announced that their
Slipknot
cover band, Slipneck, will be playing a show Oct. 31. The show will be a one-off show Manchester's Rebellion with Lotus Eater, Parting Gifts and Strains. The show has already sold out.