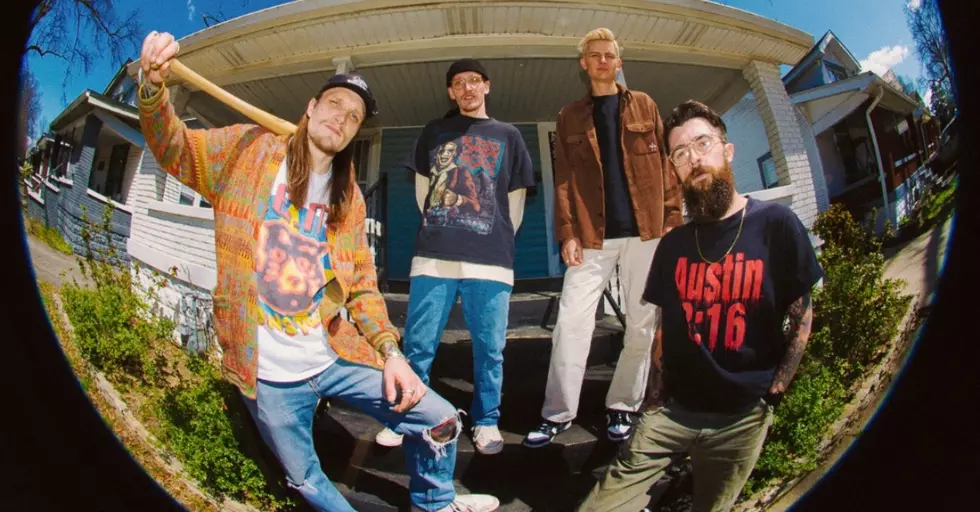 Neck Deep return with their first new song in two years, "STFU"—watch
[Photo by Errick Easterday]
Neck Deep have dropped a new single, "STFU." The band also shared a '90s-inspired music video to go with the track.
"STFU" is Neck Deep's first new music in two years and their first self-released track in a decade.
In "STFU," Neck Deep return to their roots, leaning heavily into a kinetic pop-punk sound. While auditorily evoking the past, the track's lyrics satirize the surreal nature of today's online society, asking when did everything become so vapid.
The music video doubles down on this commentary, embodying the era of AIM and Network Neighborhood. Neck Deep jam out in a basement before removing an ancient cuboid computer from the house and taking a bat to it.
Vocalist Ben Barlow spoke about the track's inspiration in a press release.
"As the world was falling apart at the time, and only seems to have worsened recently, it felt right to satirize the decline of society in typical punk fashion," Barlow says. "Looking at the world through a screen and being lured into the impending sense of doom that's overcome us all."
Additionally, Neck Deep will embark on their North American tour May 31. Check below for tour dates, and get your tickets here.
Watch the "STFU" video below.
Neck Deep 2022 tour dates
05/31 - Morrison, CO, US @ Red Rocks Amphitheatre +
07/08 - Sacramento, CA @ Heart Health Park ^
07/09 - Anaheim, CA @ City National Grove Of Anaheim ^
07/12 - Dallas, TX @ Gilley's ^
07/13 - Houston, TX @ White Oak Music Hall – Lawn ^
07/15 - Orlando, FL @ Orlando Amphitheatre ^
07/16 - Atlanta, GA @ Coca-Cola Roxy ^
07/19 - Pittsburgh, PA @ Stage Ae Outdoors ^
07/20 - Pontiac, MI @ The Crofoot Festival Grounds ^
07/22 - New York, NY @ The Rooftop at Pier 17 ^
07/23 - Worcester, MA @ Palladium ^
07/24 - Baltimore, MD @ Pier Six Pavilion ^
07/26 - Columbus, OH @ Kemba Live Outdoor ^
07/27 - Newport, KY @ Promowest Pavilion ^
07/29 - Asbury Park, NJ @ Stone Pony Summer Stage ^
07/30 - Philadelphia, PA @ Mann Centre ^
08/02 - Cleveland, OH @ Jacobs Pavilion ^
08/03 - Lewiston, NY @ Artpark ^
08/05 - Milwaukee, WI @ The Rave/Eagles Club ^
10/22 - Las Vegas, NV @ Las Vegas Festival Ground *
10/23 - Las Vegas, NV @ Las Vegas Festival Ground *
10/29 - Las Vegas, NV @ Las Vegas Festival Ground *
+ with blackbear
^ Sad Summer Festival
* When We Were Young Festival