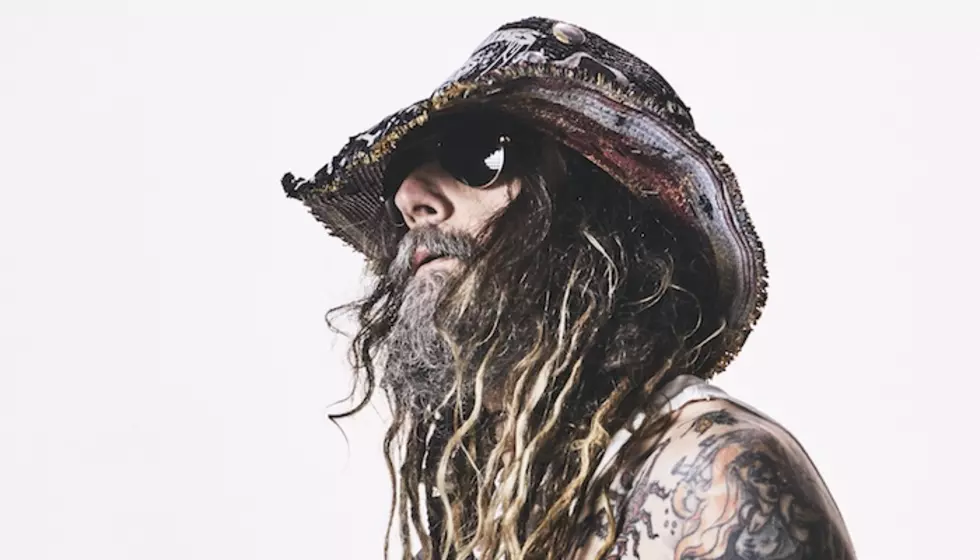 Hear Rob Zombie offer up a taste of his new album with "King Freak"
[Photo by: Travis Shinn]
Rob Zombie is making his momentous musical return with his first single in nearly five years, "The Triumph Of King Freak (A Crypt Of Preservation And Superstition)."
After Zombie announced that he had started work on his upcoming album on Aug. 1, 2017 in an Instagram post, the wait has finally come to an end. The new track arrives following teasers this week with an accompanying music video, launching Zombie's freshly announced seventh full-length album.
The track kicks off with some ominous slide guitar and a jangling tambourine before launching into Zombie's usual explosive industrial-tinged metal sound. Part way through, a record scratch break cuts into a nasty pinch harmonic-accented breakdown before closing out.
As for the video, it's layered with an old-timey film filter while footage of the band performing the track, live shots and a dancing, ghoulish knight splice together the clip. You can check out "The Triumph Of King Freak" video below. 
Further celebrating the release, Zombie is making an exclusive colored 7-inch available for the single with B-side "The Serenity Of Witches."  Check it out here.
Production on the new album comes from ZEUSS who has previously worked with Zombie on several musical and film projects such as 2013's Venomous Rat Regeneration Vendor, 2017's 31 and 2019's 3 From Hell . He's also produced records for the likes of Hatebreed, Demon Hunter, Revocation, Suicide Silence, Born Of Osiris and more.
Zombie's longtime friend and guitarist John 5, praised Zombie's pending album in a 2018 interview. "This is the best Zombie record that he's ever done—by far, no comparison," John 5 says. "It's definitely his Sgt. Pepper—for sure."
The record, The Lunar Injection Kool Aid Eclipse Conspiracy, is set to release March 12, 2021 via Nuclear Blast. It follows 2016's The Electric Warlock Acid Witch Satanic Orgy Celebration Dispenser which debuted at No. 6 on the Billboard 200. 
You can see the forthcoming album's tracklist and cover and lyrics for "The Triumph Of King Freak" below. The single, as well as preorders for the album, are available here. 
Rob Zombie The Lunar Injection Kool Aid Eclipse Conspiracy tracklisting
1. "Expanding The Head Of Zed"
2. "The Triumph Of King Freak (A Crypt Of Preservation And Superstition)"
3. "The Ballad Of Sleazy Rider"
4. "Hovering Over The Dull Earth"
5. "Shadow Of The Cemetery Man"
6. "A Brief Static Hum And Then The Radio Blared"
7. "18th Century Cannibals, Excitable Morlocks And A One-Way Ticket On The Ghost Train"
8. "The Eternal Struggles Of The Howling Man"
9. "The Much Talked Of Metamorphosis"
10. "The Satanic Rites Of Blacula"
11. "Shower Of Stones"
12. "Shake Your Ass-Smoke Your Grass"
13. "Boom-Boom-Boom"
14. "What You Gonna Do With That Gun Mama"
15. "Get Loose"
16. "The Serenity Of Witches"
17. "Crow Killer Blues"
Rob Zombie "The Triumph Of King Freak" lyrics
King Freak gathering the brains of hyenas
King Freak drinking blood in the arena
King Freak taste the vectors of disease
King Freak destroy you while you're on your knees
We ain't your execution
We ain't your head pollution
We ain't your flock of sheep
We ain't your minds to read
King Freak circling a legion of doom
King Freak exploding from a sonic boom
King Freak ringing your cathedral bells
King Freak calling from the mouth of hell
We ain't your execution
We ain't your head pollution
We ain't your flock of sheep
We ain't your minds to read
And the crows will dig your grave
I do not forgive, I do not save
And the crows will dig your grave
I do not forgive, I do not save
King Freak carve an X into your head
King Freak dripping deeper in the red
King Freak gathering sharks in the shallows
King Freak elevator to the gallows