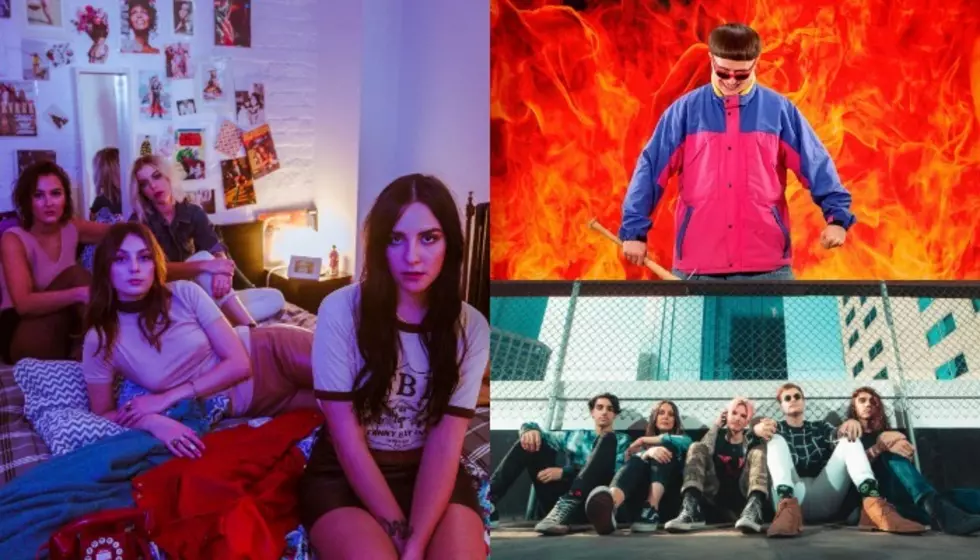 10 new songs you need to hear this week
[Photos by: The Beaches/Felice Trinidad, Oliver Tree, To Octavia]
You're welcome: We've made finding new songs by rising bands easy. Each week, we're gathering the best from the underground and offering it to you in one, concise list. Scroll to the end and check out our Spotify Discover playlist, featuring these tracks and more!
In return, we want to hear your favorite. Let us know what track you'll be spinning for the rest of the weekend in the comments!
Read more: 
1. Dead Bars – "I Need You"
Masking heartbreaking lyrics with an upbeat vibe, Dead Bars impress with their latest single, "I Need You." Simple but effective chords back up scratchy vocals, coming together for a strong indie sound. The song comes off the band's upcoming full-length, Regulars, due out May 3 via A-F Records. The album can be preordered here. They head out on tour next month with tickets on sale here.
2. RØYLS – "Savages"
RØYLS hit all the high notes with smooth, soothing consistency in their debut single, "Savages." The track boasts a writing credit from Goldfinger frontman/producer John Feldmann (Panic! At The Disco, 5 Seconds Of Summer blink-182). You can follow updates on new music from the band here.
3. Oliver Tree – "FUCK"
Bowl cuts are back, thanks to Oliver Tree. His latest track, "FUCK," says enough simply with the all-caps expletive of the song name. It's raunchy, it's strange, it's a jam. Tree's debut album, Ugly Is Beautiful, is expected later this year. You can check for updates and upcoming shows here.
4. To Octavia – "Made To Break"
Hard hitting from the jump, To Octavia chug along in their new jam, "Made To Break." With a brooding bassline and pristine balance between screams and cleans, the band prove that metalcore is alive and well. The track is the latest off their upcoming EP, Nocturnal, which drops April 26. Preorders are available here. The band hit the road in support of Windwaker this May, with tickets on sale now.
5. Spanish Love Songs – "Losers"
Spanish Love Songs embrace feeling bleak through the tone of their upcoming EP title track, "Losers." Channeling sincerity through a raspy voice, the band continue to prove that it's OK to be sad and punk. You can preorder the EP and check out upcoming tour dates here.
6. Me Like Bees – "All Alone"
Me Like Bees are here to lift your spirits with their new single, "All Alone." The lyrics may not be the happiest, but the cheery tempo and sunny vibes give us a reason to smile. The band embark on tour next month along with Peelander-Z, with tickets available here.
7. The Beaches – "Snake Tongue"
The Beaches deliver an empowering track with "Snake Tongue." The track encourages women to walk tall and not let any men they encounter attempt to bring them down. The song, along with previously released "Fascination," are featured on a seven-inch available here. The band are hitting the road later this month with Passion Pit, and tickets can be found here.
8. Truth Club – "Tethering"
Truth Club deliver a hypnotic tune with "Tethering." Keeping a slow, steady rhythm throughout, this song is the perfect playlist addition to end a long week. The track will be included on the band's upcoming debut LP, Not An Exit. The album is set to be released May 3, and it's available for preorder via Tiny Engines.
9. Hey Violet – "Better By Myself"
Hey Violet perfectly orchestrate a song that describes the feelings some experience when leaving a relationship. "Better By Myself" is the song to listen to post-breakup. The track is the first of four releases this summer and is available to purchase here. The band head out on a brief tour late next month. Dates and tickets can be found here.
10. Tom Boy – "Lowrider"
Jump in your car and take a road trip this weekend as Tom Boy's "Lowrider" blasts from the speakers. The duo deliver an infectious tune with catchy hooks and resonating vocals. The track is available to purchase here.