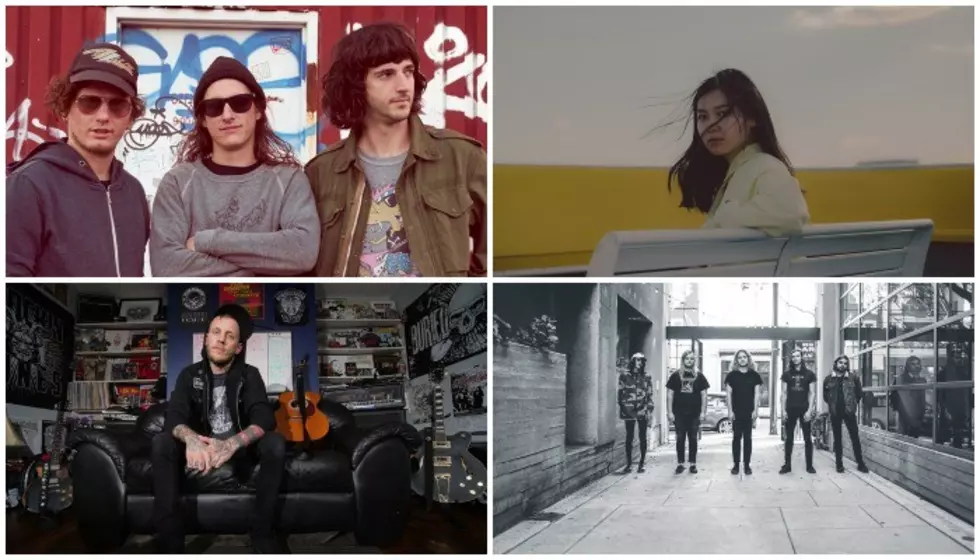 AP&R: Ravaging sasscore, blue-collar punk and speedy melodic hardcore
[Photos via Spotify]
You're welcome: We've made finding new songs by rising bands easy. Each week, we're gathering the best from the underground and offering it to you in one concise AP&R list. Scroll below and check out our Spotify Discover playlist, featuring these tracks and more!
In return, we want to hear your favorite. Let us know what track you'll be spinning for the rest of the week in the comments or anything you want to see on the next AP&R!
1. SeeYouSpaceCowboy – "Armed With Their Teeth"
Taken from the band's upcoming album, The Correlation Between Entrance And Exit Wounds, SeeYouSpaceCowboy's new single, "Armed With Their Teeth," confronts modern-day political oppression in a ravaging two minutes. The SoCal sasscore stalwarts continue to nurture their volatile heaviness in this track, fomenting a mayhem of rage with erratic rhythms and dissonant fretboard frenzies. The Correlation Between Entrance And Exit Wounds drops Sept. 27 via Pure Noise Records. Preorders are available here. 
2. Reveries – "Lost Words"
Reveries return with "Lost Words" and put us in a dreamy haze of wailing guitar reverbs and atmospheric harmonics that encapsulate a unique assortment of their musical influences. The Washington shoegaze quartet take their post-rock foundation to different routes, with elements of punk, indie rock and dream pop looming out of the corners. 
3. Dylan Disaster – "Milestone"
Punk singer-songwriter Dylan Disaster battles the heart-racing anxieties that settle in during times of struggle and depression on his latest single from his upcoming sophomore album, Remission. "Milestone" illustrates his sentiment with an uptempo blue-collar punk spirit, nodding to renowned heartland punks such as Dave Hause and Brian Fallon. Remission is available Aug. 31. 
4. No Home – "Narrative"
Rising melodic hardcore act No Home continue to build their reputation with their second single of the year. Speeding through at breakneck pace in the style of Counterparts and injecting melodious hooks reminiscent to blessthefall, "Narrative" is the most dynamically diverse song out of their past singles and a big step up for the band. 
5. Microwave – "Carry"
Following last year's mellow standalone singles, "Carry" is a promising return for Microwave and their punk-ridden trajectory from Much Love. Penned with desperate and urgent songwriting, the song gradually builds up with a fueling bassline and guitar effects as Nathan Hardy's muttering vocals evolve into full-fledged echoes of melodic cries. The band recently signed to Pure Noise Records, and Death Is A Warm Blanket drops Sept. 13. Preorders are available here.
6. Long Beard – "Means To Me"
Co-produced with Japanese Breakfast's Craig Hendrix, the title track from Long Beard's forthcoming sophomore LP reflectively ponders on her past, asking the questions that seemingly remain unanswered. Long Beard's delicate vocals and the ringing guitar jangles coalesce into a dream-like mosaic of weathered emotions, deepening her piercing contemplation. Means To Me drops Sept. 13 via Double Double Whammy and is available for preorder. 
7. Pheller – "The Bottom" 
Pheller are like a gleeful long-lost brother of Basement who love to skate in the hot summer sun. Taken from the group's latest EP, No Blood, "The Bottom" is a buoyant, uptempo track that succinctly meld pop-punk, emo and alt-rock elements together, showing unapologetic honesty and sincere self-awareness in their lyrical exposition. 
8. Neshiima – "Caving In"
Glaswegian rap-metal unit Neshiima unleash an inspiring music video for their new single. An anthemic heavy-hitter, "Caving In" takes pride in their djent-inspired guitar work, ground-shaking breakdowns and rhythmic vocal flow. Neshiima's upcoming final installment of a three-part EP series, Green, drops Sept. 20.
9. MisterWives – "whywhywhy"
Recently signing to Fueled By Ramen, MisterWives return with their first single since 2017's Connect The Dots. "whywhywhy" is a post-breakup jam that traces the remnants of a failed romance, unashamed to face the shortcomings. With a victorious, upbeat energy, this danceable alt-pop tune is a celebration of an ending rather than a repentance of the past. 
10. Mean Jeans – "Stuck In A Head"
Mean Jeans took Ramones-inspired punk stylings into their own hands and launched their original brand of lighthearted punk rock. "Stuck In A Head" retains the same fun-loving energy from 2018's Jingles Collection. The trio effortlessly welcome listeners to their festive punk spirit with an array of driving drum beats, catchy singalongs and gritty power chords.
[envira-gallery id="186668"]