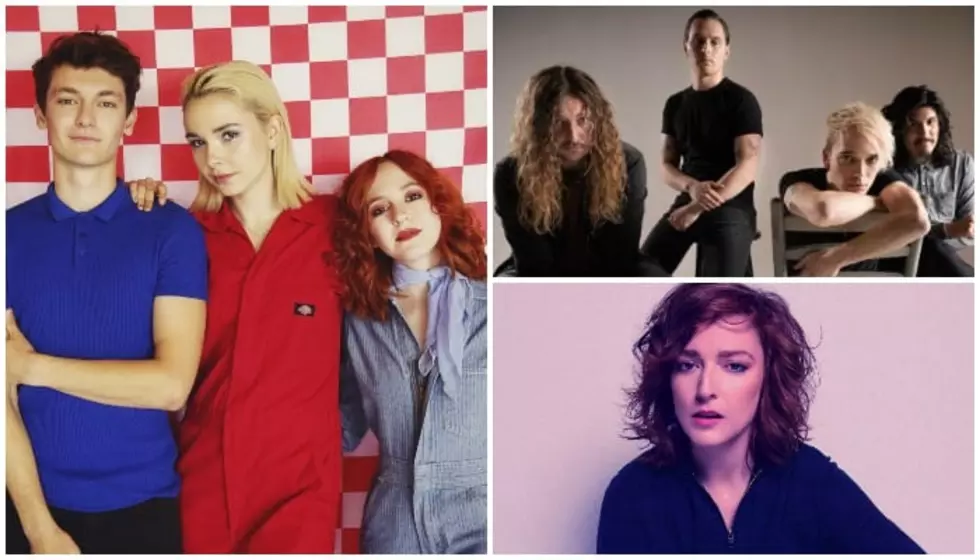 10 new songs you need to hear this week
[Photos by: The Regrettes/Claire Marie Vogel, Badflower/Jordan Wolfbauer, pronoun]
You're welcome: We've made finding new songs by rising bands easy. Each week, we're gathering the best from the underground and offering it to you in one, concise list. Scroll to the end and check out our Spotify Discover playlist, featuring these tracks and more!
In return, we want to hear your favorite. Let us know what track you'll be spinning for the rest of the weekend in the comments!
1. The Regrettes – "Pumpkin"

The Regrettes are keeping busy, releasing their new single, "Pumpkin," while on tour in support of twenty one pilots. Referencing romance movies over soft guitar chords, this song arrives at the perfect time of year for lonely hearts and love birds alike. You can grab the new song here. The band will continue on the Bandito tour for the next few weeks, and you can check out dates and tickets here.
2. pronoun – "stay"

Now a song strictly for the lonely hearts: pronoun kicked off her debut album announcement with the release of "stay." Gritty guitar riffs and a deceptively upbeat tone mask a story of heartbreak and hurt. i'll show you stronger drops May 24 via Rhyme & Reason, and preorders are available here.
3. Hang Tight – "It's So Whatever"

Hang Tight are taking a more optimistic approach to the holiday with their eye-rolling anthem "It's So Whatever." Shake out the blues with a classic pop-punk sound that'll start your weekend off on the right foot. The band are touring in support of their debut EP, Grind, with dates and tickets here.
4. Badflower – "Promise Me"

Smooth vocals combined with a heartbreaking message of lost love and youth make for another strong single from Badflower's upcoming album, OK, I'M SICK. The album drops Feb. 22, and you can preorder it or check out the new single here.
5. FELICITY – "Tough Luck"

FELICITY dropped their new EP, Old Habits, featuring the heavy-hitting "Tough Luck." If the fast-paced drum lines and deep-cutting lyrics are any indication of the rest of the EP, it should make for a winning formula. You can grab the new EP here. You can check out updates on the band's upcoming tour with Calling All Captains and Brigades next month here.  
6. Trade Wind – "No King But Me"

Trade Wind announced their sophomore album with a new release, "No King But Me." The band features members of Stick To Your Guns and Stray From The Path, but the act is diving into a different direction on this project. Gentle strings and a triumphant, repeating chorus culminates in an indie jam that's worth putting on repeat. Certain Freedoms is due out April 26 via Other People Records, and you can grab a copy of the new single here.  
7. Donna Missal – "Get Well"

Donna Missal embraces the feeling of loneliness with her new song "Get Well." Missal's soft, comforting voice paired with a minimalist beat makes it perfect for your playlist. The track follows her most recent full-length This Time. You can check out dates on Missal's upcoming tour here.
8. Madre X Mia – "Head On Straight"

Madre X Mia are fresh on the scene with a new indie-pop jam, "Head On Straight." Emotion-packed and riff-heavy, the band tell a story of doomed love through poignant lyrics. You can follow updates for the band here.
9. Sleep In. – "Deena"

Sleep In. dropped a new single in preparation of their upcoming album, The Stars On Your Ceiling. "Deena" holds an infectious beat and vocal inflection that immediately makes you want to sing along. The album is set to release March 22, and you can preorder it here.
10. Clowns – "Prick"

Clowns are coming in hot with pure punk noise in "Prick." Their breakneck pace and chugging riffs will lead to exhaustion, but it's worth it. The band's upcoming album, Nature/Nurture, drops April 12 via Fat Wreck, and preorders are available here.