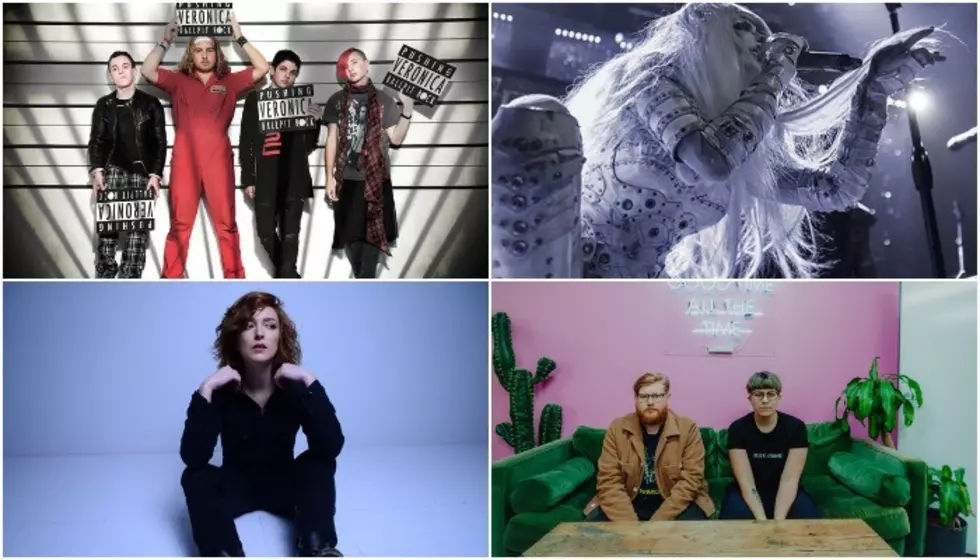 AP&R: Ballpit rock, vintage hardcore and shoegazed political outcry
[Photos via Spotify]
You're welcome: We've made finding new songs by rising bands easy. Each week, we're gathering the best from the underground and offering it to you in one, concise AP&R list. Scroll below and check out our Spotify Discover playlist, featuring these tracks and more!
In return, we want to hear your favorite addition to AP&R. Let us know what track you'll be spinning for the rest of the week in the comments!
1. Pushing Veronica – "Dead Girl"
Pushing Veronica's new single, "Dead Girl," pokes fun at casual dating, morbidly portraying the superficiality of meaningless relationships. Classifying their sound as "ballpit rock," the band's tongue-in-cheek lyrics and Green Day-like stylings result in infectious and high-spirited alternative rock.
2. pronoun – "run" (The Chain Gang Of 1974 remix)
Teaming up with Teenage Wrist frontman Kamtin Mohager, this remix of "run" ascends with an '80s new-wave aesthetic, softening the airy atmosphere with glimmery synth overlays. "run" originally appeared on pronoun's debut album as a catchy post-punk tune, but this rework takes that sentiment further to an effervescent, alt-pop direction.  
3. September Mourning – "Unholy"
September Mourning continue to journey through the underworld with "Unholy," revealing the next chapter of vocalist Emily Lazar's dark fantasy project. Borrowing elements from heavy metal and hip-hop, this song takes a gothic venture into Lazar's concept. Perfect for exploring the evil and empathic forces of the world.
4. The World I Knew – "Hypenation"
Nurturing their own breed of trap-influenced metalcore, the World I Knew flex hard with "Hypenation," boasting unapologetic spitfire bars and riveting instrumentals. The band carefully mix and balance the specialities of both genres and execute their vision with sheer precision and audacity.
5. Young Guv – "Roll With Me"
If Elliott Smith had a musical lovechild with the Cure, it would closely resemble Young Guv's recent single, "Roll With Me." In this folky, power-pop tune, frontman Ben Cook flaunts his musical craftsmanship and versatility as a songwriter, drastically deviating from his hardcore past in Fucked Up and No Warning. 
6. The Band Gooch – "Rebel Inside"
After garnering attention from their catchy singles, the Band Gooch make their debut with Modern High. Driven by '90s alternative rock and punk, brothers Jared and Jordan Gooch inspire listeners to break out and pursue their dreams, with "Rebel Inside" setting the perfect example of their sound and image.
7. Cultdreams – "Not My Generation"
Cultdreams face the truth with a heartfelt, politically charged single, "Not My Generation." After changing their name from Kamikaze Girls, the U.K. shoegaze punk duo continue to tackle modern-day issues, addressing misogyny and calling out right-wing politics in this bitter track.
8. Glitterer – "Digging In The Trash"
Glitterer, Title Fight bassist Ned Russin's solo project, returns with another album, Looking Through The Shades. With poppy synth sparkles humming over the soft, mellowing melodies, "Digging In The Trash" perfectly sums up Glitterer's sweet fuzz-rock sound. 
9. Gavin Haley – "Show Me"
After abandoning his path as a pro-cyclist due to an unfortunate accident, Gavin Haley dove deep into his passion for music and has been stronger than ever. The indie-pop songwriter follows up his first single with another fervent track, "Show Me," depicting the otherworldly comfort of falling in love. 
10. Antagonize – "El Toro"
Ex-Bane frontman Aaron Bedard continues his punk endeavors in his new band, Antagonize. Their latest track, "El Toro," revives thrashy, old-school hardcore with bludgeoning drums and filthy guitar riffs. This one throws it back fast and loud for those who still clutch on to vintage hardcore. 
[envira-gallery id="186695"]