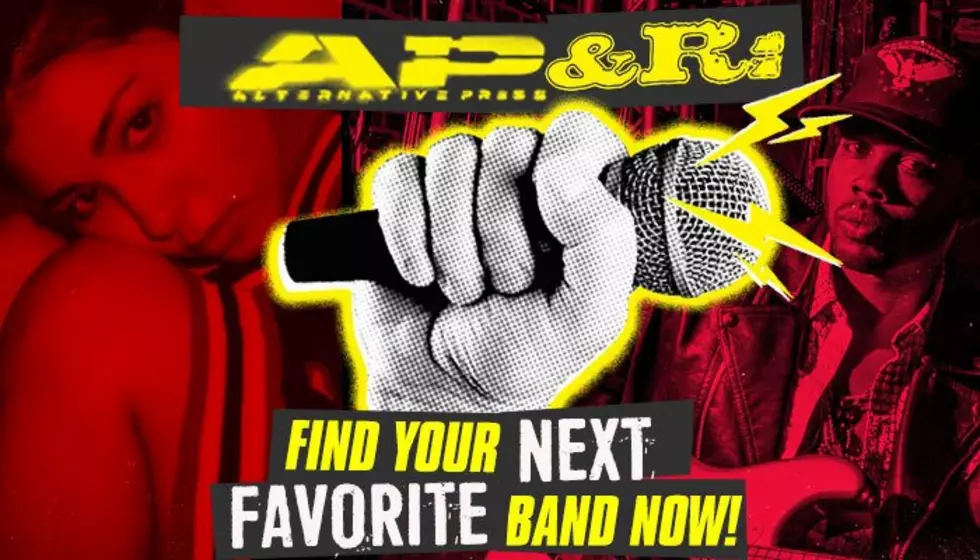 AP&R playlist: Soothing indie, electric alt-pop and rock 'n' roll soul
[Photos via Pom Pom Squad, Ayron Jones/Karen Mason Blair]
You're welcome: We've made finding new songs by rising bands easy. Each week, we're gathering the best from the underground and offering it to you in one concise list. Scroll below and check out our Spotify Discover playlist, featuring these tracks and more!
In return, we want to hear your favorite. Let us know which track you'll be spinning for the rest of the weekend in the comments!
Nana Adjoa
–

"Throw Stones"
For fans of:
Someone, Donna Blue, Son Mieux
Multi-instrumentalist Nana Adjoa lays out a relaxing melody to soothe your mind with her latest track, "Throw Stones." Adjoa drew inspiration from times she had to calm herself in trying situations and hopes that it can help her listeners as well. "You don't always have to be 'on,'" she says. "You are allowed to take time to rest and come back feeling refreshed, better and stronger." Adjoa's debut album will be out this fall.
Stretched – "Idea Of You"
For fans of:
The Story So Far, Boston Manor, Real Friends
Stretched take on relationships with relatable lines and raw instrumentals in "Idea Of You." The track begins with powerful spoken word until striking guitars usher in raw lyrics about vulnerability and how someone isn't always what we perceive them to be. The song will be featured on the duo's debut EP to be released later this year.
The Interrogation – "Kick It Off"
For fans of:
Black Veil Brides, Asking Alexandria, Silverstein
The Interrogation "Kick It Off" in their debut single with fast-moving guitars and heartfelt lyrics. The track is a call to arms against selfishness and negativity that is prominent in our society. "All these things do [is] cascade into each other to create an environment where people are just fed up with the nonsense," singer Thom Turner says. "But now they have a platform and the will to get out there en masse and say, 'Listen, we are done being manipulated!'"
ENZI – "Retrograde"
For fans of:
Melanie Martinez, Halsey, Billie Eilish
Inspired by relationships that don't work out and the phrase "Mercury in retrograde" after  hearing it mentioned in a voicemail, Nashville alt-pop vocalist ENZI debuts the upbeat "Retrograde." The instrumental dips and dives like a roller coaster, highlighting the singer's ear-catching high notes and neat lows.
My Kid Brother – "Aint That Cool"
For fans of:
Super Whatevr, Grayscale, DREAMERS
Recently signed to Fearless Records, indie-rock five-piece My Kid Brother weave smooth vocals with upbeat instrumentals for "Aint That Cool." Though the track is easygoing, the creation was anything but. In an attempt to write something in the style of Jackie Wilson's "(Your Love Keeps Lifting Me) Higher & Higher," singer/guitarist Christian Neonakis struggled but then channeled that into the track itself. "It was difficult," he says. "I didn't like anything that I was making. So then I wrote a song about how frustrated I was with trying to write a song." Information on the band's debut album with Fearless will be announced soon.  
Skyhaven – "43W"
For fans of:
Polyphia, CHON, Andromida
Taken off their upcoming full-length, DRUGLUST, electric-rock duo Skyhaven share an EDM mix driven by pop beats with "43W." With variations of the same lyrics repeating throughout the song, the backtrack serves as the star of the show. Intricate beats are woven together to create powerful drops and synth choruses. DRUGLUST is the follow-up to 2016's Liftoff EP and will be available July 31. 
Pom Pom Squad – "Crimson & Clover"
For fans of:
Diet Cig, Girlpool, Ratboys
Covering Tommy James And The Shondells, "Crimson & Clover," Pom Pom Squad deliver a short and edgy rendition of the timeless track along with a horror-movie-inspired music video. "Crimson & Clover" and its accompanying imagery were both created while in quarantine and are a celebration of the individual. "The song is my small celebration of the scary, complicated, empowering process of owning my black, queer identity," vocalist/guitarist Mia Berrin shares. In support of Bandcamp's Juneteenth fundraiser, proceeds from the track went to NAACP Legal Defense And Educational Fund. In support of Pride Month, the group are donating their earnings from digital downloads to For The Gworls Medical Fund, a POC-lead emergency medical relief fund that pays for black trans people to travel to clinics and pharmacies.  
Only Sibling
–

"And I Hate It"
For fans of:
Gleemer, Sunsleeper, Teenage Wrist 
Only Sibling utilize airy vocals combined with steady drums to produce classic alt waves with a contemporary edge in "And I Hate It." Led by a haunting bassline, the song is as chill as it is memorable. The track is the first single off the band's upcoming debut full-length, Get Well Soon, which is out Aug. 14 on Other People Records. Preorders are available here. 
The Happy Fits – "Go Dumb"
For fans of:
The Wrecks, HUNNY, Weathers
New Jersey trio the Happy Fits offer a bright tune with "Go Dumb." Immediately starting with steady drums, the track flows with catchy lyrics and clean breaks. The track is inspired by Frontman Calvin Langman's formal music education and the need to let it all go. "Saying 'I want to go dumb' is a personal jeer to my past," Langman shares. "If spending my time being creative will make me dumb, then I will gladly 'Go Dumb' to do what I love." The track will be featured on the band's upcoming LP, What Could Be Better, which is available Aug. 28 via The Orchard. Preorders are available here. 
Ayron Jones – "Take Me Away"
For fans of:
Jimi Hendrix, KALEO, the Black Keys
Filled with grit, Ayron Jones delivers soulful lyrics and classic-rock grooves in his first single via Big Machine/John Varvatos Records, "Take Me Away." Slamming riffs paired with emotional and personal lyrics create melodies that hit you right in the chest. Jones says the track is about his journey with music and how it allowed him to escape. "Music was my release, and from the darkness, I could create something beautiful and not be defined by my history," he says.