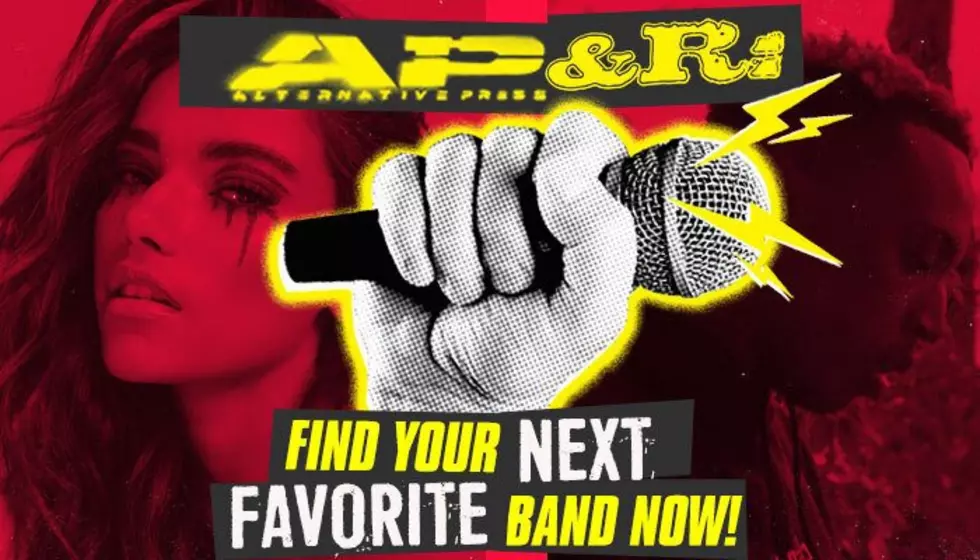 AP&R playlist: Parody punk, carefree surf rock and emo rap
[Photos via ARI/Nicole Davis, boyband]
You're welcome: We've made finding new songs by rising bands easy. Each week, we're gathering the best from the underground and offering it to you in one concise list. Scroll below and check out our Spotify Discover playlist, featuring these tracks and more!
In return, we want to hear your favorite. Let us know which track you'll be spinning for the rest of the weekend in the comments!
Gold, Frankincense & Myrrh – "Susan"
For fans of:
Wolves At The Gate, Fight The Fade, Glasslands
Gold, Frankincense & Myrrh are taking a break from metal and rock to share "Susan," a hilarious punk parody. The track is a collaboration with their listeners. As the first band to use SONGLINKR, the trio worked with fans to write lyrics for the song. The words are based on the characters in the music video, Derek, Chad, Kyle and Susan. The outcome is a catchy tune about how one skater boy's girlfriend means more to him than his beloved skateboard.
Friday Pilots Club – "Breaking My Bones"
For fans of:
The Wrecks, Cemetery Sun, SAINT PHNX
Focusing on the pressures of social media, Friday Pilots Club tackle the struggles of public image with "Breaking My Bones." With captivating synths, meaningful lyrics and a bone-shaking bass drop, the track is an explosion of melody and emotion. "As we spend more time online, it is increasingly easy to lose track of the version of ourselves that we choose to present," multi-instrumentalist Drew Polovick says. "As well as it is easy to lose ourselves in the false realities and personalities presented by others." The song will be featured on the duo's upcoming EP via Big Machine/John Varvatos Records. 
boyband – "tattoo"
For fans of:
Lil Peep, nothing,nowhere., Juice WRLD
Grammy-nominated creator boyband mixes Midwestern emo and contemporary rap in his genre-defying release, "tattoo." Combining slow punk vibes and hip-hop beats, the rapper doles out a short yet ear-catching song about getting over an ex-girlfriend. The track will be included on his debut album, alone in a boyband, out July 17 via Dirty Hit. Other singles include "Death Note" featuring Good Charlotte's Billy Martin and the unreleased "big face" with American Football's Mike Kinsella.
Am Taylor – "Bright Yellow Sun"
For fans of:
Deafheaven, My Bloody Valentine, Radiohead
Surrounded by echoing progressions and relaxing ambiance, Am Taylor shares "Bright Yellow Sun" as their second solo track. Utilizing psych reverb and catchy riffs, the vocalist sings of rebirth in front of a full rock backtrack. "We're born with this newness, and we live our lives, and everything is awesome and great," they say. "And then something comes along and completely destroys and crushes us." 
ARI – "Cold War"
For fans of:
FLETCHER, Joji, Halsey
Rising alt-pop singer ARI fuses dark tones and bright beats in "Cold War." Deeply personal, the vocalist sings of her fears of what would happen if her "normal" and music-centered lives were to ever collide. "I've always been scared that these worlds, while coexistent, wouldn't mix," she shares. "I have a small circle of friends to begin with, so the thought that the people I love may not get along is a fear of mine." The track is the second single off her forthcoming EP, IDIOTGRL, due out in July. 
SAIAH – "HEART(BREAK)"
For fans of:
guccihighwaters, guardin, Lil Lotus
SAIAH delivers highly emotional lyrics and powerful instrumentals in "HEART(BREAK)." The song begins with a single guitar and stays easy through the middle of the track. At the chorus, the vocalist gets right in your face as he screams of a lost love. SAIAH recently signed to InVogue Records, and "HEART(BREAK)" will be featured on his upcoming EP, Honest Red. The album is to be released in collaboration with No Name Records and Black17.
Jutes – "When You're Around"
For fans of:
YUNGBLUD, Machine Gun Kelly, dying in designer
Light pop-punk rhythms and heartfelt lyrics encompass Jutes' latest single, "When You're Around." Singing of two souls who find comfort in one another, the musician reveals he wrote the track in just 20 minutes for his partner. Penned as the result of missing her, Jutes says he wanted to "make her some 2000s sounding cheesy movie soundtrack type song." Working with producers Mitch Allen (Miley Cyrus, Jonas Brothers) and M-Phazes (Eminem, Demi Lovato), Jutes admits it isn't always as easy. "Sometimes it's easy like that, and sometimes I bang my head against a wall for 8 hours," he says. "I like the simplicity of this one though—just raw emotions, nothing too fancy." The track contains a couple of references to other artists, such as Sugar Ray and Mark McGrath. The vocalist also nods to blink-182's "What's My Age Again?" with a conveniently placed guitar as he strums in his living room. Working Jake Dofo to edit, Jutes filmed the entire thing in his living room and added the writing on the wall with his iPad. "I had to keep all my blinds open to let sunlight in, and I can't even imagine what my neighbors or people walking by thought when they looked in. [It] probably looked like a serious cry for help," he explains. "I love being hands-on with my stuff because I'm a weirdo, and it keeps me different." 
TOLEDO – "FOMO"
For fans of:
Surf Rock Is Dead, Golden Daze, Wallows
Sharing infectious grooves and relaxing guitar riffs, TOLEDO's "FOMO" is a track fit for a day out at the beach. The song was created in the wake of the coronavirus and is the band's response to having to stay inside. "'FOMO' pokes fun at this quarantine lifestyle," the duo say, "but at the end of the day gives voice to a genuine desire to be more present."
HONNE – "no song without you"
For fans of:
LANY, keshi, the Japanese House
HONNE get dreamy and reminiscent in their new track, "no song without you." As their latest release since 2018's Love Me / Love Me Not, the duo strip down instrumentally to create the romantic, easygoing track. The song also serves as the title track to the group's upcoming mixtape, which drops July 3 via Tatemae Recordings/Atlantic Records.  
Girl Friday – "This Is Not The Indie Rock I Signed Up For"
For fans of: 
Diet Cig, Snarls, Girlpool
Girl Friday boast sweet harmonies and tight rhythms with "This Is Not The Indie Rock I Signed Up For." The track is born out of years of "mental crisis." "In the moments of wicked darkness and what felt like hell, real love and community was presented to us on a plate ready to be eaten," the band state. "We are extremely grateful to have received that." The song will be featured on the group's upcoming debut LP, Androgynous Mary, which drops Aug. 21 and is available to preorder here.