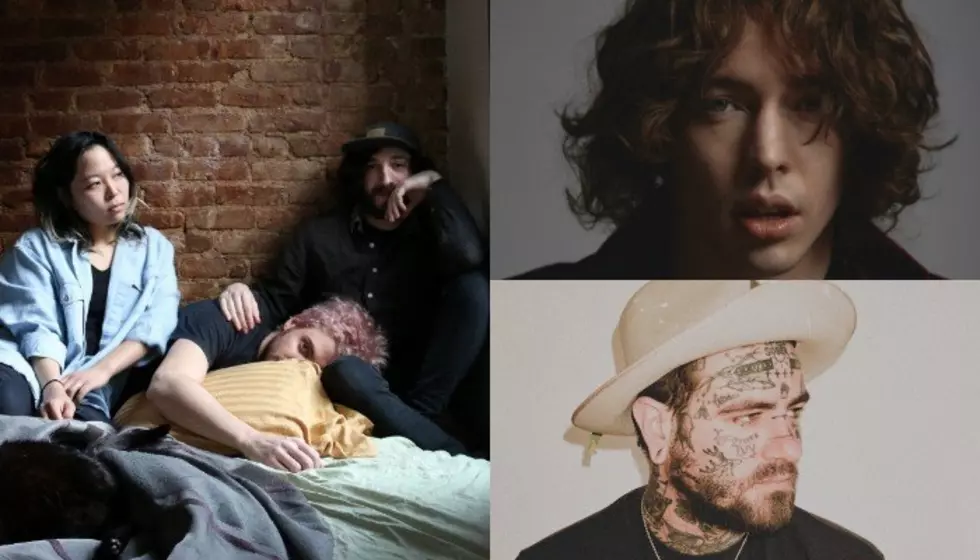 10 new songs you need to hear this week
[Photo via: Barns Courtney/Tom Oxley, Fences/Christina Sorenson Hanson, Haybaby/Leslie Hong]
You're welcome: We've made finding new songs by rising bands easy. Each week, we're gathering the best from the underground and offering it to you in one, concise list. Scroll to the end and check out our Spotify Discover playlist, featuring these tracks and more!
In return, we want to hear your favorite. Let us know what track you'll be spinning for the rest of the weekend in the comments!
1. Brother Sundance – "Monsters" (feat. Ella Boh)
Brother Sundance fights his inner demons in his latest track, "Monsters." The singer lashes out with emotion-packed lyrics, cemented together by a hauntingly charming hook from Ella Boh. You can check out the new song here.
2. Haybaby – "Get Down"
Haybaby teased their upcoming album with a dreamy new summer jam, "Get Down." Lazily picking their way through the track, the band suddenly pick up the pace and let the belting vocals take charge through the end of the song. The new album, They Get There, drops June 7. You can check out the new single here and see dates for their upcoming tour here.
3. Chase Atlantic – "HER"
Chase Atlantic shared the first track, "HER," from their upcoming album. Lo-fi beats pave the way for smooth bars that tell a story of love and lust, all while keeping a lighthearted, laid-back complexion. The album, PHASES, drops June 28 via BMG/MDDN, and preorders are available now. The band hit the road next month, with tickets available here.
4. Crumb – "Ghostride"
With the weather getting warmer, you're going to want to check out Crumb's new single, "Ghostride." The band take you down a slow, winding road with a chilled-out, psychedelic vibe. If lazy Saturdays had a sound, this would be it. Check out the single from their upcoming debut album here, or preorder JINX here. Crumb head across the pond for a European tour in July, following a one-off set in New York. Tickets are on sale now.
5. THE DEV – "broken lies"
THE DEV channel the heart and soul of classic rock and metal in their debut single, "broken lies." The band set an early reputation for hard-hitting dual guitar action with the track while showing off the impressive vocal range of frontwoman Elizabeth Nikollaj.
6. Fences – "A MISSION"
Christopher Mansfield, better known under the moniker Fences, has emerged from a multiyear hiatus with a striking return track, "A MISSION." Mansfield subtly demands your attention with a feather-soft voice, leading listeners through the world of a folk poet. The song comes off the singer's upcoming full-length, expected this summer. You can check out the song here.
7. Big Nothing – "Waste My Time"
The latest effort from Big Nothing betrays its name, because listening to "Waste My Time" is time well spent. The band blissfully wander through the track with a grizzly voice and an upbeat tune, all while holding an uplifting message. The band's debut album, Chris, is available here.
8. Locket – "Out Of Sight"
Locket (formerly Safe To Say) celebrate a new band name and joining the Fearless Records family with their latest song, "Out Of Sight." Slow chords deceptively lead into the loud beatdown of drums and vocals, completely unrecognizable from the song's intro. The band will be releasing their debut full-length later this year.
9. Barns Courtney – "You And I"
Barns Courtney delivers the perfect feel-good track with "You And I." The singer's sweet baritone vocals are paired with lively beats. The single will be featured on his upcoming album, 404, out Sept. 6, and it's available for preorder here. Courtney kicked off his North America headline tour earlier this month, and a full list of dates and tickets are available here.
10. Troi Irons – "Lost Angels"
Troi Irons crosses classic rock with a contemporary edge, unleashing industrial-sounding synths and a haunting voice to turn heads with her latest single, "Lost Angels." This is the vocalist's second single off her upcoming debut album, and it's available to purchase here.