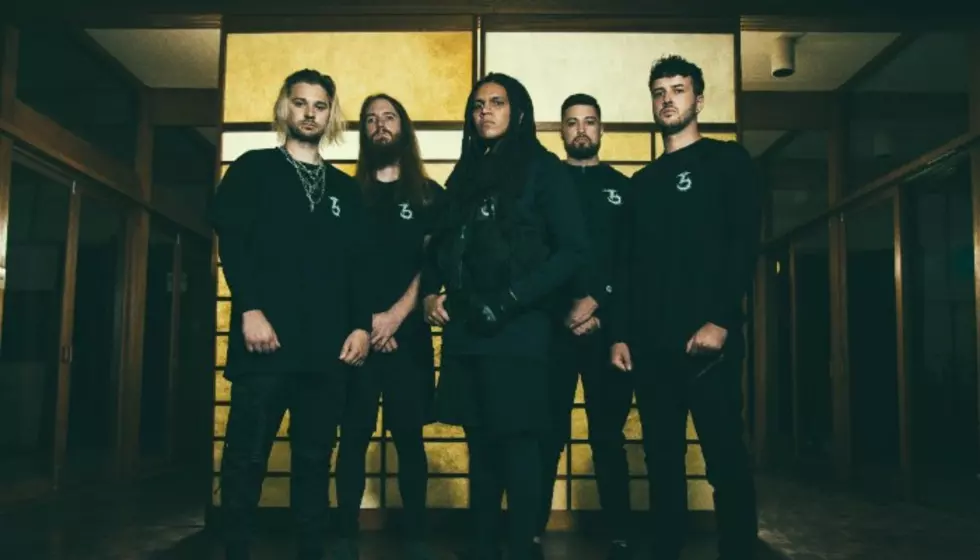 Brand Of Sacrifice drop "Enemy" with Underoath's Spencer Chamberlain
[Photo courtesy of Band Of Sacrifice]
Canadian deathcore group Brand Of Sacrifice have dropped a new single, "Enemy." The track features guest vocals from Underoath's Spencer Chamberlain and was accompanied by a short film created and scored by the band.
The band expertly create sonic settings for each moment of the short film. The visual begins with a symphonic opening, matching the dark and eerie visuals. That leads into a blood-curdling breakdown by Chamberlain during the major fight scene. The beginning and end of the arrangement sound like two completely different bands, highlighting the quintet's diverse skills as musicians. 
In a press release, Guitarist and producer Michael Leo Valeri spoke on working with Chamberlain as well as the band's abilities to transcend boundaries.
"We wrote 'Enemy' as a standalone release, expanding on some of the more melodic and metalcore moments on songs like 'Animal,' 'Foe Of The Inhuman' and 'Vengeance,'" Valeri says. "The possibility of getting [Chamberlain] on guest vocals was electrifying. We were already excited about the song, but his ability to elicit emotion by leading into his screams with tormented talking brought it to the next level. He perfectly complemented our goal on the song. We're also releasing two remixes of Lifeblood songs, like full-on electronic bangers that retain the musical motifs but present them as entirely different styles and moods. We're beyond proud that our music can transcend boundaries like that."
Brand Of Sacrifice have also released the track on a limited-edition seven-inch vinyl, which comes with an exclusive "Enemy" manga comic. The manga was conceptualized and written by the band. You can check out the whole "Enemy" merch list here. 
Vocalist Kyle Anderson spoke about the inspiration for the "Enemy" manga in the same press release. 
"It's no secret that we have drawn many of our lyrical themes—and even our name—from Berserk, the dark manga masterpiece by Kentaro Miura. As we move further away from Berserk as a direct reference point, we wanted to expand on the lore on our album art in the best possible format: manga. We're very proud to expand the Brand Of Sacrifice universe and hope our fans like it too, which would allow us to continue telling our own story."
"Enemy" serves as a prequel to the storyline featured in the visual for "Animal." Anderson talked about weaving the narratives together to create a cohesive storyline in an interview with Revolver Magazine. 
"The 'Animal' epic needed to be tied up," he says. "There were a lot of questions unanswered in that video, in which a warrior seeks revenge against an enemy. Right when he's about to lose the battle and his life, a former ally strikes down the villain. In this video, a prequel, it is revealed that that villain was once the leader of a band of mercenaries comprising all the other characters from 'Animal.' Before those events, they were united in a war on the betrayer's former master. That titular 'Enemy' kidnapped one of the protagonists, who then go to rescue her. Unfortunately, in doing so, their leader is reunited with his former master, resulting in the abandonment of both his troupe and beliefs to rejoin the 'distant part' of him—now as omnipresent as ever." 
Read more: Mark Hoppus and Tom DeLonge reminisce about blink-182 days on podcast
"Enemy" comes after the release of Brand Of Sacrifice's anime-inspired album Lifeblood earlier in 2021. It also follows the announcement of a new Underoath record, Voyeurist. 
You can watch the short film, "Enemy," below.
Brand Of Sacrifice 2021 tour dates: 
09/09 – Columbus, OH @ Skully's
09/10 – Harrisonburg, VA @ THe Golden Pony
09/11 – Danville, VA @ Blue Ridge Rock Festival
09/12 – Baltimore, MD @ Metro Gallery
09/13 – Buffalo, NY @ Rec Room
Brand Of Sacrifice 2022 tour dates: 
02/04 – Köl, DE @ Club Volta*
02/05 – Hamburg, DE @*
02/06 – Berlin, DE @ LOGO
02/08 – Munich, DE @ Backstage Werk*
02/09 – Vienna, AT @ Arena*
02/10 – Nürnberg, DE @ Z-Bau*
02/11 – Prague, CZ @ Rock Cafe*
02/12 – Chemnitz, DE @ AJZ Chemnitz*
02/14 – Aarau, CH @ Kiff*
02/14 – Aarschot, BE @ Club De Klinker*
* supporting ERRA