UPDATED ON 9/21/08 AT 12:25 p.m. EST
Former Blink-182 drummer Travis Barker was involved in a plane crash late last night in Columbia, South Carolina, killing four and critically injuring himself and performing partner DJ AM. Pictures of the crash site can be found below.
According to MSNBC, the Learjet the pair were on was about to take off from Columbia Metropolitan Airport for Van Nuys, California, when sparks were seen shooting out of the back of the plane. From CNN: "They overran the end of runway 11. They impacted the antenna array and a number of lights at the end of the runway. They went through the perimeter fence and across the roadway here," said NTSB spokeswoman Debbie Hersman, briefing reporters on Saturday. "There was a significant post-crash fire."
Four people have been pronounced dead: Pilot Sarah Lemmon, 31, of Anaheim Hills, California; co-pilot James Bland, 52, of Carlsbad, California; Chris Baker, 29, of Studio City, California; and Charles Still, 25, of Los Angeles, California. Baker was Barker's assistant; Still, his personal bodyguard.
Barker and DJ AM (real name Adam Goldstein) are being treated for "extensive burns" at Joseph M. Still Burn Center in Augusta, Georgia.
Barker received second- and third-degree burns to his torso, and Goldstein received second- and third-degree burns to his face and hands. Both men are in critical but stable condition and according to Dr. Fred Mullins will make a full recovery. Mullins, in charge of the patients at Joseph M. Still Burn Center, says it may take up to a year to fully recover, however.
"I think these patients are going to make a full recovery," Mullins said at a press conference this morning. "Anybody who can survive a plane crash is very lucky."
A witness who saw the plane crash had claimed that he saw two men in the middle of the highway, presumably Barker and Goldstein, both on fire. However, they managed to put themselves out.
The plane was reportedly certified to operate as of 2007 and was headed for Van Nuys, California.
When more information becomes available, we will update you.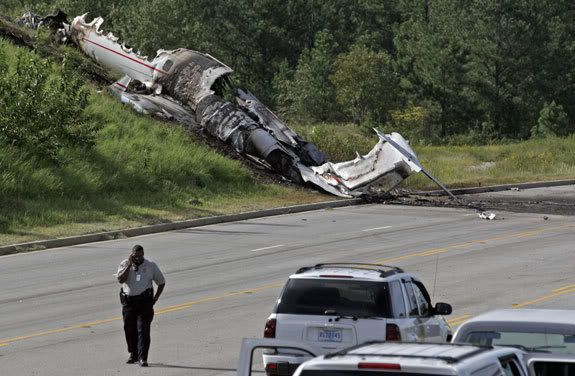 PHOTO: Associated Press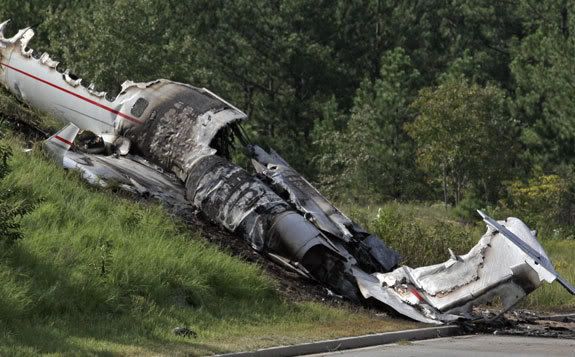 PHOTO: Associated Press
AP EXCLUSIVE PHOTOS:
Below: Travis Barker and Adam Goldstein had performed together Friday at a free concert in Columbia under the name TRVSDJ-AM.
The show (at the Five Points neighborhood near the University of South Carolina) included performances by former Jane's Addiction singer Perry Farrell and singer Gavin DeGraw.