Terrible Things--the new band featuring Fred Mascherino (Taking Back Sunday), Andy Jackson (Hot Rod Circuit) and Josh Eppard (Coheed And Cambria)--have exclusively revealed to Altpress the details of their upcoming full-length debut. The album will be self-titled and released by Universal Motown. The cover art—photographed by frequent AP contributor Ryan Russell—features Mascherino's children.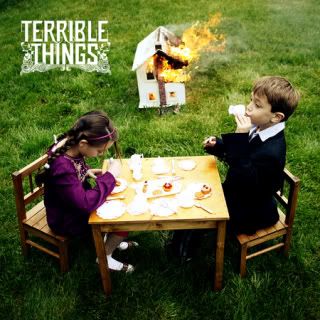 Mascherino tells us, "We found this old antique doll house. It wasso detailed. It had hardwood floors and the paint on the walls was peeling. There was trim around every window. It was beautiful. But the album has a dark concept so we knew what we had to do to this thing. The cover was originally going to be just the house burning. We were shooting it with Ryan Russell. He wanted to bring in more elements, so the rest was his idea. My kids were psyched to be involved, and I wish we could use every photo we got that day. The hardest part was that the fire was right there next to them. It was really raging. It was pretty loud and noisy and my wife was getting scared about how close the kids were to the fire for us to get the shot right. Ryan had to shoot everything really fast because it was obvious that the house would be ashes in a short time. The cover is metaphoric to what was going on in my town [Coatesville, PA] last year and it was actually pretty emotional for me watching that house go up in flames. We all sort of went through something to make that cover happen. I'm just glad Ryan was able to make that shot happen because there was no going back for a second try. It was gone forever."
Everything you need to know about the new Terrible Things record and tour! from Terrible Things on Vimeo.