News
Sunny Day Real Estate to release first song in 14 years on Circa Survive split
March 3, 2014
Circa Survive and Sunny Day Real Estate will be releasing a split on Record Store Day (April 19) that features new, exclusive tracks from both bands. The new SDRE song is titled "Lipton Witch," and will be the band's first new song since the release of their 2000 album, The Rising Tide. Circa Survive's track is called "Bad Heart," and was recorded after the release of their latest album, Violent Waves.
You can check out the album artwork below, which was done by Chris Thompson, who did the art for Sunny Day Real Estate's Diary and How It Feels To Be Something On releases.
The pressing is limited to 2,400 copies coming out on burgundy vinyl and 100 coming out on clear vinyl.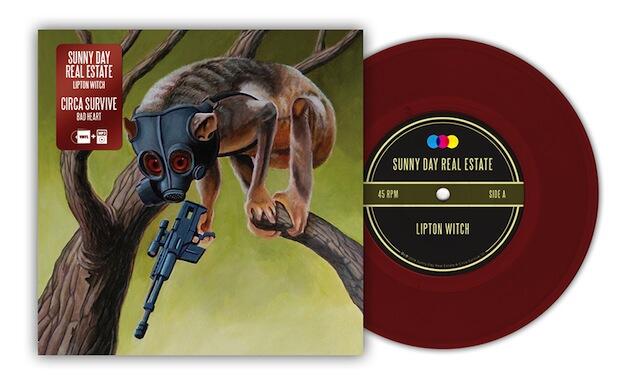 Read a statement from Brendan Ekstrom of Circa Survive about the split:
"I went to see a few of the Sunny Day Real Estate shows when they toured in 2009 and I knew they'd written and recorded at least one song during that time. I got Jeremy Enigk's info from a mutual friend and emailed him asking if they had anything planned with the track. I knew they were on a hiatus and I hated the idea of that song never being released. Jeremy spoke with the other guys who all seemed interested to do the split I had I proposed. We had a B-side we'd been sitting on that had a mellower vibe which seemed to balance their more rocking song in a way that another upbeat jam might not have. I couldn't be more happy that this is happening. I honestly think this one of the best songs Sunny Day has ever written and I'm really happy that fans are going to get to hear it."