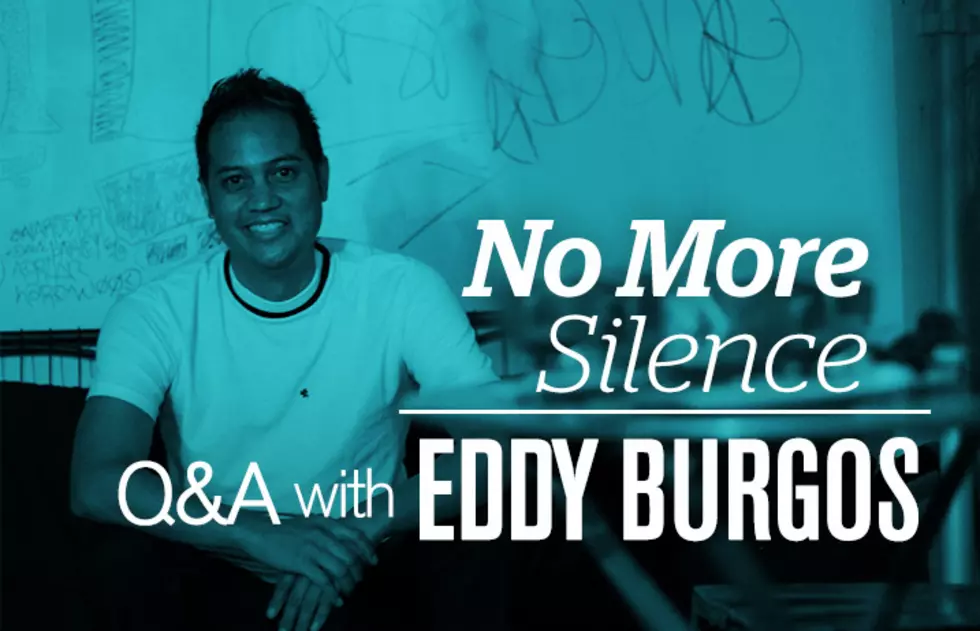 No More Silence: Q&A with promoter Eddy "Numbskull" Burgos
On his LinkedIn profile, EDDY BURGOS describes his job as "Punisher Control." The jokey vibe is demonstrative of the friendly charm known to bands, tour managers and fans who know him better as Eddy Numbskull, punk promoter for over 25 years. His company, Numbskull Productions, is named after a comic book character Burgos came up with as a kid. The company operates at an extraordinarily professional level today, putting on shows in over a dozen venues in California, without losing its punk soul (look no further than the activist links on their website for evidence). Burgos cut his teeth as a promoter in 1989: By the time 3,700 kids came to see NOFX, Face To Face and D.I. on an Orange County college campus in 1992, the burgeoning promoter know he'd hit upon something special. He went on to do shows with Fugazi, At The Drive-In, Jawbreaker, Avenged Sevenfold and AFI. Today, Numbskull Productions' calendar features upcoming events as diverse as old-school punks Subhumans, metalcore vets Norma Jean and hip-hop hipsters Run The Jewels among many others. Numbskull tells AltPress that the trouble at shows that's been more recently exposed by social media is nothing new and details what he's done to stem the tide of abuse.
Interview: Lee McKinstry
Obviously, the problem of sexual violence and assault isn't something that just happened overnight. But have the incidents of this past summer signaled a change in operation for you?
EDDY BURGOS: This has definitely been an issue of importance to us so the recent [happenings] really haven't changed our operation. This is something we've also tried to pay attention to and address as it's happening. And we're continuing to do so. What happened over the summer wasn't really anything different. If anything, it made everyone more aware. It's always nice to get re-energized with, "Hey listen, this is what's going on." It lights a fire under everybody again.
Why do you think it got so much momentum this summer as far as galvanizing the conversation and getting it going?
Social networking. I think people are just becoming more aware of it as well—which is a good thing, obviously.
What measures do you take with your staff to try and create a positive environment at your shows? 
One of the things that we definitely try to do is put women in positions of power, whether it be production manager, stage manager, loaders, what have you. Just putting them in positions and roles that are currently male-dominated. I think it creates an environment of equality when an artist or even the crew or even their [hangers-on] come and they see that maybe there's a [female authority figure] in their eyes holding down the fort that immediately changes their behavior. That really helps. I think having coed bathrooms really helps, as well. It brings a level of equality. It keeps bathroom shenanigans to a minimum. Dudes are going to be a little more respectful when there's non-dudes in there. You wouldn't believe the things that happen in men's bathrooms. Having sensitive security just to try and avoid the whole meathead jock mentality, that testosterone-filled bouncer that's willing to throw down at the drop of a hat. We definitely have to have people that are nice in positions to create that environment.
One of the things that has been put out there as a solution, is putting age caps—18 or 21—restrictions on either the bands or people that can attend festivals and shows. Obviously, some people agreed, and some thought that was a bad idea.  Would you ever consider enforcing age restrictions at your festivals or shows in light of recent events?
I'm not a fan of that. We definitely do some 21-and-up events, but I'm definitely not a fan of it. However, we do restrict. I'll put security in positions backstage or at an artist's bus and make sure there are no minors or [people] under 21 hanging out back there—especially on the bus after shows. We'll definitely make sure they're carded so we don't have any minors [back there]. The bus can be a major trap. Even backstage in dressing rooms or what have you. So I am all for restricting those zones but not the actual show space. 
So you literally have security positioned in front of the bus or in the back stage at all times?
Oh my goodness, yeah. And sometimes the tour manager is even on that, too. They will assist in that because they don't want to see their bands get in trouble. I feel like that eliminates a lot of potential danger, by just having something as simple as that. 
When you're working a large festival or venue, what tips would you give to those working the event to look out for potentially dangerous situations?
I definitely have people positioned on either side, not only barricades. They are looking for crowd-surfers and what have you: fights, the usual drinking, smoking. But I also tell them prioritize the fondling. Look for the overly aggressive, inebriated individual that is encroaching on other people's space. Just keep an eye on them. Put that at the forefront. For me, if a guy's smoking a joint, give him a warning and put it out. But if someone is manhandling and groping audience members, we have zero tolerance—they are just going to get thrown out. I tell them to prioritize that. And also not just in the show space, but also at the door, as well. What we've seen is when people are inebriated, alcohol tends to lead to this sort of behavior. We'll try to stomp that out, before they even come in.
How much responsibility do you feel to protect fans who attend your events?
We're extremely responsible for their health and safety. Not only do I want them to have an excellent show experience, I want them to feel good about being there. I'm all about that. 100 percent.
Have you ever witnessed or experienced sexual assault at one of your events? And how did you deal with it?
I have. It's really a hot button issue for me. I've personally been in situations that were not professional where I've literally gotten in altercations with individuals. Which isn't exactly how to handle it, but coming from a personal standpoint, yeah, I definitely lost my cool. It's not the right thing to do, but I've definitely gotten involved. That's what you have security for, they're there to handle the situations. I'm not about being a bystander: It's difficult to just stand there. I think the kids have a responsibility too, to not be bystanders.
What can fans do to promote a safer environment and protect each other?
They can keep a watchful eye as well and if they see anything happening they can alert security. Or friendly warnings and be vocal about it. I mean I'm not asking them to be physical, but be vocal: "Hey man, that's not cool, that's totally unacceptable. And then finding either staff or security and alert them. Also just being part of the ambience, environment and vibe of safeness. The audience is a big part of that, too.
If someone is assaulted or feels uncomfortable at one of your shows, where should they go? Do they go to a bouncer, do they go to the musicians, where should they go if they want to try and report something? 
I would suggest going to the very front, either the box office, or you can ask any security guard and they will alert the medical staff or head of security, and they will be taken care of immediately. 
Are you thinking of partnering with any kind of outreach organizations or any kind of initiatives moving forward to kind of spread the word about this?
We would definitely love to. We have an open tabling policy at all of our shows. So we'd love to. We've done our fair share of benefits for women's shelters and what-have-you. To have an organization be present at every show with literature educating everyone, we're all about that. Granted the artist is cool with it, we definitely will set up table space for any nonprofits to educate.
This Q&A is part of our No More Silence series about the ongoing problem of sexual harassment in our scene. For more information, including hotline numbers and resource websites, please look to our initial post:
No More Silence: Sexual harassment in the scene by Luke O'Neil
Or, read further with our other Q&A's:
Q&A with Ash Costello of New Years Day by Lee McKinstry
Q&A with Warped Tour sober coach Mike Farr by Lee McKinstry