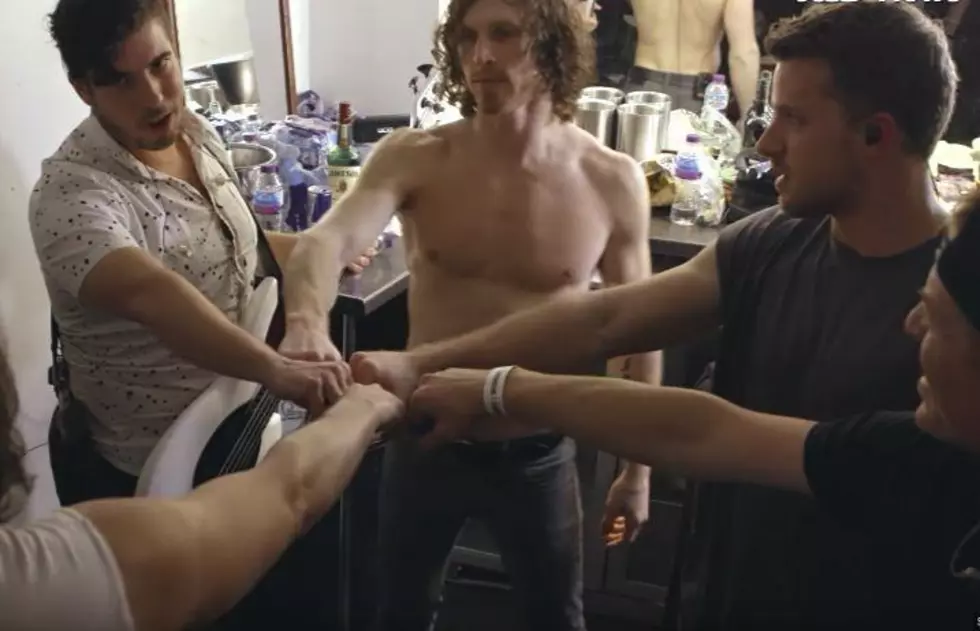 Nothing More on the future of rock: "It's going to reopen up in some way"
[Photo by: Vice News/YouTube]
Grammy nominated act Nothing More have opened up about snagging nominations in all three Rock categories at this year's Grammys—and what it's like being nominated alongside some of the biggest acts in the genre. When talking about the future of the genre, the band know that what they're doing isn't going to please every rock fan around.
"I think it's irrelevant more than it's dead. What rock was is dead," frontman Jonny Hawkins says. "I think there's something that we're in some way apart of, or leading, the way it's going to reopen up in some way."
Read more: Nothing More extend their tour into 2018
Of course, this goes into the bigger picture of nominees as a whole. The band have seen some not-so-positive words on their nomination, and though they may not have the name or the size of following, they don't see their nomination as unfitting.
"I view us as fitting right in. When it comes to the music, people mistake brand and music," Hawkins explains. "Many bands who have been around a long time have built a huge brand, and many times, people mistake that for great music. Sometimes they go hand in hand, sometimes they don't."
Listen to their interview in full, talking about their nominations and more, below:
Nothing More will be heading out on a North American headlining tour next week, joining Papa Roach as support for the Crooked Teeth World Tour beginning in April. Check out the full list of cities and dates below.
Dates:

02/03 – Little Rock, AR @ Metroplex*

02/05 – Richmond, VA @ Broadberry*

02/06 – New York, NY @ Irving Plaza*

02/07 – Columbus, OH @ Newport Music Hall*

02/09 – Philadelphia, PA @ Theatre of the Living Arts*

02/10 – Pittsburgh PA @ Mr. Smalls*

02/11 – St. Louis, MO @ Delmar Hall*

02/12 – Racine, WI @ Route 20*

02/14 – Madison, WI @ The Majestic*

02/15 – Chicago, IL @ House of Blues*

02/16 – Minneapolis, MN @ Music Hall of Minneapolis*

02/17 – Sioux City, IA @ Anthem Casino*

02/19 – Wichita, KS @ The Cotillion*

02/20 – Tulsa, OK @ Cain's Ballroom*

02/22 – New Orleans, LA @ House of Blues*

02/23 – Houston, TX @ House of Blues*

02/24  – Corpus Christi, TX @ Brewers*

02/27 – El Paso, TX @ Tricky Falls*

03/01 – Los Angeles, CA @ The Regent*

03/02 – San Diego, CA @ House of Blues*

03/03 – Sacramento, CA @ Ace of Spades*

04/04 – Savannah, GA @ The Stage on the Bay*

04/05 – Raleigh, NC @ Ritz

04/07 – Myrtle Beach, SC @ House of Blues

04/08 – Charlotte, NC @ The Fillmore (Charlotte)

04/13 – Portland, ME @ State Theater

04/14 – Montreal @ M-Telus aka Metropolis

04/15 – Northampton, MA @ Pearl Street Nightclub *

04/17 – Quebec City, QC @ Grand Theater

04/18 – Rochester, NY @ Main Street Armory

04/19 – Detroit, MI @ Fillmore

04/20 – Peoria, IL @ Monarch Music Hall *

04/21 – Cleveland, OH @ Agora

04/22 – Indianapolis, IN @ Egyptian Room @ Old National Centre

04/24 – Louisville, KY @ Mercury Ballroom

04/26 – Des Moines, IA @ 7 Flags Event Center

04/27 - Sioux Falls, SD @ The District

04/29 – Winnipeg, MB @ Burton Cummings

05/01 – Regina, SK @ Conexus Arts Centre

05/02 – Calgary, AB @ Grey Eagle Showroom

05/04 – Seattle, WA @ Showbox SoDo

05/05 – Portland, OR @ Roseland

05/07 – Fresno, CA @ Woodward Park Amp

05/09 – Albuquerque, NM @ El Rey Theater
Watch more: APMAs 2017 Performance: NOTHING MORE