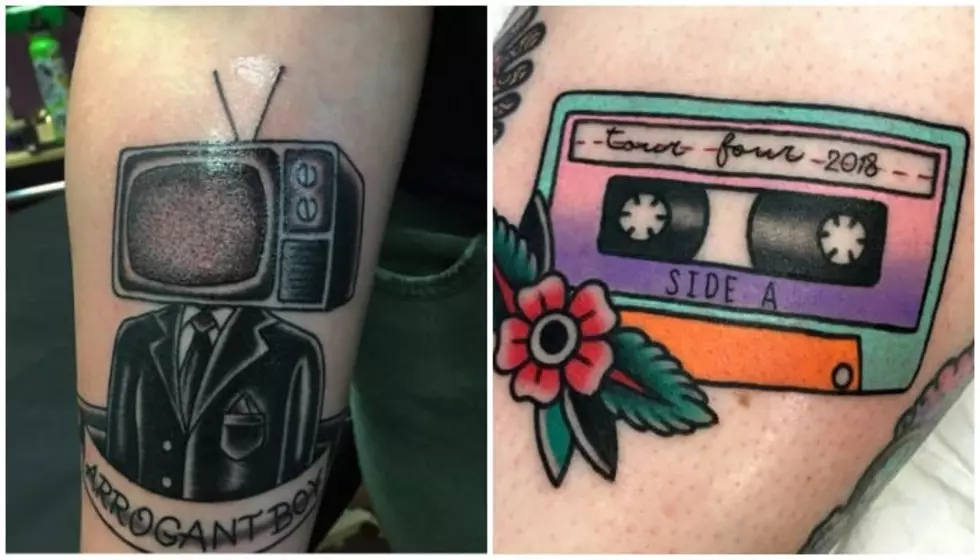 10 obscure band tattoos that will inspire your next one
[Photos via Instagram]
Like most music lovers, we love tattoos based on our favorite bands. They help us show how much their music has moved us and prove to everyone that we will never stop loving them.
With popular bands, the tattoos can tend to get repetitive. A lot of fans will get the same logos or lyrics permanently inked on their bodies, which is great, but sometimes, fans want to mix it up. Here are 10 obscure music tattoos that you will want to take some inspiration from for your next piece.
This festive Fall Out Boy tattoo
This tattoo features the lyrics from "Our Lawyer Made Us Change The Name of this Song So We Wouldn't Get Sued," complete with Christmas colors that make it so unique. There is also a subtle Fall Out Boy logo included, so there is a lot to look at.
This person took a modern twist to show their love for Panic! At The Disco
We are completely obsessed with this Panic! At The Disco tattoo that showcases each of the band's albums with geometric patterns. They even have the band's latest Pray For The Wicked included, which proves they are a true stan.
This somewhat morbid blink-182 ink
So many people get tattoos of the iconic blink-182 smiley logo, which is awesome, but this person opted to be a little different. They took lyrics from one of the band's earlier tracks "M+M" that go "Sometimes I wanna take my toaster in the bath" and portrayed a person doing exactly that next to the words. This one definitely stands out from the crowd.
A twenty one pilots tattoo that was inspired by one of the band's shows
This sentimental twenty one pilots ink idea came from when the band sold out Madison Square Garden in 2016. The fan wrote that Tyler Joseph kept saying "we did it," so she got the word "we" with a line through it. The Skeleton Clique will definitely appreciate this one.
These mini Black Veil Brides portraits that are too cute
Black Veil Brides fans will swoon at this ink. This person got mini portraits of each member of the band across their forearm, and it is both adorable and punk rock.