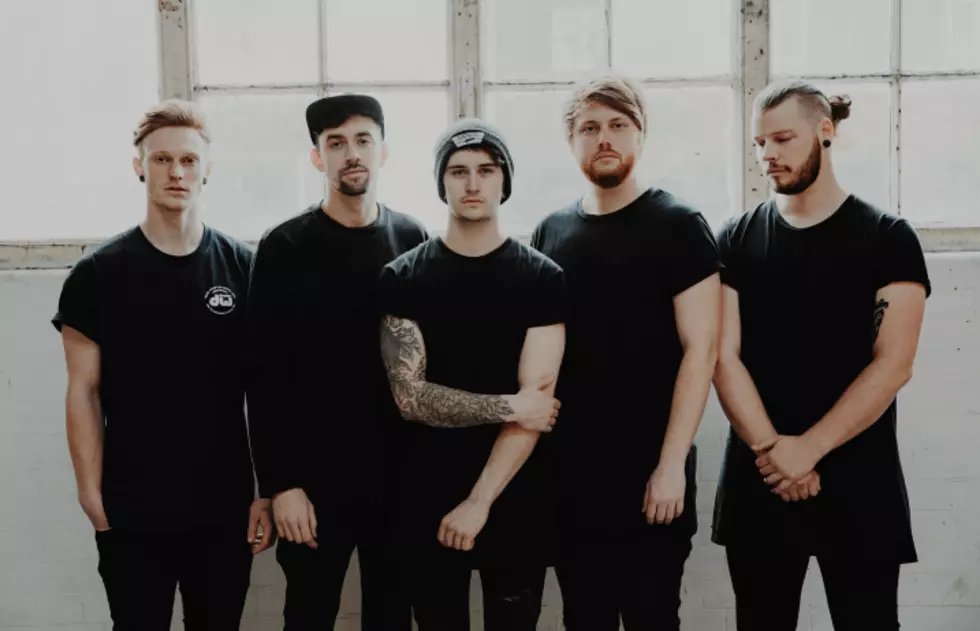 8 things you didn't know about Oceans Ate Alaska's new album 'Hikari'
[Photo by: Ellie Mitchell]
British metalcore band Oceans Ate Alaska are back with their newest album Hikari—out tomorrow via Fearless Records. We caught up with guitarist James Kennedy to find out everything you need to know about the new album. Check it out—along with the band's newest video—below.
1. Hikari translates to "light" in English and represents the band's current mindset — meaning both a new "light" for Oceans Ate Alaska with their lineup change plus progression toward the future and heavy music at large.
"Hikari is the name of our second studio album and is the Japanese word for 'light.' Initially when trying to think of the album title, we wanted something that was in keeping with the theme but also a representation of where we are personally, mentally and musically. You go through lots of passages in life and sometimes doors will remain closed and you get stuck. Hikari however is a celebration of our progression towards a new beginning for us. And we couldn't be happier with how it's all turned out!"
2. This is the first Oceans Ate Alaska album with new vocalist Jake Noakes.
"Jake Noakes has been a long time friend of the band and to have him on this album has been a very enjoyable experience. He shares the same like minded and charismatic attitude we have, so working together on Hikari has been a lot of fun."
3. All of the drums on the record are 100 percent real. Not many musicians record 100 percent, as most use plug ins.
"Chris [Turner] really cares about his drumming. So much so that every last second and every piece of the puzzle that goes towards his parts of the record need to be absolutely perfect. Taking shortcuts is what takes the magic out of piece and Chris has definitely avoided that."
4. Hikari follows lyrical and musical themes rooted in Samurai mythology and even names the first track after a Japanese Buddhist goddess, Benzaiten — the goddess of everything that flows: water, time, words, speech.
5. The album incorporates the sounds of traditional Japanese instruments like a Koto, Junanagen, Hocchiku, and Taiko Drums, just to name a few.
6. "Veridical" was the first song created off the album. It started as a hip-hop instrumental for a different project, but drummer Chris Turner began experimenting in the studio by adding tech-metal elements. Even though polar opposites, the band discovered that the mix of sounds worked in its own unique way.
7. "Hansha" includes the most clean vocals incorporated into an Oceans Ate Alaska song.
"'Hansha' is an interesting track and again highlights newer areas that we've been able to explore thanks to Jake's impeccable range. We always wanted to try out having a clean verse as well, so this is where the softer feel of the song developed."
8. The album art is a lotus flower, which grows out of mud and dirt, yet is a pristine work of nature. The band specifically chose an origami lotus flower for the cover as it symbolizes the idea that everyone has the ability to create their own future.
"The album artwork coincides with the title nicely as we wanted a visual representation of the band's progression as well. Lotus flowers grow from mud and dirt symbolising that beauty can still emerge from a dark dingy place. The idea of it being an origami lotus flower, however, shows that sometimes you have to take things into your own hands in order to achieve this new lease of the life. You create your own future! Hikari is a piece of art that showcases this in its finest form."
You can pre-order Hikari here.
Be sure to catch Oceans Ate Alaska on tour this summer:
08/05 - Munich, Germany @ Backstage

08/12 - Jaromer, Czech Republic @ Brutal Assault Festival

08/13 - Dresden, Germany @ Novitatis

08/14 - Bratislava, Slovakia @ British Rock Stars

08/15 - Prague, Czech Republic @ Chapeau Rouge

08/16 - Budapest, Hungary @ Dürer Kert

08/17 - Dinkelsbühl, Germany @ Summer Breeze Festival

08/19 - Cervia, Italy @ Rock Planet

08/20 - Stuttgart, Germany @ Universum

08/21 - Besirk Landstrasse, Austria @ Viper Room

08/22 - Dornbirn, Austria @ Conrad Sohm

08/23 - Aschaffenburg, Germany @ Colos

08/24 - Amsterdam, Netherlands @ Melweg

08/25 - Nijmegen, Netherlands @ Merleyn

08/26 - Oberhausen, Germany @ Emscherdamm

08/27 - Antwerp, Belgium @ Trix Club

08/28 - Paris, France @ Petit Bain
What do you think about Oceans Ate Alaska's new album?