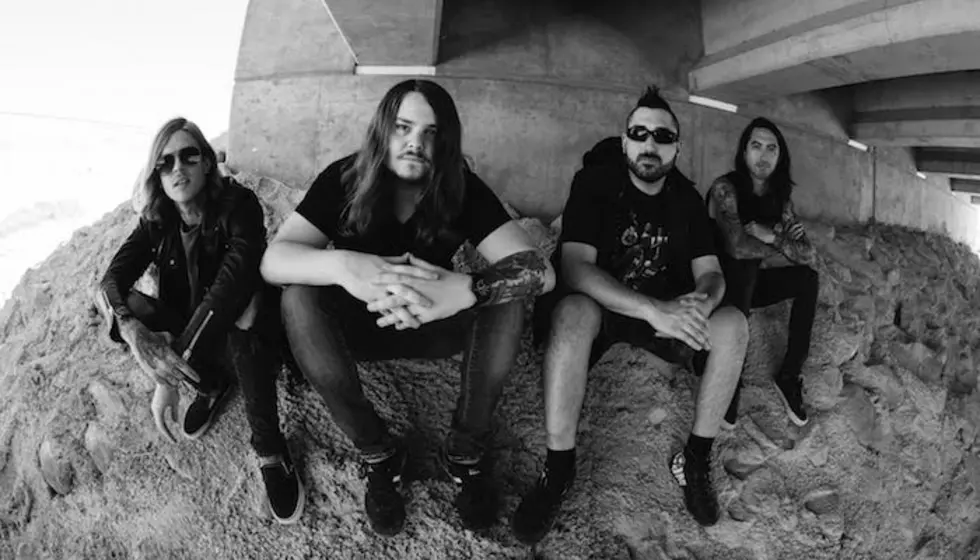 Of Mice & Men frontman shares surgery update, cancel Beartooth dates
Following news earlier this week that Of Mice & Men canceled a handful of shows due to a "medical situation," the band are shedding some light on the reason behind it.
This week wasn't the first time OM&M cancelled shows due to unnamed medical reasons, but now frontman Aaron Pauley is offering an explanation. The band also announced they will not be joining their planned Beartooth run until late April.
In mid-March, the band pulled from a Hartford, Connecticut stop as frontman Aaron Pauley headed to the hospital. They described it as "undergoing some testing."
At the time, Pauley also shared he had "a bit of a scare" but was clear to perform.
Fast-forward to Monday where the band canceled all of their shows this week due to a "medical situation that requires immediate urgent attention."
Today, the band shared an additional statement, revealing Pauley had to undergo surgery.
"On Monday, April 8th, Aaron became aware of a medical issue requiring immediate surgery. The surgery was performed yesterday without incident, and the issue is currently being evaluated. He has been advised that the absolute minimum recovery time is two weeks from today. Therefore we're sorry to report that we have no choice but to cancel the start of our dates with Beartooth. As it currently stands, we will now be starting the tour at So What Festival in Houston on April 27th."
Pauley also shared the update, stating, "Thank you all for the understanding and support! I'll be able to share more info in the future, but just know that I'm safe, healthy, happy, and on the mend!"
Beartooth also shared a statement wishing Pauley a "speedy recovery."
Beartooth's the Disease tour Part II kicks off April 19 in Fargo, North Dakota after a short run in Canada. Beartooth tickets are available here and all of Of Mice & Men's upcoming shows are listed here.
Dates:
04/15 – Quebec City, QC @ L'Imperial %
04/16 – Ottawa, ON @ Bronson Center %
04/17 – London, ON @ London Music Hall %
04/19 – Fargo, ND @ Sanctuary Event Center ^
04/20 – Sioux City, IA  @ Anthem at Hard Rock Casino ^
04/21 – Wichita, KS @ Cotillion ^
04/23 – Des Moines, IA @ Wooly's ^
04/24 – Springfield, MO @ The Complex ^
04/25 – Memphis, TN @ Minglewood ^
04/27 – Houston, TX @ So What?! Music Festival
04/28 – New Orleans, LA @ Southport Hall
04/30 – Nashville, TN @ Cannery Ballroom
05/01 – Birmingham, AL @ Iron City
05/03 – Jacksonville, FL @ Welcome to Rockville*^
05/04 – Pensacola, FL @ Vinyl Music Hall
05/06 – Knoxville, TN @ The Mill & Mine
05/08 – Louisville, KY @ Mercury Ballroom
05/09 – Lancaster, PA @ Chameleon Club
05/10 – Rockingham, NC @ Epicenter Festival*^
05/12 – Sayreville, NJ @ Starland Ballroom
05/13 – Poughkeepsie, NY @ The Chance
05/14 – Providence, RI @ The Strand
05/15 – Buffalo, NY @ Town Ballroom
05/17 – Columbus, OH @ Sonic Temple Festival*^
05/18 – Chicago, IL  @ Chicago Open Air+
% with Hands Like Houses, Like Pacific
^ No Of Mice & Men
* No Dead American
+ Beartooth Only
[envira-gallery id="197607"]