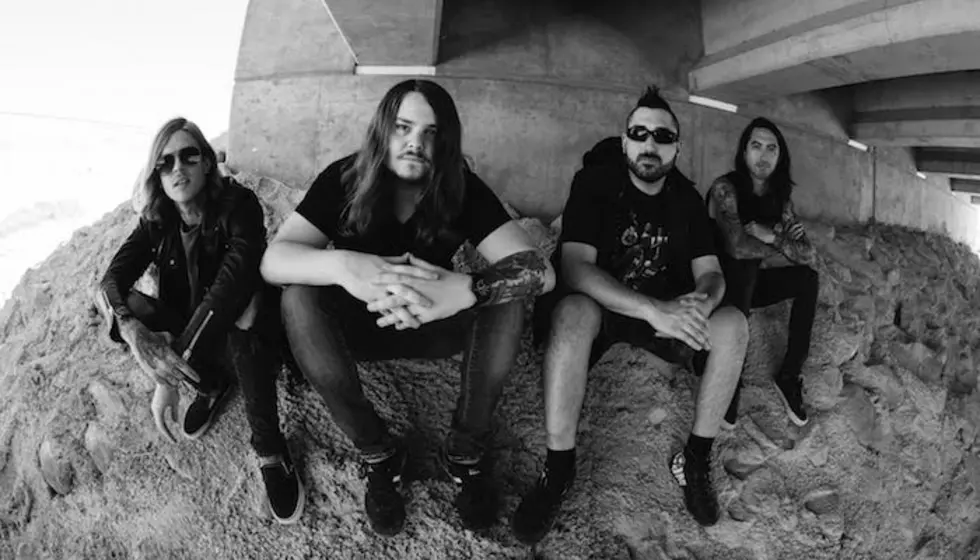 Of Mice & Men vocalist reveals surgery cause, offers tour update
Of Mice & Men frontman Aaron Pauley has officially been cleared by a doctor to start touring again following surgery. 
The news follows the band's decision to cancel a string of dates with Beartooth due to a "medical situation that required immediate urgent attention." Prior to the Beartooth dates, the band announced a single show cancelation back in March after Pauley went to the hospital for a bit of testing. 
Now, in a tweet, the frontman reveals the cause of the surgery was to remove precancerous tissue. That said, Pauley's condition was not cancerous, but more of a cautionary measure to ensure a healthy future.
"Got the call from my doctor following up with results from my surgery. It was a success," Pauley says in a tweet. "All of the precancerous tissue was completely removed, and I get my stitches out on the 24th, meaning I'm officially cleared to return to the road for our first show back on the 27th!"
As previously reported, the band's canceled shows went through the end of April. However, with this good news, it looks like Of Mice & Men will be on the road with Bearooth when they predicted.
Beartooth's the Disease tour Part II kicks off tonight in Fargo, North Dakota.. Beartooth tickets are available here and all of Of Mice & Men's upcoming shows are listed here.
Dates:
04/19 – Fargo, ND @ Sanctuary Event Center ^
04/20 – Sioux City, IA  @ Anthem at Hard Rock Casino ^
04/21 – Wichita, KS @ Cotillion ^
04/23 – Des Moines, IA @ Wooly's ^
04/24 – Springfield, MO @ The Complex ^
04/25 – Memphis, TN @ Minglewood ^
04/27 – Houston, TX @ So What?! Music Festival
04/28 – New Orleans, LA @ Southport Hall
04/30 – Nashville, TN @ Cannery Ballroom
05/01 – Birmingham, AL @ Iron City
05/03 – Jacksonville, FL @ Welcome to Rockville*^
05/04 – Pensacola, FL @ Vinyl Music Hall
05/06 – Knoxville, TN @ The Mill & Mine
05/08 – Louisville, KY @ Mercury Ballroom
05/09 – Lancaster, PA @ Chameleon Club
05/10 – Rockingham, NC @ Epicenter Festival*^
05/12 – Sayreville, NJ @ Starland Ballroom
05/13 – Poughkeepsie, NY @ The Chance
05/14 – Providence, RI @ The Strand
05/15 – Buffalo, NY @ Town Ballroom
05/17 – Columbus, OH @ Sonic Temple Festival*^
05/18 – Chicago, IL  @ Chicago Open Air+
% with Hands Like Houses, Like Pacific
^ No Of Mice & Men
* No Dead American
+ Beartooth Only
[envira-gallery id="186695"]