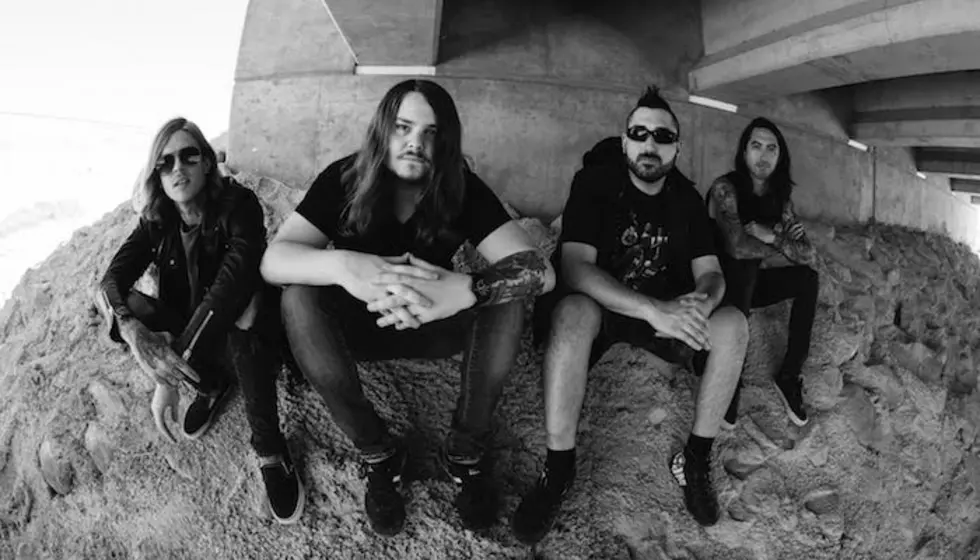 Of Mice & Men cancel shows this week for medical reasons
Of Mice & Men have cancelled all of their shows this week due to a "medical situation."
The band posted the announcement of the shows on Twitter. They were scheduled to play in Grand Junction, Colorado; Lakewood, Ohio and Syracuse, New York.
"Hey everyone – we're very sorry to announce that due to a medical situation that requires immediate urgent attention we are being forced to cancel our show tonight and our other shows this week in Grand Junction, Lakewood and Syracuse."
"We will have more information shortly but for now we ask for your understanding and patience. We assure you we would not be cancelling anything if it wasn't 100% necessary. Thank you," the statement reads.
This is not the first time in recent months the band has had to cancel shows for health reasons. Last month, Of Mice & Men canceled a gig in Hartford, CT because frontman Aaron Pauley had to go to the hospital. It was not stated whether the new medical concerns have to do with Pauly or any of the members of the band.
The band did not specify if the rest of the shows on their current North America tour were effected. You can check out the full list of dates below and grab tickets here.
Dates
04/15 — Quebec, CA @ Imperial Bell
04/16 — Ottawa, CA @ The Bronson Centre
04/17 — London, CA @ London Music Hall
04/19 — Fargo, ND @ Sanctuary Event Center
04/20 — Sioux City, IA @ Anthem at Hard Rock Casino
04/21 — Wichita, KS @ Cotillion
04/23 — Des Moines, IA @ Wooly's
04/25 — Memphis, TN @ Minglewood
04/27 — Houston, TX @ So What
04/30 — Nashville, TN @ Cannery Ballroom
05/01 — Birmingham, AL @ Iron City
05/03 — Johnson City, TN @ Capone's
05/04 — Pensacola, FL @ Vinyl Music Hall
05/06 — Knoxville, TN @ The Mill & Mine
05/08 — Louisville, KY @ Mercury Ballroom
05/09 — Lancaster, PA @ Chameleon Club
05/10 — Wilmington, DE @ The Queen
05/12 — Sayreville, NJ @ Starland Ballroom
05/13 — Poughkeepsie, NY @ The Chance
05/14 — Providence, RI @ The Strand
05/15 — Buffalo, NY @ Town Ballroom
05/17 — St. Louis, MO @ Fubar
05/18 — Oklahoma City, OK @ Diamond Ballroom
05/19 — Lubbock, TX @ Jake's Sports Bar
What do you think of Of Mice & Men canceling their shows this week? Sound off in the comments below!
[envira-gallery id="197607"]