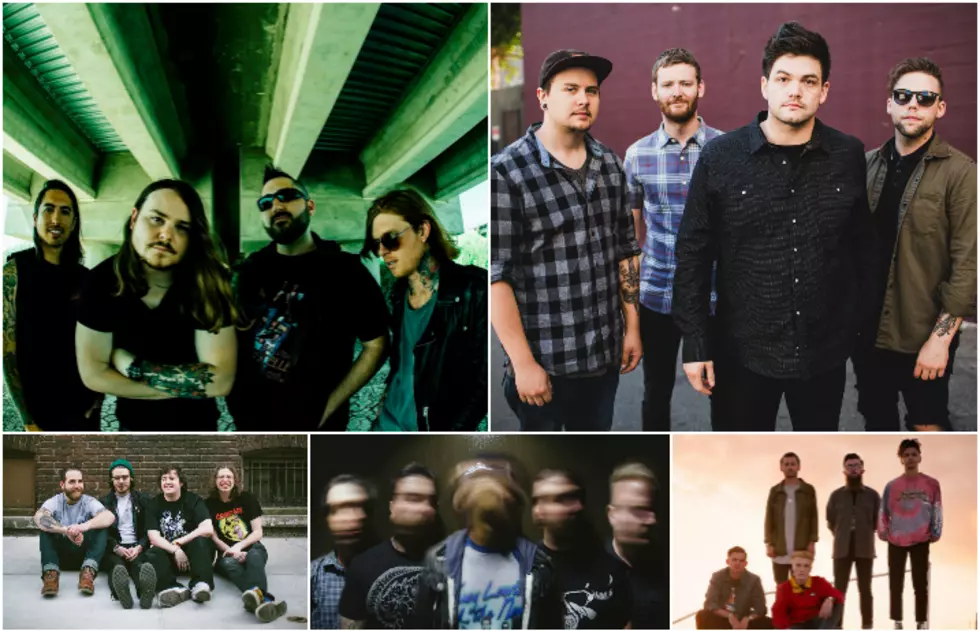 Of Mice & Men, the Spill Canvas announce new tour dates and other news you might have missed today
Of Mice & Men and the Spill Canvas announce new tour dates, Modern Baseball will back Daniel Johnston at his final Philadelphia performance, and Zao plan a new EP. Check out some of the news you might have missed today below.
Read more: Converge debut haunting new single and other news you might have missed today
Of Mice & Men add fall headline dates



Of Mice & Men just added a couple headlining dates to their upcoming tour with In This Moment and Avatar. Check out the two newly added dates below and see the full schedule for the Half God, Half Devil tour here. (via Theprp.com)
Of Mice & Men headline dates:

09/24 - Lincoln, NE @ Duffy's Tavern

10/16 - Tucson, AZ @ Rialto Theatre
Read more: Of Mice & Men talk new music and moving forward
The Spill Canvas are still fine, really




The Spill Canvas have revealed an upcoming 10-year anniversary tour in celebration of their 2007 album, No Really, I'm Fine, with support from Chase Huglin. Check out the cities and dates below, and get more info here.
The Spill Canvas tour dates:

10/12 - Sioux Falls, SD @ Icon Lounge

10/13 - Kalamazoo, MI @ Bell's Eccentric Cafe

10/14 - Detroit, MI @ St. Andrew's Hall

10/15 - Columbus, OH @ A&R Music Bar

10/16 - Indianapolis, IN @ Emerson Theater

10/17 - Pittsburgh, PA @ Rex Theater

10/19 - Buffalo, NY @ Waiting Room

10/22 - Boston, MA @ The Middle East

10/23 - Brooklyn, NY @ Music Hall of Williamsburg

10/25 - Philadelphia, PA @ The Foundry

10/26 - Greensboro, NC @ Blind Tiger

10/27 - Atlanta, GA @ The Masquerade (Hell)

10/28 - Charleston, SC @ The Purple Buffalo

10/29 - Orlando, FL @ The Abbey
Read more: The Spill Canvas release reworked, full-band version of "The Tide"
Modern Baseball help Daniel Johnston retire his gloves



Modern Baseball will back Daniel Johnston at his last Philadelphia show on the esteemed musician's just-announced final tour. Each date of Johnston's farewell run will feature a different group of musicians, including Wilco's Jeff Tweedy in Chicago and Built To Spill in Portland and Vancouver. (via SPIN)
Daniel Johnston tour dates:

09/28 - New Orleans, LA @ The Joy Theatre [Joined by the Preservation All-Stars]

10/04 - Philadelphia, PA @ Tower Theater [Joined by Modern Baseball and the Districts]

10/20 - Chicago, IL @ The Vic Theatre [Joined by Jeff Tweedy and friends]

11/08 - Portland, OR @ Revolution Hall [Joined by Built To Spill and others]

11/10 - Vancouver, BC @ Venue Nightclub [Joined by Built to Spill and others]
Read more: Modern Baseball's Jake Ewald debuts new solo song, talks more about the band's future
Zao plot upcoming release



Zao are planning a new EP for the "near future," following their latest album, 2016's The Well-Intentioned Virus. Read guitarist Scott Mellinger's thoughts on the band's next moves in a new interview over at No Clean Singing.
Read more: Watch Zao's intense music video for "Broken Pact Blues"
Neck Deep come through acoustic




Neck Deep have announced some acoustic in-store performances and signings for the summer. The band's new album The Peace And The Panic is out August 18 on Hopeless Records. Check out the upcoming in-store dates below.
Neck Deep in-store dates:

08/13 - West Babylon, NY @ Looney Tunes (3 p.m.)

08/14 - Wilkes-Barre, PA @ Gallery of Sound (7 p.m.)

08/15 - Philadelphia, PA @ F.Y.E. (5 p.m.)

08/16 - Baltimore, MD @ Sound Garden (7 p.m.)

08/17 - Fords, NJ @ Vintage Vinyl (7 p.m.)
Read more: Neck Deep drop two new songs from upcoming album 'The Peace And The Panic'
Gatecreeper creep through Europe



Arizona death metal practitioners Gatecreeper will trek across the pond this fall to support their debut album, Sonoran Depravation, released last year on Relapse Records. The band also have a U.S. tour coming up. (via Theprp.com)
Gatecreeper tour dates:

09/08 - Helsinki, Finland @ Waiski

09/09 - St. Petersburg, Russia @ Les

09/10 - Moscow, Russai @ Shagi

09/13 - Budapest, Hungary @ Robot *

09/15 - Siegen, Germany @ Vortex *

09/16 - Kassel, Germany @ K19 *

09/17 - Bristol, England @ The Exchange *

09/18 - London, England @ Black Heart *

09/19 - Glasgow, Scotland @ Audio *

09/20 - Leeds, England @ Temple of Boom *

09/22 - Schoonebeek, Netherlands @ JC Goeroe *

[* with Ratlord]
Read more: 11 metal memes that make headbanging hilarious
The Poet sound the Wilhelm scream



Puerto Rico-based rockers The Poet have just announced their signing to Wilhelm Records, and the group will release a new EP in the fall of 2017. Check out the band's music video for "Beautiful Minds" directly above.
Read more: The 11 best albums of 2017 (so far)
Less Art let in the light



Less Art (Thrice, Kowloon Walled City, ex-Curl Up And Die) are streaming their entire new, debut album Strangled Light ahead of its official release date this Friday, July 28. Check it out above. (via Theprp.com)
Watch more: APMAs 2017 Interview: LYNN GUNN | PRS Lounge