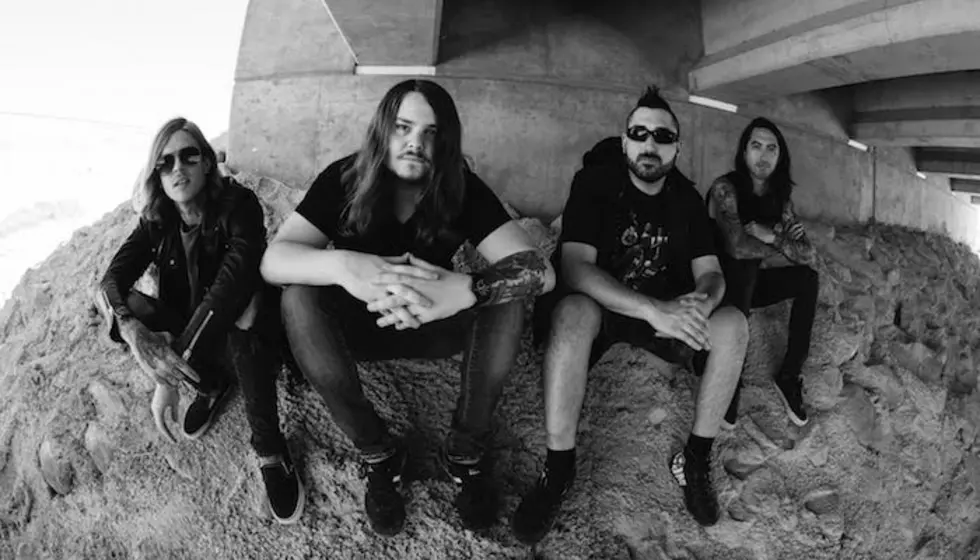 Of Mice & Men announce fall tour with Thousand Below, more
Of Mice & Men officially announced a North American fall tour with Thousand Below, For The Fallen Dreams and Bloodbather as support. 
The metalcore quartet will embark on the run starting Sept. 23 in Los Angeles, California, and will circle their way back to Mesa, Arizona, to wrap up Oct. 19. 
As a follow-up to their previously released singles, the band recently dropped a new titular single, "Earth & Sky," revealing the title of their upcoming sixth album. 
"'Earth & Sky' is a song about resilience," frontman Aaron Pauley says. "It's about understanding that you can rise above whatever it is that keeps trying to drag you down, no matter what. 
"For me, a lot of the time, I'm writing about battling with my own mind," he continues. "For you, it may be a person or an obstacle or a circumstance. Regardless of whatever it is that's trying relentlessly drag you down, I hope this song empowers you to rise above it with authority like it does me every time I sing it." 
Check out their latest release, "Earth & Sky," below.
You can purchase tickets here, with dates below. Of Mice & Men's forthcoming album, Earth & Sky, drops Sept. 27 via Rise Records. Preorder the album now. 
Dates:
09/23 – Los Angeles, CA @ Teragram* 
09/24 – San Diego, CA @ Soma* 
09/25 – Flagstaff, AZ @ The Green Room*
09/27 – Salt Lake City, UT @ Complex*
09/28 – Denver, CO @ Marquis 
09/29 – Lawrence, KS @ Granada 
10/03 – Columbus, OH @ Basement 
10/05 – Ottawa, CA @ Brass Monkey 
10/06 – Toronto, CA @ Lee's 
10/07 – Montreal, CA @ Fairmont Theatre 
10/09 – Philadelphia, PA @ Voltage Lounge 
10/11 – Virginia Beach, VA @ Elevation 27 
10/12 – Greensboro, NC @ The Blind Tiger 
10/13 – Manchester, TN @ Exit 111 Festival 
10/15 – Houston, TX @ Warehouse Live 
10/16 – Austin, TX @ Come And Take It Live 
10/17 – Dallas, TX @ Club Dada 
10/19 – Mesa, AZ @ The Underground
*without Thousand Below
[envira-gallery id="185694"]