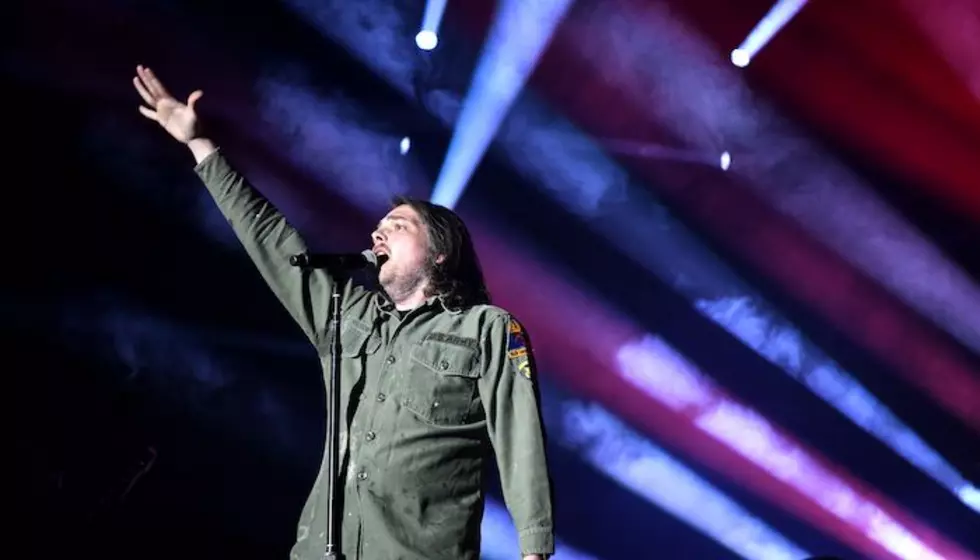 One of My Chemical Romance's 2021 UK shows has been postponed
[Photo by: Mark Beemer]
My Chemical Romance are gearing up to hit the stage for the first time since their 2019 reunion for their highly-anticipated return tour. Following various postponements, their string of concerts was set to kick off June 15 with a special show in St. Austell, England.
However, My Chemical Romance's Eden Sessions show has now been postponed for the second time and will no longer be taking place in June. At this time, a rescheduled date for the performance has not been announced yet.
When My Chemical Romance reunited in December of 2019, they probably envisioned 2020 and their return tour a little differently. Less than two months after their first U.K. show sold out immediately and their North American tour sold out in six hours, the COVID-19 pandemic hit. By mid-2020, My Chemical Romance's Japan, Australia, New Zealand, Europe, the U.K. and U.S. tours were all postponed.
Throughout last year, My Chemical Romance worked to reschedule their shows in North America, the U.K., Europe and New Zealand for 2021. As well, My Chemical Romance are headlining both Riot Fest and Aftershock Festival later this year.
My Chemical Romance's entire return tour was set to kick off on June 15 in St. Austell, England. However, that show is now officially being rescheduled. On March 9, the Eden Project confirmed that their upcoming Eden Sessions concerts in June and July are being postponed. This means that My Chemical Romance's show is no longer happening on June 15.
In a statement, the Eden Project says they are working to reschedule all of the shows. All purchased tickets will remain valid for the new concert dates. However, if an artist is unable to play the new date, a full refund will be issued.
"The Eden Sessions series of concerts planned for June and July of this year will not take place, the Eden Project announced today," the statement says. "Regrettably, the uncertainties around staging the series due to the impacts of the pandemic and restrictions on outdoor audiences mean that the summer Sessions have had to be postponed. We are working to reschedule the shows.
Last month, Prime Minister Boris Johnson unveiled England's four-step plan to ease out of COVID-19 restrictions. If all goes according to plan, the country could be completely out of lockdown by late June.
Since the announcement, a lot of changes have happened in the U.K. Reading & Leeds Festival confirmed it is still happening this August. In fact, after England's COVID-19 restriction plans were announced, Reading Festival completely sold out with Leeds Festival not too far behind. However, the Reading Borough Council says "nothing has been agreed" in regards to the festival happening this year.
Meanwhile, Glastonbury has already announced it will no longer be happening in 2021. As well, Neck Deep just rescheduled their U.K. and Ireland tour with nothing, nowhere. and Higher Power to January 2022. Earlier this week, Slam Dunk announced its official 2021 lineup after postponing the festival from this May to Sept. 4-5.
Last year, My Chemical Romance were one of the many bands that received PPP loans from the U.S. federal government's Paycheck Protection Program. For MCR, they used this money to make sure their crew and their families were taken care of financially after their tour was postponed.
"MCR received PPP money to ensure their crew is funded in these times of uncertainty until we are able to be out on the road again," My Chemical Romance told Rolling Stone. "We are so grateful to these skilled, dedicated people – some of them are parents, others caretakers, still others who simply have rent to pay – and this money helps them take care of themselves and their families."
Shortly after My Chemical Romance announced their return, Bert McCracken teased that the Used may hop on the tour for a few shows. This eventually sparked a slew of theories that the two emo bands may finally reunite onstage. In February 2020, McCracken even said it "wouldn't surprise anymore to see The Used on that tour."
Then, the Used fueled the rumors even more when they canceled their European tour for a reason they just couldn't refuse. Amid all of the speculation, McCracken was finally asked why he kept teasing that the Used were on MCR's return tour. The frontman told The Green Room with Neil Griffiths that he'd been saying they're on the tour because they should be. Soon after, he confessed he was mainly joking, but would love to see the Used tour with MCR.
Finally, at the start of 2021, bassist Jeph Howard confirmed the Used were really supposed to play a couple of shows with My Chemical Romance.
"We would tour with My Chem again," Howard said during a recent Twitch stream. "We were supposed to be on a show or two on that last tour, we were supposed to be on a couple [of] shows I think."
For now, it's unknown who will be supporting My Chemical Romance's return tour. Last month, Frank Iero opened up about the band's change in tour plans. As it turns out, My Chemical Romance actually had a lot of things planned for their reunion. Despite this, Iero is eager to get back on stage with his bandmates when the time is right.
"I can't wait, man," Iero said during an interview with At The Drive-In's Jim Ward. "I really can't. It's such a weird experience to be like, 'Hey, all right, all of this stuff that we've been working towards and these well-made plans,' and all of a sudden it's like, 'Ah hurry up and wait.' But it happens. The play is to make it seem like you didn't put any work in, you didn't prepare for anything like fucking James Dean. You just want to be cool without even trying."
As it stands, My Chemical Romance's return is set to begin June 17 in Milton Keynes. This date was originally the first show the band announced after their reunion concert in Los Angeles. Due to popular demand, two more shows at Stadium MK were eventually added after the dates quickly sold out. Ticketing information is available here.
My Chemical Romance tour dates:
06/15/2021 – St. Austell, UK @Eden Sessions *POSTPONED*
06/17/2021 – Milton Keynes, UK @Stadium MK (SOLD OUT)
06/19/2021 – Milton Keynes, UK @ Stadium MK (SOLD OUT)
06/20/2021 – Milton Keynes, UK @ Stadium MK (SOLD OUT)
06/22/2021 –  Dublin, IE @ Royal Hospital Kilmainham
07/02/2021 – Prague, CZ @ Sinobo Stadium
07/04/2021 – Bologna, IT @ Sonic Park Fest
07/06/2021 – Bonn, DE @ KUNST!RASEN (SOLD OUT)
07/07/2021 – Bonn, DE @ KUNST!RASEN
07/09/2021 – Kiev, UA @ U Park Live
07/11/2021 – Moscow, RU @ Park Live Festival 2021
07/12/2021 – St. Petersburg, RU @ Ice Palace
09/08/2021 – Philadelphia, PA @ Wells Fargo Center (SOLD OUT)
09/09/2021 – Toronto, ON @ Scotiabank Arena (SOLD OUT)
09/11/2021 – Brooklyn, NY @ Barclays Center (SOLD OUT)
09/13/2021 – Boston, MA @ TD Garden (SOLD OUT)
09/15/2021 – Detroit, MI @ Little Caesars Arena (SOLD OUT)
09/16/2021 – St Paul, MN @ Xcel Energy Center (SOLD OUT)
09/18/2021 – Chicago, IL @ Riot Fest
09/19/2021 – Atlanta, GA @ Music Midtown
09/21/2021 – Newark, NJ @ Prudential Center (SOLD OUT)
09/22/2021 – Newark, NJ @ Prudential Center (SOLD OUT)
09/25/2021 – Sunrise, FL @ BB&T Center (SOLD OUT)
09/28/2021 – Houston, TX @ Toyota Center (SOLD OUT)
09/29/2021 – Dallas, TX @ American Airlines Center (SOLD OUT)
10/01/2021 – Denver, CO @ Ball Arena (SOLD OUT)
10/03/2021 – Tacoma, WA @ Tacoma Dome (SOLD OUT)
10/06/2021 – Oakland, CA @ Oakland Arena (SOLD OUT)
10/08/2021 – Las Vegas, NV @ T-Mobile Arena (SOLD OUT)
10/09/2021 – Sacramento, CA @ Aftershock Festival
10/11/2021 – Los Angeles, CA @ The Forum (SOLD OUT)
10/12/2021 – Los Angeles, CA @ The Forum (SOLD OUT)
10/14/2021 – Los Angeles, CA @ The Forum (SOLD OUT)
10/17/2021 – Los Angeles, CA @ The Forum (SOLD OUT)
11/06/2021 - Western Springs, NZ @ The Outer Fields at Western Springs
What are your reactions to My Chemical Romance's St. Austell show being postponed? Did you have tickets for the concert? Let us know in the comments below.