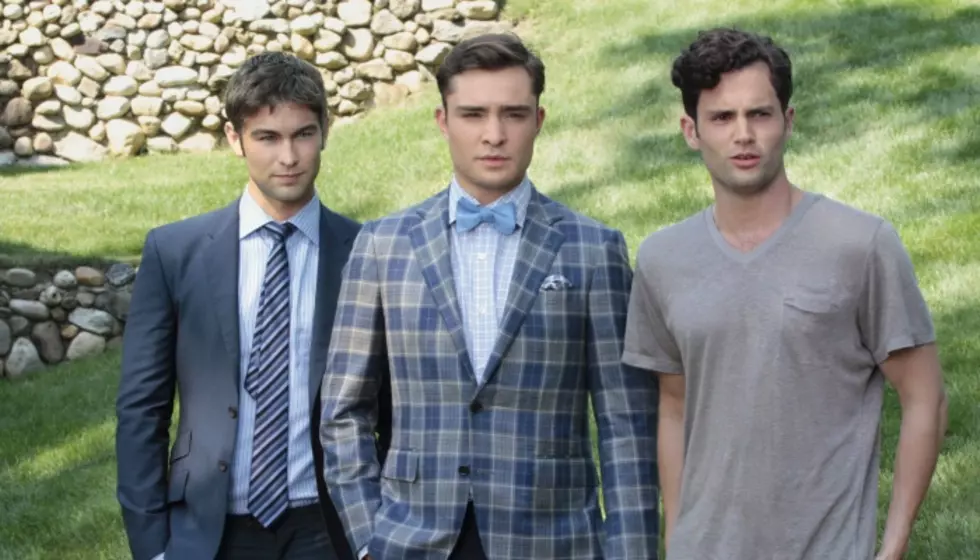 Gossip Girl was never supposed to be Dan Humphrey, writer reveals
Gossip Girl fans are already looking forward to the upcoming HBO Max reboot, but that doesn't mean all of the questions from the original series have been answered.
We're still wondering how Nate Archibald ended up alone after everything and why Dan Humphrey never got a paternity test. But one huge question outweighs them all. How in the world was Dan Humphrey actually Gossip Girl?
Gossip Girl writer/executive producer Joshua Safran appeared at Vulture Festival over the weekend where he confirmed the only thing that makes sense: Humphrey wasn't always supposed to be the titular character.
"I like to joke that Dan was Gossip Girl because I had left the show by then. Dan was not my intended Gossip Girl, so honestly, you'd have to ask someone else," he said, according to Buzzfeed. "But, I understand why Dan was Gossip Girl. I just had my heart set on Nate."
Safran executive produced the series from its 2007 pilot through the season 5 finale in 2012. He also penned a handful of episodes from season 1 on with his last credit being the season 5 premiere, "Yes, Then Zero" in 2011.
The series wrapped up with season 6 marking its conclusion in 2012 with creators Josh Schwartz and Stephanie Savage taking on most of the scripts including the final episode, "New York, I Love You XOXO," in which Humphrey is revealed as Gossip Girl.
Before Humphrey and Archibald, Safran reveals there was another name being tossed around: Serena's brother Eric van der Woodsen.
"We worked hard to kind of lay in tiny seeds about it being Eric, and then the NY Post wrote an article saying that Gossip Girl was Eric so we were like, 'We gotta scratch that.'"
"Then...one of the writers realized that Nate had never sent a tip in to Gossip Girl, which is true at least through the end of season five," Safran continues. "Nate never sent in a tip in through all of those episodes, which is when we're like, 'Oh, well then he's Gossip Girl.'"
Safran actually previously addressed the big reveal with Vulture in 2017.
"I always thought it was Eric until the end of season 2, and I even guided it that way, but when the New York Post revealed it was Eric—and I still don't know how that happened, I think they were just guessing—and we realized we couldn't go down that road anymore, so we abandoned him," Safran explained. "Then there was possibly Nate, because we never saw him send anything in to Gossip Girl. But in the end, it had to be Dan, because Dan's a writer, observer, and could write in different styles."
More on Gossip Girl
Rumors have been flying around a Gossip Girl revival since early this year. While new streaming service HBO Max confirmed it secured the reboot in July, not much information has come since then until now. Earlier this week, The Hollywood Reporter confirmed Gossip Girl herself Kristen Bell will be reprising her role as the faceless narrator of the series.
Creators Schwartz and Savage and executive producer/writer Safran are all returning. HBO Max has confirmed a 10-episode order, which Safran will be writing.
"Kristen Bell has always been and will always be the voice of Gossip Girl," the producers said in a statement.
The original series premiered in Sept. 2007 on the CW. It ran for six seasons, concluding in 2012. Based on the Cecily von Ziegesar book series of the same name, the show followed upper-class teens in Manhattan's Upper East Side who kept up to date with each other on a blog run by the anonymous titular character.
Bell voiced the infamous titular character, reading off the posts and texts blasted to the Manhattan elite. The actress had just wrapped a starring role in Veronica Mars months ahead of the Gossip Girl premiere in 2007. Bell appeared in every episode including as herself in the finale where the real Gossip Girl is revealed.
Her cameo has her helping Rachel Bilson (who famously portrayed Summer in Schwarz' other beloved teen show The O.C.) prep for an audition. Check out the clip below.
Upon confirmation of the series in July, Safran declined to comment on any plot details. However, a summary has hit the internet:
Eight years after the original website went dark, a new generation of New York private school teens are introduced to the social surveillance of Gossip Girl. The prestige series will address just how much social media — and the landscape of New York itself — has changed in the intervening years.
The original core cast included Penn Badgley (You), Blake Lively, Taylor Momsen (now of the Pretty Reckless) Leighton Meester, Jessica Szohr, Chace Crawford, and Ed Westwick. No further information has been given regarding any of their return, but both Meester and Crawford have addressed the possibility.
In August, just after the new series confirmation, Crawford appeared on Watch What Happens Live with Andy Cohen. A caller asked the actor how he feels about the reboot and if he would be participating.
"No one called me. I was really upset about it," he said with a smile. "No, no, I'm teasing. It's great. I could maybe come back and play a father or something. It'd be nice."
When questioned on the seriousness of that statement, Crawford laughed and said, "When I heard about it, it just made me feel old. My birthday was last week, and I heard it, I'm just like, 'Oh my god, they're already remaking our show. That's a lot of fun.'"
Crawford opened up about the series being ahead of its time in October and confirmed with Entertainment Weekly he'd love to come back.
"I just love Josh and Stephanie. And if they wanted me to come and do anything it would be hard to say no. I'm always grateful for the opportunity they gave me and that whole experience — it was all of my 20s, it was like my college, living in New York for that time. I'll always have fond memories of it."
A few days aftetr Crawford's WWHL interview, Meester was also questioned on her involvement while speaking with Good Morning America. "I was not asked to be on it, so no," she said at the time.
Fingers crossed we get another cameo from former Cobra Starship frontman Gabe Saporta as well. A release date hasn't been set, but HBO Max launches for $15 per month beginning in May 2020 here.
Are you excited Kristen Bell is returning to the Upper East Side? Sound off in the comments below.