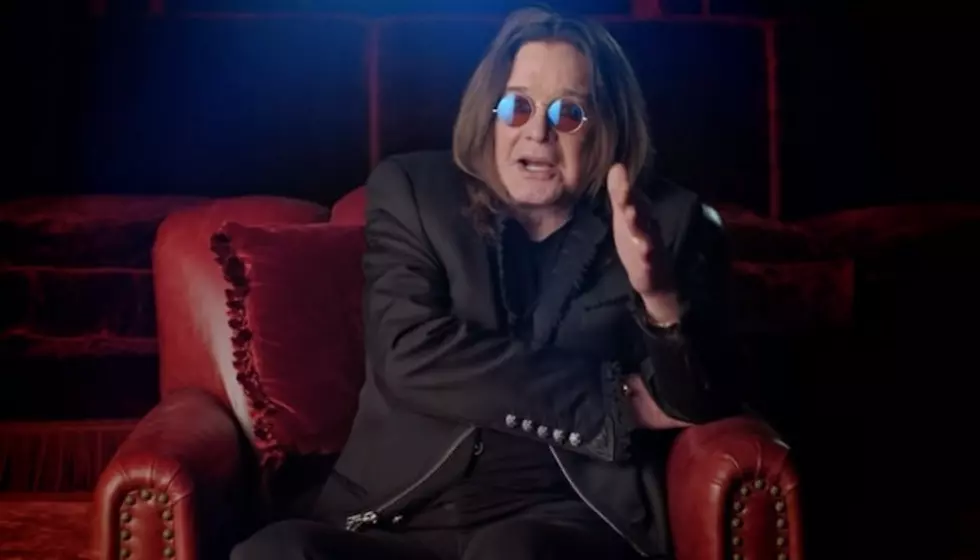 Post Malone, Rob Zombie talk Ozzy Osbourne's legacy in new doc trailer
[Photo via Vimeo]
The first look at a new Ozzy Osbourne documentary looks incredible. The film is called Biography: The Nine Lives of Ozzy and is part of A&E's "Biography" series. The film will premiere in the Spring at the South By Southwest festival.
The newest Ozzy Osbourne flick will follow his entire path, from childhood to reality television star. It features interviews with Rob Zombie, Marilyn Manson, Post Malone and many, many more.
The trailer opens showing current Ozzy watching an interview of his much younger self.
"I think there's a wild man in everybody," Ozzy says in the interview. "I'm a split personality. Ozzy Osbourne and John Osbourne [are] two different people. John Osbourne is talking to you now. But if you want [me] to be Ozzy Osbourne, you know, it's like… [it] takes over."
We are then treated to pictures of Ozzy's youth while superstars discuss the influence Ozzy had not just on music, but on themselves.
"I think Ozzy's music is timeless," Post Malone says "It makes me cry and gives me the chills. It's just perfect.
"I mean you can't say anyone is immortal, but I think that Ozzy, in that time was...um" Manson chokes out, seemingly overcome with emotion.
Rob Zombie discusses Osbourne's blue-collar roots after Ozzy's son Jack discusses his father working in factories. "The working class thing is key," Zombie says. "Because you grew up with nothing, and you do everything you can every day so you don't go back to nothing. It was all about escaping your reality to something better."
The film is 86 minutes long and is directed by the former Osbourne's producer R. Greg Johnston. Ozzy, Sharon Osbourne and Jack Osbourne are among the executive producers.
Watch the trailer below.
More Ozzy Osbourne
In separate news, on her daytime talk show, The Talk Sharon Osbourne dropped some details about a film project she's working on. The film will center around her relationship with her husband Ozzy Osbourne.
Last year, rumors began to circulate about an Ozzy film, and they appear to confirmed today as Sharon placed the production on her 2020 vision board.
While sharing her goals for 2020 on her talk show, Sharon pointed to a picture of her husband and said: "I want to produce a movie on my husband."
Rewind to the summer of 2019, Sharon was speaking with Variety about rumors of an Ozzy Osbourne script floating around Hollywood.
'What a load of crap,'" Osbourne said. "It didn't make sense. It didn't have a heart, it just wasn't me."
Next, she proceeded to comment about how she was making her own film about her childhood, career and early days with the rockstar that would end with their marriage.
"I don't want to do another rock and roll, sex, drugs and money movie about a musician," Sharon said. "That's not what I'm doing. There hasn't been a movie about a woman that actually works on the management side — that's a true story — and somebody that succeeds through the struggle and you come out the other side."
"It's everything before we get married, Sharon continues. "It's the madness of my childhood, growing up in the industry with a powerful father who was somewhat violent."
A few months later in an interview with Celebrity Access, Sharon claims to have found a writer when asked if she planned on using the script she called "a load of crap."
"Oh my God, no. We are doing our own movie. We've got a deal and we are working with a writer right now, Ozzy and I"
Unfortunately, that's all of the information we have about an Ozzy and Sharon Osbourne biopic. Knowing how hard working the two are though, we're sure we'll have some more news soon.
Tell us what you think of Biography: The Nine Loves of Ozzy in the comments below!
[envira-gallery id="186668"]