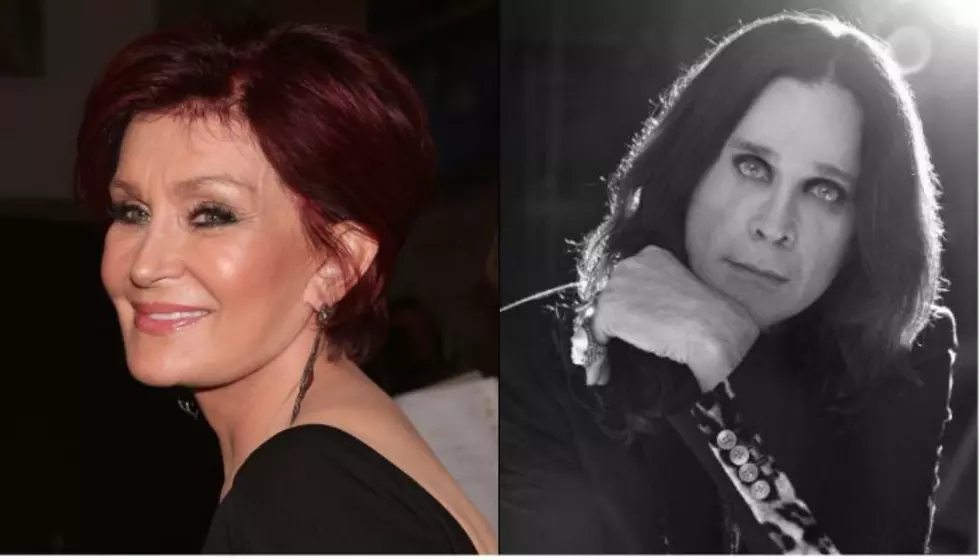 Ozzy Osbourne recalls the time he tried to kill Sharon in new documentary
[Photos by: Eva Rinaldi/Wikimedia Commons, Sam Taylor-Johnson]
Ozzy Osbourne's new documentary The Nine Lives of Ozzy Osbourne airs on A&E Monday, Sept. 7. Before its premiere, however, a particular story Ozzy and Sharon address in the documentary is catching people's attention.
Both Sharon and Ozzy have opened up about the time he tried to kill her and was later arrested for the attempt.
While living in Buckinghamshire in 1989, Ozzy approached Sharon shortly after she had put their children - Jack, Kelly and Aimee - to bed. Ozzy, who was on drugs at the time, had "decided" that his wife had "to die."
"He came into the room," Sharon says. "I had no idea who was sat across from me on the sofa but it wasn't my husband. He goes to a stage where he gets that look in his eyes, the shutters were down and I just couldn't get through to him. And he just said, 'We've come to a decision that you've got to die.'"
Soon after, her husband lunged forward and began to choke her.
"He was calm, very calm," she continues. "Then suddenly he lunged across at me and just dived on me and started to choke me. He got me down on the ground on top of me and I was feeling for stuff on the table. I felt the panic button and I just pressed it and the next thing I know, the cops were there."
For Ozzy, the drugs caused him to not remember the incident at all. He recalls waking up in jail with no recollection of what happened.
"I felt the calmest I had ever felt in my life," Ozzy says. "I was just peaceful. All I remember is waking up in Amersham jail and I asked the cop, 'Why am I here?' And he says, 'You want me to read your charge?' So he read, 'John Michael Osbourne, you have been arrested for attempted murder.'"
Following the incident, Ozzy was sentenced to six months in medical dentition. During this time, Sharon considered her options, but later decided to not divorce him.
"I told him, 'I don't want the money, but if you do this again, either I am going to kill you or you are going to kill me. And do you want that for the kids?'"
The Nine Lives of Ozzy Osbourne airs on A&E Monday, Sept. 7 at 9 P.M. ET.
Along with the new documentary, Ozzy has opened up about the future of Black Sabbath. Unfortunately, fans who are hoping for reunion gigs shouldn't hold their breath.
In a new interview with Rolling Stone, Ozzy shares that he doesn't plan to ever perform with Black Sabbath again.
"Not for me. It's done."
Ozzy also reveals that he regrets Bill Ward, the original drummer, not being there for the band's final live show.
"I felt really bad about that," he says. "It would have been so nice. I don't know what the circumstances behind it were, but it would have been nice. I've talked to him a few times, but I don't have any of the slightest interest in [doing another gig]."
In the meantime, Ozzy is working on his own music. Back in July, Sharon revealed that Ozzy is working on a follow up to his latest solo album Ordinary Man. 
"The album was sensational," Sharon said. "He's starting his second album with Andrew Watt right now. And you can't stop him. He's doing it."
As well, a biopic about Sharon and Ozzy is also in the works.
A few sneak peeks of The Nine Lives of Ozzy Osbourne are available below.

Are you going to watch The Nine Lives of Ozzy Osbourne? Let us know in the comments below.