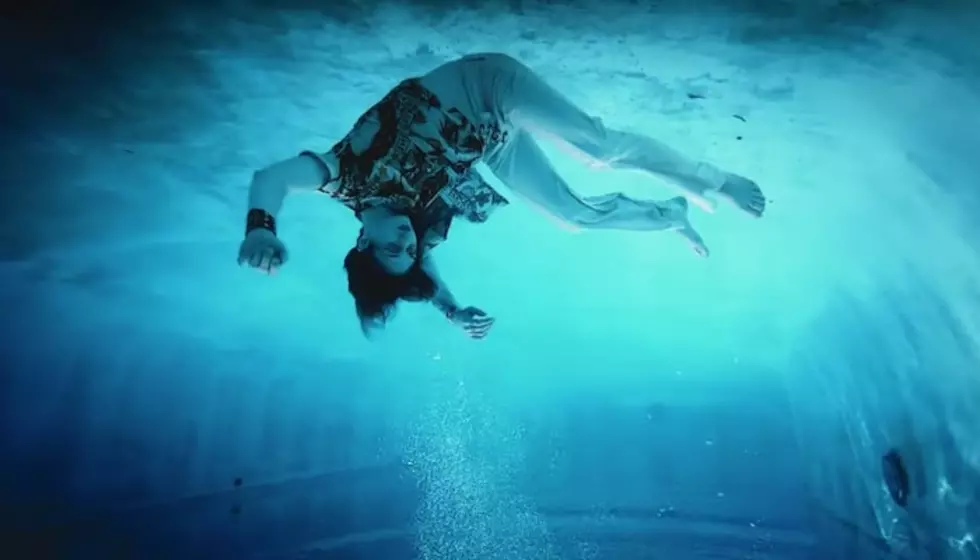 Ozzy Osbourne depicts dark past in intimate "Under The Graveyard" video
[Photo via Youtube]
Ozzy Osbourne just debuted the music video for his #1 hit "Under The Graveyard". The track dropped in November. It is Ozzy's first solo music in nearly a decade. "Under The Graveyard" is also the first song off Ozzy's forthcoming record Ordinary Man, due out early 2020.
The music video is an intimate portrayal of a darker time in Ozzy's past.
Ozzy Osbourne's music video for "Under The Graveyard" is rather tough to watch. It's a mini-documentary of sorts. The video opens with a young Sharon Osbourne talking about how Ozzy had gone missing. Taking place in the late 1970's we see a young Ozzy drinking and doing drugs and partying and drinking some more.
This spirals out of control we see Sharon going to look for Ozzy, who is incapacitated in a hotel room. She finds him and they begin a journey back to recovery.
Ozzy Osbourne commented about how intimate of a portrayal director Jonas Akerlund and actors Jack Kilmer and Jessica Barden pulled off.
"For 'Under the Graveyard' Jonas (Akerlund) developed the story into a 'mini movie,'" Osbourne says. "But, to be quite honest, it's hard for me to watch because it takes me back to some of the darkest times in my life. Thankfully Sharon was there to pick me up and believe in me. It was the first time she was there to fully support me and build me back up, but it certainly wasn't the last."
Watch the video below.
This gives us a glimpse into the dark times in Ozzy's past and how love and a helping hand can make a big difference.
More Ozzy Osbourne
Ozzy Osbourne is dropping his long-awaited new album Ordinary Man in early 2020 and producer Andrew Watts says the record only took four days to create.
In an interview with Billboard, Watts reveals the process behind creating the album and how despite it seeming unlikely to make at many points, it came together in a very short time frame.
Watts and Osbourne linked up after Post Malone bought a photo of Ozzy from a bar and Watts, who often works with Post, thought he had to make a collab between them.
"When I heard that, I had this image of him walking down Sunset with that picture, and I was, like, 'I gotta make a song for Post and Ozzy.' I've said insane shit out loud before, and this was one of those times."
Then, being friends with Ozzy's daughter Kelly, Watts managed to get "Take What You Want" put together with Travis Scott.
"I told her my idea and asked if she thought her dad would be into it. She's a Post fan, so she's, like, 'Yes, absolutely.' Then Ozzy got really sick and was in the hospital, so it was, like, 'He's gonna do it,' but then his health was taking longer, and it was, like, 'Is he gonna do it?' I just kept staying on Kelly and [Osbourne's wife] Sharon, and eventually, they told me to come over."
The following day, Ozzy texted Watts asking if they could make an album together. Watts then called Red Hot Chili Peppers drummer Chad Smith and Guns N' Roses bassist Duff McKagan who both quickly agreed to work on the album.
"We wrote and recorded Ozzy's entire album, musically, in four days. There was no premeditation. The three of us just got in my basement, put on headphones, looked at each other, and wrote 12 songs, 10 of which constitute the album. It was magic. I don't even remember it," says Watts.
Ozzy reportedly came over to listen to the album  and afterward simply responded saying "It's cool."
"My heart just fuckin' went into my gut. He was, like, 'I'll call you tomorrow.' Stands up, gets his cane, goes upstairs. I go, 'Oh my God, he hated it! What do I do?' He calls me the next day, like, 'Okay, so when do we start writing?' I sound like I'm making this up, but he comes over the next day, and we made Ozzy's entire album from top to bottom — all music, guitar solos, all vocals written — in four weeks. It's the proudest of anything I've ever been, because it brought the 12-year-old kid out of me again. Don't get me wrong, I love the pop music that I make, but this is what I feel like I was born to do: play rock guitar. I got to be fuckin' Randy Rhoads in 2019."
Tell us what you think of Ozzy's Osbourne's video for "Under The Graveyard" in the comments below!
[envira-gallery id="199143"]