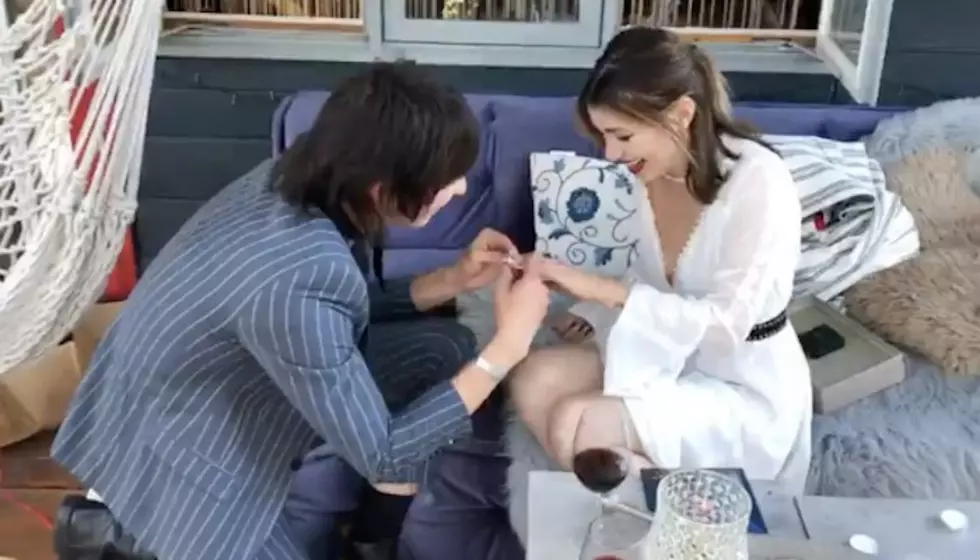 Palaye Royale guitarist Sebastian Danzig gets engaged at his own "surprise party"
Palaye Royale may have just unleashed a brand-new single last week, but that's not the only thing worth celebrating. Guitarist Sebastian Danzig took to Instagram today to reveal he's engaged to girlfriend, Larisa.
The couple each shared touching tributes to each other reflecting on the moment, which took place a day ahead of the guitarist's birthday.
With friends, including brother and bandmate Remington Leith, gathered for what was staged as a "surprise party," Danzig popped the question. You can read his words on the beautiful exchange below.
"Larisa x Sebastian ?❤️? June 30th, 2019 was meant to be a surprise birthday for my birthday on July 1st.
With help from my brother Remington and his girlfriend Monica we planned a "surprise birthday" for me. They told Larisa that they got us a night away in Topanga Canyon in a beautiful Airbnb but told Larisa not to share any information with me about it. Larisa thought the whole time she was surprising me with a party with all my friends. But when we arrived only Remington, Monica and my dear friend Will - who takes beautiful film photos of our lives mostly every time we hangout was the perfect set up.
We had some wine, ate some food and then, it was time for presents. I opened up a suit from my brother, a vintage camera from Larisa. Monica and Remington said, "We got Mishka a gift... Larisa you should open it." When Larisa opened the gift there was nothing inside, I had the ring in my pocket and it was the perfect surprise.
I was speechless and that never ever happens. My whole speech I prepared just escaped my mind and I starting tearing up... took some time to finally get around to saying, "Will you marry me?" But the answer was yes and I can't wait to spend the rest of my life with the most wonderful human being. I love you with all my heart Larisa. I want this authentic love for the rest of my life. xo ?❤️"
You can see Danzig's post below.
Larisa also shared the same video, opening up about the surprise, which you can read below.
"The day my best friend asked me to spend the rest of my life with him.
Yesterday was the best day of my life. The day MY person asked me to marry him.? ....It all started out as a surprise birthday party for Sebastian. We were going to get an Airbnb & surprise him with all of his close friends to be there. @Remingtonleith & @Monicaollander helped set up the "surprise birthday party" for him & all I had to do was take him to the location. When we get there we started off with having a glass of wine & opening presents.
As Sebastian came to open his last present Monica said that him & I should open it together because it's a "Family present". I thought to myself wow that's so sweet of them to set up such an awesome birthday + gifts.
Sebastian asked me to open it .... as I opened the present I didn't realize what was happening. I was so CLUELESS because I was so focused on making sure he had an amazing birthday that not one little thought came into my mind that this "surprise birthday party" was actually my surprise proposal! Turns out Sebastian planned the whole thing & with a little bit of help from @remingtonleith & @monicaollander made it all happen.
I can't believe he pulled it off without me knowing anything. He acted like he didn't know where I was taking him and acted so surprised seeing his friends at the Airbnb when we got there. I knew I was dating a musician but didn't realize I was dating a hell of a great actor as well. ?
I'm still in shock that I'm engaged to my best friend!!! I love you @sebastiandanzig.
I'm so ready to do this life with you.♥️"
Congrats to Sebastian and Larisa on the exciting news!
More on Palaye Royale
Palaye Royale recently wrapped up the Funeral tour to mark the end of the Boom Boom Room era, but they're certainly not going anywhere.
Last week, the band teased two new tracks were on the way ahead of their run supporting Marilyn Manson and Rob Zombie, and now they're making good on that promise. With "Nervous Breakdown" and "Fucking With My Head" announced, Palaye Royale delivered the latter first.
"Fucking With My Head" will sound familiar to any fan who caught the band on tour from last fall to now. Last year, the trio hit the road for the Final Boom tour where they played tracks off Side A and Side B, but they also introduced the new song.
The clip is inspired by drummer Emerson Barrett's upcoming Neoutopian Graphic Novel. Check out the video below.
The band kick off their run supporting Manson on the Twins Of Evil Hell Never Dies U.S. tour beginning July 9. A full list of dates is available below and tickets here.
Dates:
07/09 – Baltimore, MD @ 
Royal
 Farms Arena
07/10 – Allentown, 
PA @ 
PPL Center**
07/12 – Huntington, WV @ Big Sandy Superstore Arena
07/13 – Cincinnati, OH @ Riverbend Music Center
07/14 – Evansville, IN @ Ford Center
07/16 – Rockford, IL @ BMO Harris Bank Center
07/17 – Bonner Springs, KS @ Providence Medical Center Amphitheater
07/23 – Sioux Falls, SD @ Denny Sanford Premier Center
07/24 – Bismarck, ND @ Bismarck Event Center
07/25 – Billings, MT @ Rimrock Auto Arena
07/30 – Missoula, MT Big Sky @ Brewing Company**
07/31 – Boise, ID @ The Knitting Factory Concert House**
08/04 – Vancouver, BC @ Rogers Arena
08/06 – Saskatoon, SK @ SaskTel Center
08/07 – Winnipeg, MB @ Bell MTS Place
08/09 – Fargo, ND @ Fargodome
08/10 – Cedar Rapids, IA @ U.S. Cellular Center
08/11 – Fort Wayne, IN @ Allen County Coliseum
08/13 – Grand Rapids, MI @ The Van Andel Arena
08/14 – London, ON @ Budweiser Gardens
08/16 – Ottawa, ON @ Richcraft Live at Canadian Tire Centre
08/17 – Quebec, QC @ Videotron Centre
08/18 – Gildford, NH @ Bank of New Hampshire Pavilion
**Marilyn Manson and 
Palaye
Royale
 only
[envira-gallery id="195048"]