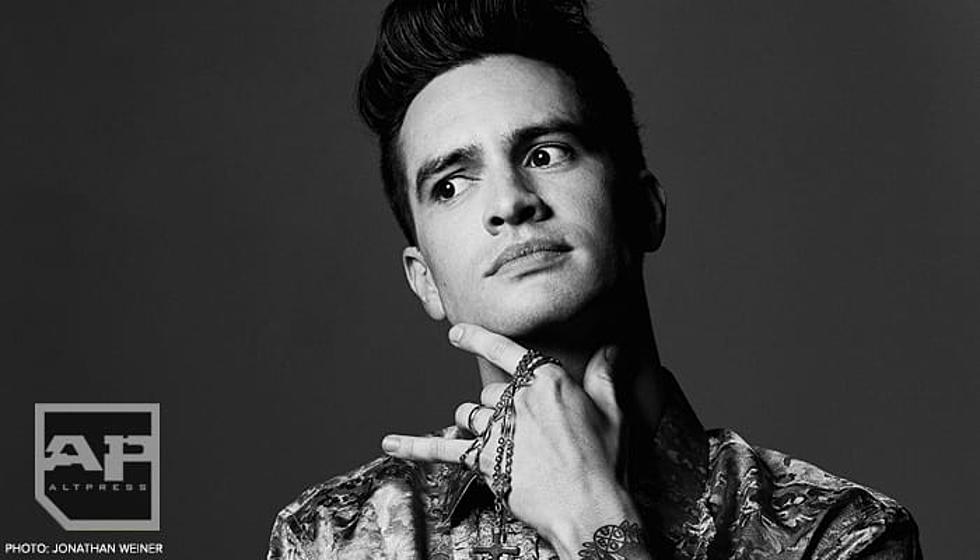 Panic! At The Disco fans risk removal if inappropriate "death walk" touching continues
[Photo by: Jonathan Weiner]
Yesterday, Panic! At The Disco tour manager, Zack Hall said Brendon Urie's famous "death walk" could be pulled from shows. The warning came as Hall tweeted about how some fans inappropriately touch Urie during the excursion.
Now, following Urie commenting on another incident last night, Hall is tweeting another warning to fans that could result in them being removed from the show.
If you are unfamiliar with the death walk, it's when Urie comes down from the stage while performing "Death Of A Bachelor." During this moment, he interacts with fans by shaking their hands or even hugging them.
Urie got on Twitch earlier today for a livestream where he kicked it off by explaining that the inappropriate touching happened yet again. Despite Hall's warning, a fan kissed Urie's neck during the Omaha, Nebraska show at CHI Health Center Friday night.
"Oh man, so it happened again last night. I went in for a hug," Urie begins before pausing and sighing. "I'm not even mad. I just get bummed, you know? I went in for a hug, and a girl kissed my neck, my sweaty, gross neck. And it was—yikes dude. The neck kiss is so intimate too. It's like an extra fuck you to me, you know what I mean? Please stop kissing me on the death walk. Please stop kissing me, please."
full statement here
Following Urie's stream, Hall went on Twitter to issue a second warning.
"Just a heads up folks. I'm done with this crap of kissing Brendon during the "death walk". If I see it, you will be kicked out of the show right away. The end."
This isn't the first time fans acting inappropriately has affected Urie's decision to continue interacting.
The Panic! At The Disco frontman took on the role of Charlie Price in the Broadway musical Kinky Boots in summer 2017. At first, he took time to meet with fans after the show at the stage door, but he soon put a stop to it after huge crowds refused to listen.
"Hey I love y'all. But I can't keep coming out to stage door when you scream in my face and don't listen. So I'm done hope to see y'all later"
The original Panic! At The Disco "death walk" warning
Earlier this week Hall explained how some Panic! At The Disco fans have taken things too far:
"If people keep trying to lick, kiss or do weird creepy shit during the "death walk" we will for sure stop doing it. It's a fun thing he likes to do and enjoys being that close to you guys, but come on. Have some respect."
Hall also retweeted a video of someone licking their finger and then proceeding to reach out to try and touch Urie.
However, Hall is not the first one to address the creepy instances during the death walk. Urie himself has also been vocal about his experiences.
Over a Twitch stream, Urie gave fans another anecdote of a gross experience he had during the intimate element at one of his past concerts.
"And as I hugged her partner, she took her hand and did this to my face — like intentionally grabbing my face — and I was so grossed out," Urie says. "Please don't ever do that. Not to a stranger, not to someone you admire, not to anyone."
In another video, Urie tells fans that he is uncomfortable when fans kiss his hand during the death walk.
"It kind of weirds  me out," Urie says. "I'm not very comfortable with that — with you guys kissing without my permission. It's just strange. I'm not really into it. I appreciate that you're wanting to connect and reach out in that way and interact, but please stop kissing my hand when I come through the death walk."
For any fans that may be nervous about the way they approach Urie, never fear! The Panic! At The Disco frontman has some kind words advice, specifically when it comes to hugging him.
Panic! At The Disco are currently on their Pray For The Wicked tour. You can check out a full list of remaining dates below and grab your tickets here.
Dates:
02/02 – Kansas City, MO @ Sprint Center
02/04 – Rosemont, IL @ Allstate Arena
02/05 – Saint Louis, MO @ Enterprise Center
02/06 – Memphis, TN @ FedExForum
02/08 – Austin, TX @ Frank Erwin Center
02/09 – New Orleans, LA @ Smoothie King Center
02/12 – Albuquerque, NM @ Tingley Coliseum
02/14 – Anaheim, CA @ Honda Center
02/15 – Inglewood, CA @ The Forum
02/16 – San Diego, CA @ Valley View Casino Center
02/19 – Oakland, CA @ ORACLE Arena
02/20 – Sacramento, CA @ Golden1 Center
What are your thoughts about the instances of inappropriate touching during Urie's death walk? Sound off in the comments below.
[envira-gallery id="194948"]