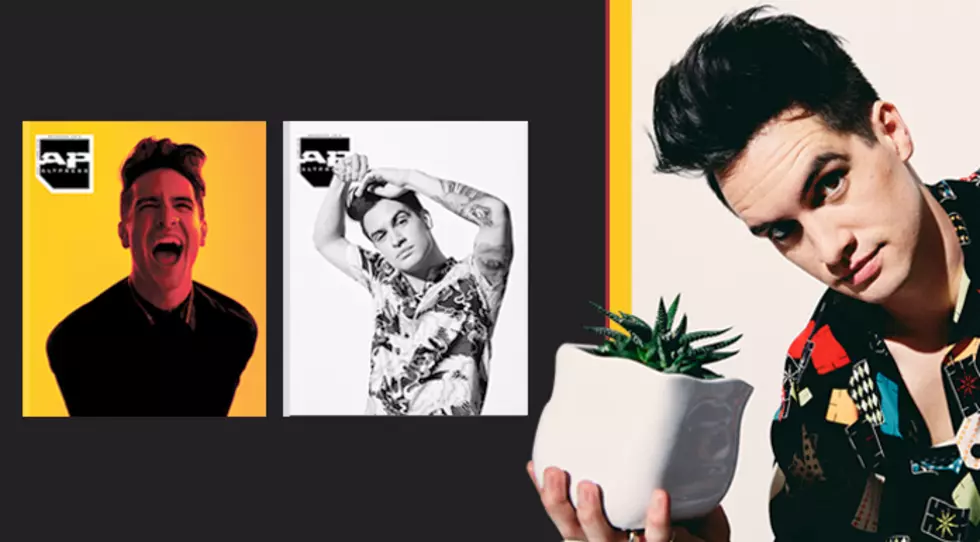 Is Panic! At The Disco's Brendon Urie the next influential voice in youth culture?
Photos by Jonathan Weiner
Panic! At The Disco mainstay Brendon Urie returns to the cover of AP prior to the release of Panic!'s sixth album, Pray For The Wicked. And while he'd probably say that his pop life is business as usual, many fans have embraced his work in a new capacity, one that aligns with their socio-political worldviews. How the hell did that happen?
READ MORE: Watch Panic! At The Disco perform in the Bellagio Fountains in Las Vegas
Urie is known as a fast-talking, wise guy with an amazing vocal range: He's quick with a joke and a laugh and seemingly doesn't have a care in the world. But there's a new generation of listeners who are using his music as a rallying force for causes such as gun law reform, the Human Rights Campaign, as well as the LGBTQ awareness sparked by his 2013 single, "Girls/Girls/Boys."
"Seeing all these hearts fly up during a song I wrote about a sexual, personal experience that turned it into something else…," he pauses, "the fans made it into something way cooler. It changed the meaning entirely for the better, and I was so happy to see that happen. It's so beautiful. I hope there is some reciprocity [between me and my fans]. I don't want to always put it on them, like their only call to arms is to be there when I fall. I want to be there when they fall.
"I'm always excited when I hear that someone is using my art to make a change," he says, beaming. "Isn't that the best possible outcome someone can hope for? Someone changes the world because they were inspired by something I just love to do? That's so beautiful."
Don't worry, it's not all heavy. Urie celebrates new bassist Nicole Row and her predecessor Dallon Weekes; gets chatty about life on Broadway, especially the days he wasn't allowed to leave the theater; and laughs over how excessive partying with friends can yield some pretty great songs. Hell, who wouldn't want to hang with him?
Check out the latest issue here.
Also in this issue

SPECIAL: REMEMBERING WARPED

After 23 years of service to the nation's freaks, geeks and six-string-toting heroes,
Warped Tour
will be making its final touring campaign across America this summer. Photographer Lisa Johnson was there for a lot of it, capturing memories ranging from historical to touching to simply cool AF. Johnson trained her camera lenses on bands such as
MY CHEMICAL ROMANCE
,
BLACK VEIL BRIDES
,
BLINK-182,
FALL OUT BOY
and so many others, long before the rest of the world finally caught up with them. It's a photo special that's a fitting salute to Warped founder Kevin Lyman's vision and the community it has fostered. Plus: We pick the
10 ESSENTIAL
bands playing Warped for the first and last time.
OTHER FEATURES
This month's 10 TOPICS features Awsten Knight of WATERPARKS railing on the stuff that bugs him, what the world needs now and confirming if his brain is constantly moving at 500 rpm.
LIL AARON feels perfectly at home in a Warped Tour mosh pit, a trap club or at a lavish party thrown for some pop star. No problems, no guilty pleasures, no fux given—which is how he's able to navigate genres and captivate listeners with ease.
DANCE GAVIN DANCE's Tilian Pearson holds court in ALBUM ANATOMY, admitting that he knows less about their new album than their fans do.
Plus: REAL FRIENDS' Dan Lambton survived bullying, reminding us IT GOT BETTER; and we revisit our first Warped cover, find PARAMORE in the (bowling) alley and deliver a paint-covered ALL TIME LOW in the AP ARCHIVES.