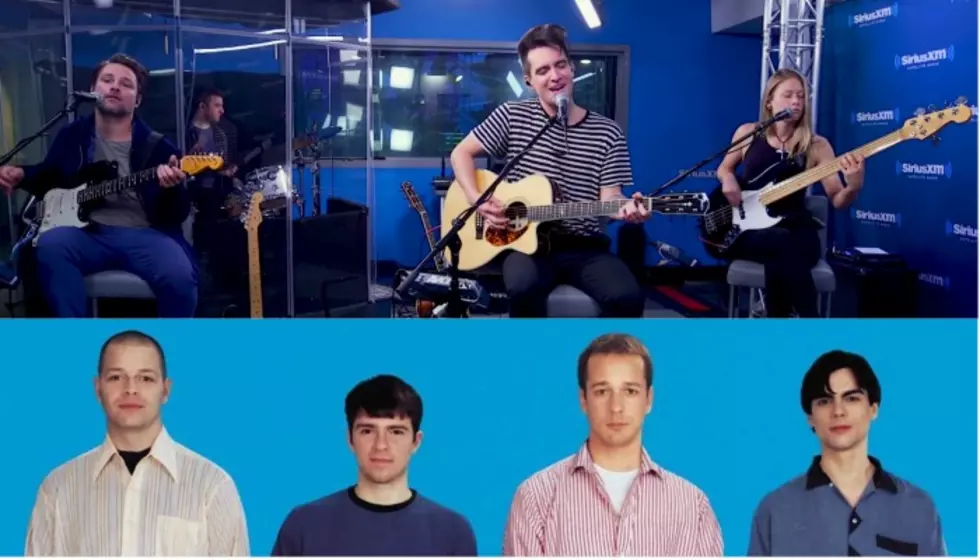 Watch Panic! At The Disco cover Weezer's "Say It Ain't So"
[Photos by: SiriusXM/YouTube, UMG]
Panic! At The Disco and Weezer have always shared a unique connection, their mutual fondness and respect beaming through the pages of the AP #335 cover story featuring both acts. Now, P!ATD's Brendon Urie and co. have covered Weezer's classic "Say It Ain't So" in an intimate in-studio performance.
This week, Urie and Panic! At The Disco headed over to the SiriusXM to play some acoustic tunes. Among the lot is an impassioned rendition of the sing-along Weezer staple, which originally appeared on the band's eponymous 1994 debut.
The P!ATD and Weezer love goes beyond mag covers and cover songs, as noted by SPIN. The two groups also share an engineer in Claudius Mittendorfer. (He mixed Weezer's "White Album" and Panic's new LP.) Not to mention, Weezer's Rivers Cuomo co-wrote "Victorious" on P!ATD's Death Of A Bachelor.
Below, get down to the groovy sounds of Urie and friends covering "Say It Ain't So." After the video, check out Panic's additional SiriusXM performances of "Say Amen (Saturday Night)," "High Hopes" and the original Weezer music video:
Weezer's viral "Africa" cover
Last month, Weezer dropped their social-media-inspired take on Toto's '80s hit "Africa," and now the unlikely cover tune is available on a super-limited slab o' wax. Bless the rains in Africa with some brilliant green vinyl, if you can find one!