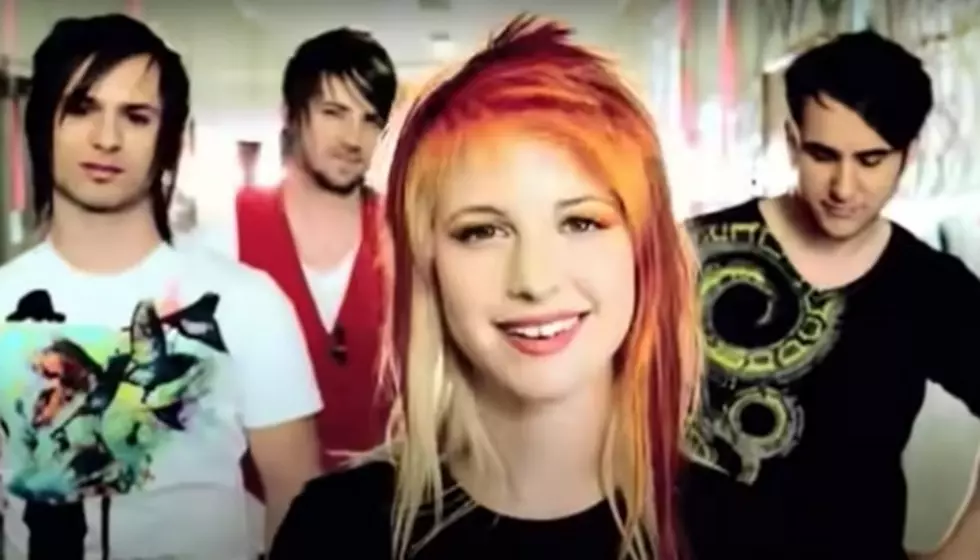 See how a Paramore fan used 'Riot!' to honor police brutality victims
[Photo via YouTube]
This week, Paramore has shown their support for Black Lives Matter and the George Floyd protests. On June 1, the band announced they are donating $25,000 to various organizations and that they stand in solidarity with the movement.
Now, a Paramore fan has taken their 2007 album Riot! and transformed its artwork and tracklisting to pay tribute to victims of police brutality and the Black Lives Matter movement.
Earlier this week, Paramore shared a statement on their social media. Within the statement, they announced they are donating $25,000 to Black Lives Matter Nashville, Campaign Zero and the American Civil Liberties Union (ACLU). They also took the time to express their love and gratitude for their LGBTQ+ and Black fan communities.
"Over the last couple of album cycles, one of the greatest things about being in Paramore has been the diversification of our band's community of supporters," the statement reads. "In 2017 and 2018, specifically, we played shows for the most diverse crowds of our entire career. We have very clearly benefited from so many different communities of people - and most apparent to us, the black and LGBTQ+ communities. It is our turn to stand in solidarity with our black fans, friends, colleagues, neighbors, etc....and show our support in a very tangible way. These contributions are in addition to our commitment to be teachable, be vigilant, and be responsible with our privilege. We love you, we LOVE YOU...and BLACK LIVES MATTER."
Now, a Paramore fan has transformed the Riot! cover art and tracklisting to relate to the movement.
Robbie McElligott took to Twitter this week to share their edits. For the Riot! cover art, they replaced the repetitious Riot! logos on the cover art with the names of individuals killed by police. George Floyd's name appears the largest on the cover art and is in orange. Other names including Trayvon Martin, Michael Brown, Eric Garner and Tamir Rice appear on the edited artwork among others.
As well, McElligott edited the Riot! song titles to better fit the Black Lives Matter movement. "For a Pessimist, I'm Pretty Optimistic" has been changed to "For a Realist, I'm Pretty Pessimistic." "Misery Business" has been changed to "Misery Witness," "That's What You Get" has been renamed to "That's What We Get" and so on. However, the song titles "Let The Flames Begin" and "We Are Broken" remain the same.
McElligott has not shared as to why they decided to create the edit. However, the album title alone does reference the ongoing protests happening worldwide. Lyrics from "For A Pessimist, I'm Pretty Optimistic" were also shared as part of the tweet's caption.
Along with Paramore, various other musicians are getting involved in the protests. Halsey and YUNGBLUD have been joining the protests in California. Machine Gun Kelly and blink-182's Travis Barker joined forces with protesters for a Rage Against The Machine cover.
As well, Creeper, Every Time I Die and Code Orange are auctioning off rare items and donating proceeds to BLM and various organizations. On June 3, FEVER 333 did a live performance livestream and raised thousands of dollars for the movement. Set It Off, Nothing, Nowhere. and Emo Nite have also raised money through livestreams.
To show support through donations, connect with grassroots campaigns and obtain resources for allies, please refer to the links below.
Help the family of George Floyd here.
Fight for Breonna Taylor here.
Help the family of Ahmaud Arbery here.
To sign petitions for George Floyd, Breonna Taylor, Ahmaud Arbery and more, click here.
Donate to one or more community bail funds for protesters here.
Click here for more resources for protestors including pro-bono lawyers.
Visit Movement For Black Lives for additional ways you can help the cause.
Click here to connect with leaders building grassroots campaigns.
Here are some anti-racism resources for allies who want to learn more.
For other ways to donate, please head here.