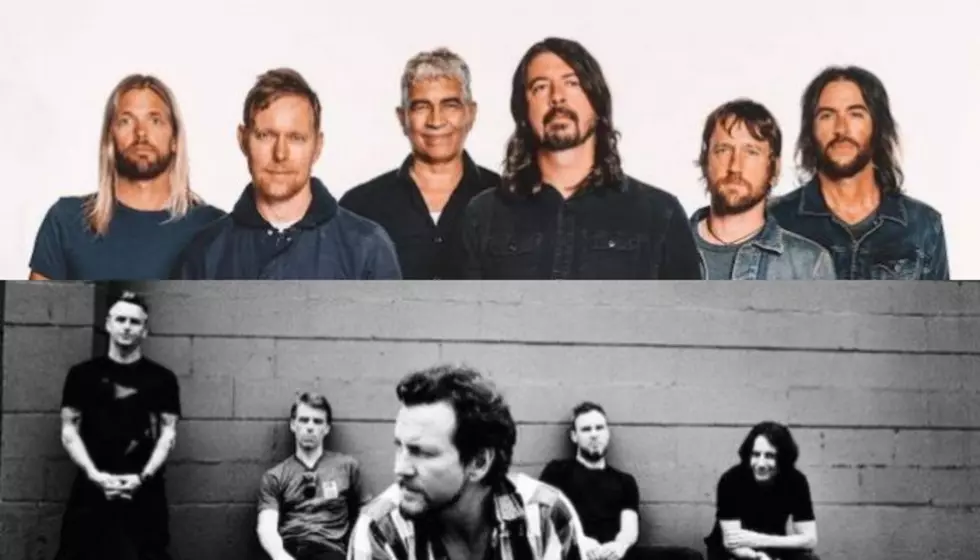 Foo Fighters, Pearl Jam members join ultimate rock jam set at festival
At this weekend's Peak to Sky festival hosted by Pearl Jam guitarist Mike McCready, an all-star jam took place including members of the Foo Fighters, Red Hot Chili Peppers and more. 
The two-day festival took place in Big Sky, Montana for the first time ever. 
There were performances by McCready's visuals and arts project Infinite Color and Sound, Brandi Carlile, Dammit Lauren and the Well and Thunderpussy. 
Those sets lead up to the amazing super jam. It consisted of McCready, Carlile, Guns N' Roses bassist Duff McKagen, Red Hot Chili Peppers' drummer Chad Smith and guitarist Josh Klinghoffer and Foo Fighters drummer Taylor Hawkins. 
The amazing set performed songs by Prince, David Bowie and Queen, Led Zeppelin, Aerosmith and Van Halen, amongst other tracks. You can see some videos from the performance below. 
More news
Speaking of Foo Fighters, they just dropped a new live EP. 
The three-song release is called 00950025 and contains some "elusive live tracks."
The EP pulls together performances of "For All the Cows" and B-side "Wattershed" from the band's 1995 headlining performance at Reading Festival. The third recording is of "Next Year" from a concert in Melbourne, Australia in 2000.
The new release seems to be a part of a new archival series the band are planning. In a tweet showing the release, the band wrote "A good day to take a look in the Foo Files. How about a few elusive Live tracks?…you never know what we've got up our sleeves…"
Some fans are speculating the live EP is tied to the 25th anniversary of their debut album give its title.
Along with the new release, the band are also requesting fans to send them photos, videos, stories and more related to the band. They've launched a site called "Tell Us Your Foo Fighters Story" where they can submit these pieces.
The band writes on the site, "We want to hear about YOU. Did you capture a great photo of your crew at a Foo show? Have a memory tied to a Foo Fighters album or song? Or maybe just want to send a message to the band? Share your Foo Fighters story and include any photos, videos or memorabilia."
Check out the new EP below!
What did you think of the amazing jam session? Sound off in the comments down below!
[envira-gallery id="186668"]