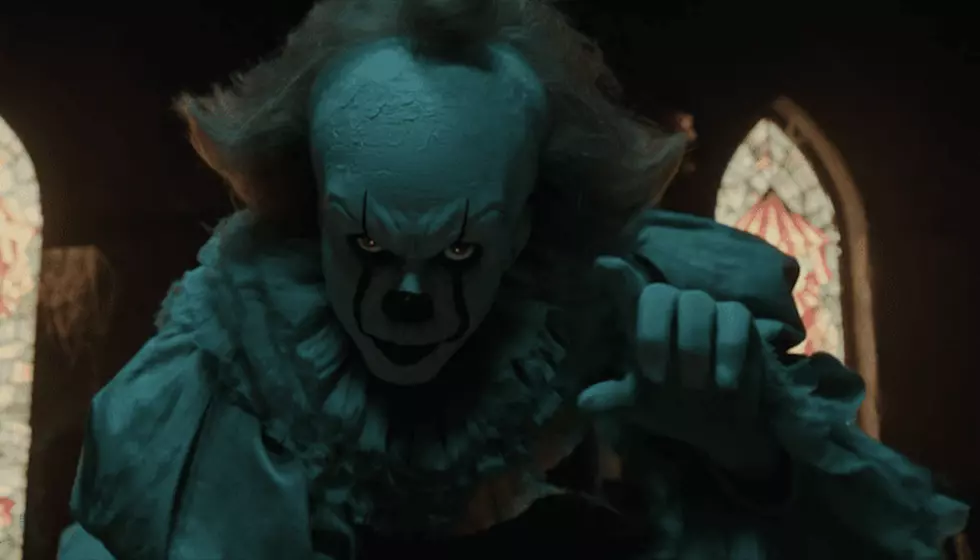 These Pennywise Halloween decorations are the stuff of nightmares
[Photo via YouTube]
Bill Skarsgård is plenty terrifying enough as Pennywise from the 2017 It adaptation—even the actor himself had nightmares from it. Despite this, Party City accepted the challenge when creating merchandise for the 2018 Halloween season.
The party decor store unleashed an animated Pennywise in the sewer that spews all of our favorite catch phrases from "You'll float down here" to his spine-chilling cackle. The decoration is also motion detected, so its eyes light up when Trick or Treaters walk—or in this case run—by to get some candy.



As if that wasn't scary enough, the store also created a life-size version of the dancing clown. The figure stands six feet tall and holds the signature red balloon while also sharing words of wisdom much like the sewer version.

The 2017 adaptation of Stephen King's
It
quickly became the
highest grossing horror movie
of all time, surpassing 1973's
The Exorcist
just two weeks after its release.
It
earned an impressive $236.3 million stateside with
The Exorcist
grossing in $232.9 million, making
It
the highest-grossing horror film domestically.
The film's success had Warner Bros. and New Line
announcing a sequel
less than three weeks after the first one's opening and later announced Andy Muschietti was
returning to directing duties
.
After many rumors and wish lists, the adult version of the Losers Club was confirmed with a photo from the film's official Twitter account, which includes Jessica Chastain (Beverly Marsh), James McAvoy (Bill Denbrough), Bill Hader (Richie Tozier), James Ransone (Eddie Kaspbrak), Jay Ryan (Ben Hanscom), Andy Bean (Stan Uris) and Isaiah Mustafa (Mike Hanlon).
It: Chapter Two is set to release September 6, 2019. Both Party City props are available online now and will be sold in stores beginning in early September.