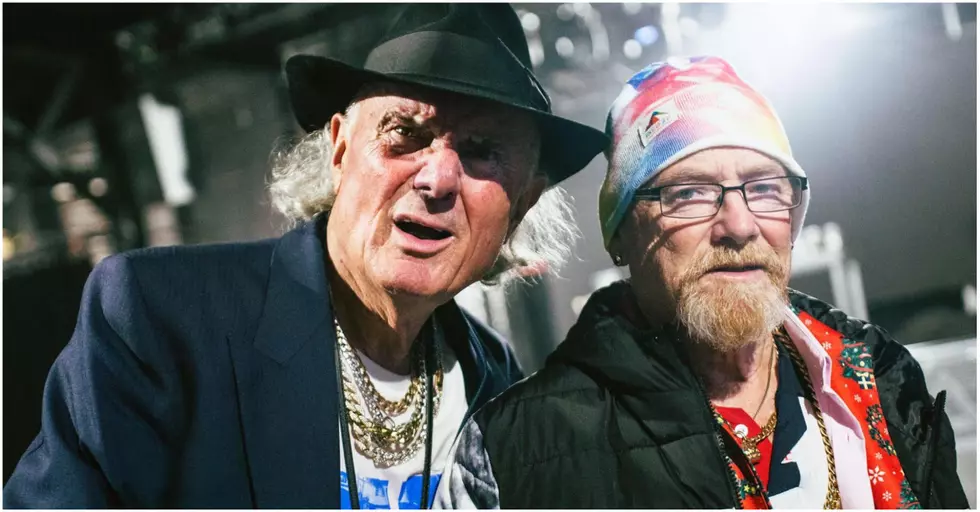 Pete & Bas are bringing a whole new meaning to the term "grandfathers of grime"
[Photo via Pete & Bas]
Who could be older than your grandparents yet are now possibly the most acclaimed duo in U.K. rap? It's Pete & Bas, bringing traditional cockney vibes with an air of comedy to the drill landscape, and they do have some serious bars. Bursting onto the scene back in early 2018, they are living proof (just about) that you're never too old to start a music career, or capture the hearts and minds of the younger generation.
When you think of "grandfathers of grime," you probably imagine artists like Dizzee Rascal, Wiley, Skepta or maybe even D Double E, but Pete & Bas are bringing a whole new meaning to the term. They're almost twice the age of artists like Dizzee and Kano, yet the duo are delivering compelling lyrics as skillfully as any other rappers out there.
Read more:  How UK protest punk flourished off the back of political turmoil
When born-and-bred south Londoners Peter Bowditch, 71, and Basil Bellgrave, 74, met several years ago, they had no idea they'd eventually become major players in the U.K. rap scene. Pete was working for Royal Mail when he entered a local shop and heard Bas teaching piano at the back, with not much else known about Bas' background at that time. Loving his playing, Pete introduced himself, and they soon became good friends. In the years that followed, they would foster a growing appreciation for U.K. drill and grime music.
In 2017, a year or so after they met, Pete told BBC News he surprisingly started to like rap music after his granddaughter was always tuning in to grime and drill radio stations in the car. He developed quite a liking for this music over time, and then persuaded Bas his newfound music mate to have a listen. Bas appreciated the storytelling lyrics and hard beats of drill and grime, too, and the pair decided to start writing their own music.
By 2018, they had broken onto the scene with their debut single "Shut Ya Mouth," unknowingly setting themselves up for successful music careers. Perhaps their Peckham personas were always suited to this music, with their Spotify bio mentioning rumors that they have long-standing ties with famous gangster families The Krays and Richardsons — although how true those rumors are is unknown.
Over a year later from their debut single, they released a second hit, "Dents in a Peugeot," which caught the scene's attention, with the video being broadcast on GRM Daily, having accrued over 2 million views to date.
Pete recalls to AltPress that one of the biggest challenges when they started making music around that time, was, "getting to the studio 'cause one of us was always down the boozer pissed."
They eventually made time for studio sessions, and their momentum seemed to snowball from there. Pete, however, puts their formation mostly down to luck. "[I] didn't really think much of it. [I] was just having fun, and it ended up becoming something pretty good after all."
Now they'd caught people's attention they could really start to master their craft, that being writing somewhat humorous but relevant lyrics for their young fans, and delivering them seamlessly over bars worthy of the most prestigious 1Xtra radio sessions.
Since their first single, these performative pensioners have released 19 studio singles, including hit "The Old Estate" featuring U.K. drill head honcho M24, released with an accompanying video that went viral. Their latest single "Move It" is an accolade to England's 2022 World Cup squad, with lyrics as clever as Bukayo Saka's skills on the ball.
After chatting to AP about their motivations, it seems they are making this music with no specific objectives in mind, but rather just to have fun. It's not as if they've wanted to achieve rap stardom from a young age, or had dedicated most of their lives to the art; which perhaps makes their talent all the more astonishing. To think that one day at the ripe old ages of 70, two pensioners with no previous knowledge or appreciation of rap music just decided that they would start rapping for fun and see what happened, culminating in some of the best music in the scene, isn't easy to believe.
When asked why they make music and what they want people to take from it, Pete simply points to being somewhat of an inspiration to young and old people alike — and that you're never too old to make something of yourself.
"If we don't prove that anything's possible at any age, I dunno what will. Never give up 'cause you never know when the day might come that you absolutely smash it out of the park. We're the proof."
Perhaps this is also evidence that their music and rise to stardom are as much about proving a point as they are about anything else.
Going from playing to 10 people at their first show in 2018 to making appearances at venues like the Camden Roundhouse and embarking on their second sold-out tour across the U.K. this winter shows how much their "never too old for anything" approach has resonated with the younger generation. Pete also made clear that they've been as well received in mainland Europe as on home soil.
"Standout gigs gotta be Lisbon or Katowice in Poland. Something about those overseas shows, they just get it right, you know?" he says.
And let's not forget about the beats behind their bars, which are certainly not lagging behind. Young producers 91shots and Handsome Dexter now create the soundtracks behind the lyrics.
"They're great lads, proper musical geniuses and working with them is a pleasure. We're all like one big family, really," Pete mentions.
What's more, any Londoner can appreciate the pair's lyricism, which blends traditional cockney and modern south London slang together so well. (The duo get some help from their grandkids to stay current.) It's partly what makes their art so alluring to younger listeners. That said, it's not only the younger generation they've managed to capture the attention of. Pete speaks of men and women his age stopping them on the street and saying things like, "My grandson reckons you're great" before asking for selfies, with Bas claiming, "It's for them, really, innit?"
[Photo via Pete & Bas]
When asked how they feel about being such an inspiration to the younger generation, Pete isn't shy about the satisfaction it brings, especially during live performances.
"When we see their faces light up, it's like Christmas. Can't lie, our wives get jealous sometimes, but a man's gotta do what a man's gotta do," he jokes.
Having just finished a sold-out U.K. tour, Pete & Bas are looking to the new year with an eye for more releases, live performances and high-profile collaborations. Whatever they serve up next, it will have any former London gangster, teenage rap aficionado, or anyone who appreciates clever lyricism listening in awe and watching in amusement.
And when it comes to reiterating their main message, nobody could put it better than Pete.
"We just thought it would be a laugh for two old geezers to be doing what all the kids are doing these days," he says. "There ain't nothing stopping us from being the ones who are getting all the fame just 'cause we're old gits. We can do it as well as the next geezer, and we've proved that 'cause now we're some of the biggest rappers in the country. Who's gonna stop us? No one!"