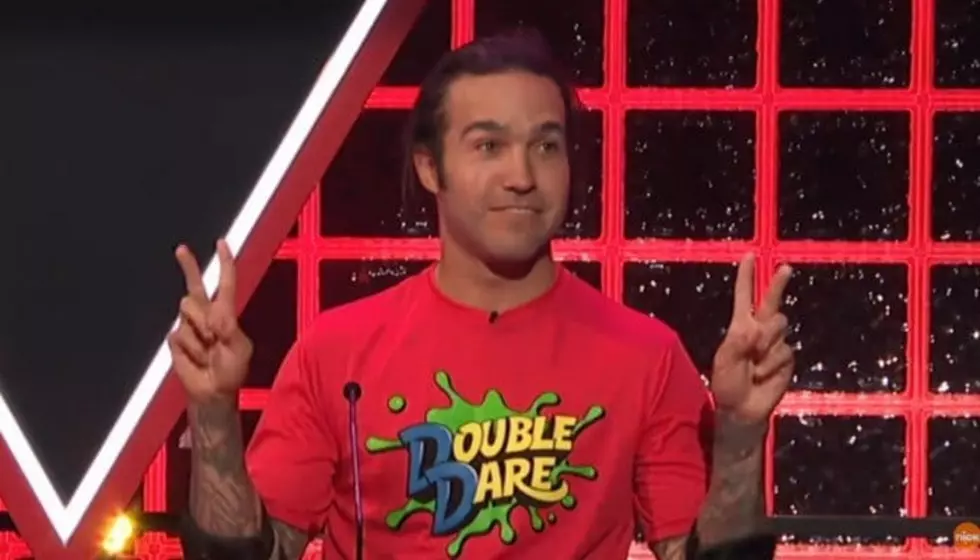 Pete Wentz gets slimed on Nickelodeon game show
[Photo via YouTube/Nickelodeon]
After last week's announcement that Pete Wentz will be making a guest appearance on a Nickelodeon game show, the TV station has just released behind-the-scenes footage featuring the Fall Out Boy bassist.
To get ready for the Kids' Choice Awards, Nick is airing special episodes of their slime-ridden game show, Double Dare, featuring a few of the awards nominees.
 The game show originally aired from 1986 to 1993. It has been revived twice, once in 2000 and again last year with a second season airing this month.
Other celebrities are set to appear on later episodes such as Tiffany Haddish, Shaun White, Ally Brooke, Joel Courtney (The Kissing Booth) and Duff Goldman.
"I've been covered in many substances so far," Wentz says in the video. "A lot of cold liquids and orange powder of some kind. I grew up watching it, and I remember them stuffing flags in their shirts and stuff. I always wanted to be on it."
Fall Out Boy are nominated for Favorite Music Group at the KCAs alongside twenty one pilots. You can check out a full list of nominees here.
Take a look at behind-the-scenes footage of the show featuring Wentz and other KCA nominees.
More on Pete Wentz
blink-182's Mark Hoppus and Wentz once created a children's animation TV show together, but unfortunately, it looks like we'll never get to see it.
Hoppus has been out promoting his new band with All Time Low's Alex Gaskarth, Simple Creatures, and one of the topics of the interviews has been collabs. While mostly talking about music collaborations, he shared an unexpected story on KROQ's "Kevin & Bean Show."
One of the show's co-hosts, Jensen Karp, was explaining how he met both Hoppus and Gaskarth through Wentz when the blink-182 frontman shared an interesting anecdote. Apparently, Wentz, Karp and him once wrote a kid's cartoon together.
"It will never see the light of day, but [we] worked on an idea for a children's animated show that we pitched to Disney. We pitched to a bunch of different studios," Hoppus explains.
The story was apparently about a group of fish that were in a band. However, there was a villain too, and he was a sushi chef. Obviously, Hoppus and Wentz played two of the fish. However, other famous artists, such as Ashlee Simpson and Pharrell Williams, also gave life to characters in the show.
"It was a great idea, great concept, great songs," Hoppus continues. He says they didn't end up getting it because "another fish show" had been pitched right before.
Although we can't get access to any footage of the animation, you can hear Hoppus talking about it on the "Kevin & Bean Show" here.