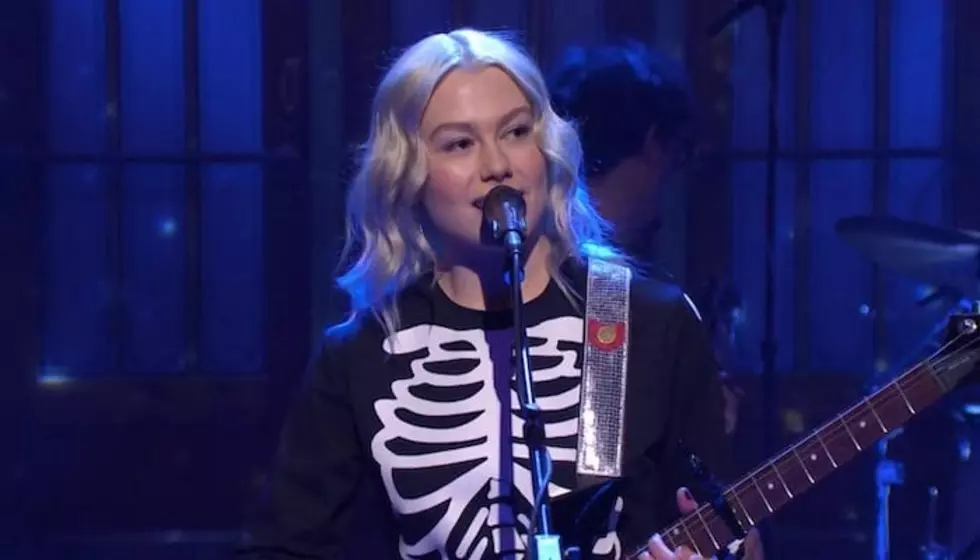 Phoebe Bridgers had the best response to the 'SNL' guitar smashing criticism
[Photo via YouTube]
On Feb. 6, Saturday Night Live was hosted by Schitt's Creek star Dan Levy and featured musical performances from Grammy-Award nominated artist Phoebe Bridgers. During her SNL debut, Bridgers took her "I Know The End" performance to the next level by smashing her electric guitar onstage.
Now, Bridgers is reacting to the criticism she's received for her guitar-smashing decision. As well, she had the best responses to singer David Crosby who doesn't have many positive things to say about her performance.
Just one week after Machine Gun Kelly's Saturday Night Live debut, Phoebe Bridgers hit the coveted stage for a debut of her own. During the episode, she performed "Kyoto," which is nominated for multiple 2021 Grammys, as well as "I Know The End," the closing track of her 2020 album Punisher.
However, Bridgers tweeted that she told the company - Danelectro - she planned to smash the $85 guitar during Saturday Night Live.
As well, she also made it known that she didn't actually ruin a perfectly good monitor. As it turns out, Saturday Night Live provided a fake one, especially for the performance.
Then, on Feb. 9, Crosby followed up with more of an explanation for his criticism.
After Crosby's tweet, one Twitter user argued that women in music are judged more harshly for the same actions done by their male counterparts.
"What's pathetic is the double standard that a woman is being judged for doing something a man has done a million times and somehow that's cool but in this case it's not? That's not even remotely okay."
For Crosby, he explains that he doesn't like it when artists smash instruments regardless of their gender.
Naturally, Bridgers had the best response to Crosby's criticism.
Following all of this, Crosby then began questioning Bridgers' songwriting to which Bridgers had another response.
Bayside
Nick Ghanbarian
What are your reactions to Phoebe Bridgers' Saturday Night Live performance? Let us know in the comments below.